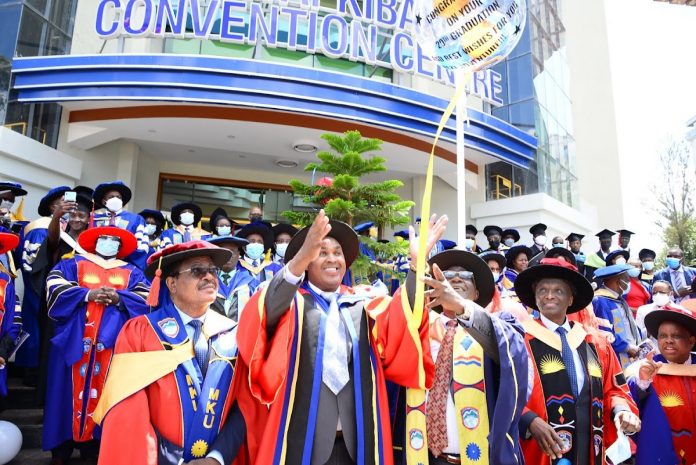 Mount Kenya University plans to expand the medical school as it seeks to increase its presence in medical research and teaching. MKU founder and chairman, Prof Simon Gicharu, says the university will be increasing investments in the College of Health Sciences and it has identified this as a key growth area in its 10-year strategic plan.
The investment will include a new anatomy laboratory and other stand-alone facilities. Even then, he said students would continue using to the Thika Level 5 Hospital and the General Kago Funeral Home, which has been refurbished by MKU to a modern morgue. "This block will have inbuilt hostel facilities for medical students, classrooms and laboratories, including an anatomy laboratory," Prof Gicharu said. "The anatomy laboratory will supplement the Thika Level 5 Hospital facility."
Prof Gicharu revealed during the university's 20th graduation ceremony held on 9th December where a total of 5,333 students graduands were conferred with various qualifications.
As part of the strategy, the university plans to set up the MKU Cancér Teaching and Referral Hospital. MKU College of Health Sciences was in early 2020 ranked the top school of medicine in the region. In March this year, the first batch of students from MKU Medical School took the Hippocratic oath, marking a major milestone for the school established in 2014.
>> Gov't Lines Up Sh146 Billion Bailout For Kenya Airways
MKU Vice-Chancellor Prof Deogratius Jaganyi said the graduation was a major achievement for the students who had to make major adjustments to their study methods following the outbréak of Covid-19.
Even though learning activities have resumed, institutions are required to exercise great caution. "We take pride in this significant achievement and acknowledge that this is a manifestation of resilience and synergies emanating from team efforts from all our stakeholders," Mr Jaganyi said.
He said that the university was recording an increase in the number of students. This was boosted by higher preference by government-sponsored students to pursue their studies at MKU.
"During the September-December 2021/2022 semester, MKU has had the highest number of registered active students of 43,087," he said.
Further, he added that positive sentiment results from quality of educátion and well-targeted niches. "MKU is characterised by quality assurance mechanism in its programmes and internal processes making us be a preferred destination for both government and self-sponsored students," he said.
>> Villager Who Got Sh17 Million Says He Won't Quit Fishing