After failing to secure a job years after his graduation, Maurice Odhiambo Shikuku who graduated with a diploma in Procurement from Kisii University, decided to venture into fish farming.
His journey into fish farming began in 2013 when he constructed his first standard pond, measuring 10-by-10 feet, along the banks of River Oyani in Migori. "I stocked it with 800 tilapia fingerlings, but in less than a month, a water intake point nearby was closed.  This caused flooding and I lost the entire business." Shikuku recalls in an interview with the Star.
Undeterred, Mr Shikuku engaged in the cultivation and sale of eucalyptus, pine, and bamboo tree seedlings to the Migori county government. He generated ksh600,000, which helped him in re-entering the fish farming business.
"I created two other fishponds measuring 30-by-50 feet and 20-by-30 feet which I stocked with 1,200 and 1,000 tilapia fingerlings and added 200 catfish," says Mr Shikuku while sharing the intricacies of constructing a profitable fish pond.
His advice includes understanding soil type, topography, and potential surface runoff. For his swampy land, Mr Shikuku opts for a pond design reliant on underground or river water.
>> From Fish and Poultry, Makueni Farmer Makes a Fortune
According to him, a standard pond, measuring 10-by-10 feet, should have a deeper end about 4.5 feet lower than the shallow end, minimising flooding risks and ensuring optimal conditions for fish farming.
After excavation, he fills the pond with water for three weeks, adding agricultural lime to eliminate pests. The introduction of commercial fertilizer aids in plankton and algae development, essential components of fish feed. Within three weeks, the pond transforms, signalling readiness for stocking.
He guides fellow farmers on the proper handling of fingerlings, advising them to sink polythene bags containing fingerlings in water before opening them. "If your fingerlings are mono sex, all are either male or female, then feed them after three days. If they are both female and male then start feeding after three hours," Mr Shikuku advised.
He takes a comprehensive approach by combining chicken farming seamlessly with fish farming. By strategically placing gunny bags filled with chicken waste in his ponds, he leverages this waste to stimulate the growth of algae and plankton, which serve as essential nutrition for the fish.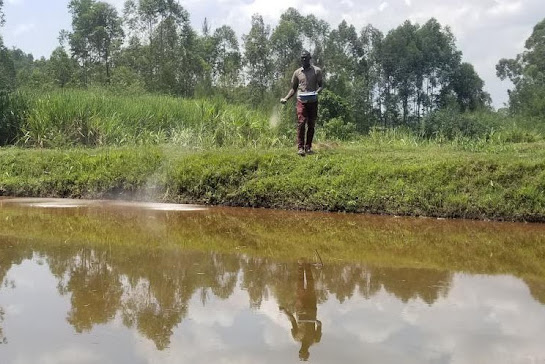 In 2022, he earned Ksh240,000 from the harvest of his ponds, consisting of catfish and tilapia. "Fish is harvested twice a year, after every six months. I feed them fish starter for two months before I move to growers mash until they are ready for market," Mr Shikuku says.
>> Kiambu Farmer Who is Minting Money From Unique Cabbage Variety