Citizen TV Swahili news anchor Lulu Hassan and Actresses Sarah Hassan and Yasmin Said popularly known as Maria were some of the big winners during this year's Women in Film Awards (WiFA).
The awards which are in their second year, are organized by Beyond the Film organization and provide an opportunity to recognize women filmmakers in Kenya. The Gala of the Awards happened on Wednesday 10th March 2021 at the National Theatre.
Citizen TV anchor Lulu Hassan , who also doubles up as a television producer won an award for her show Maria which airs on the same channel. She bagged the best producer in the TV Drama Award.
"I have received some good news. Thank you God and thank you all. I am forever grateful," she shared on her social media platforms upon being announced the winner.
Lulu Hassan has been involved in the production of local shows such as Maza which was the first Swahili telenovela produced in Kenya.
READ>>>>>Betty Kyallo Unveils Her Clothing Line [VIDEO]
Through their production company, Jiffy pictures, which she runs together with husband and co-anchor Rashid Abdallah, the couple have produced Kovu and a new show dubbed Dora.
Lulu Hassan and her husband Rashid Abdalla, are no strangers to winning awards due to the Maria Show which resonated with the Kenyan audience.
The show earned the lead actress Yasmin Said (Maria) at the 2020 Kalasha Awards as Best Lead Actress in the TV Drama category. The series also secured the Best TV Drama at the awards.
Maria lead actress Yasmin Said won the Best Actress Award (TV Drama).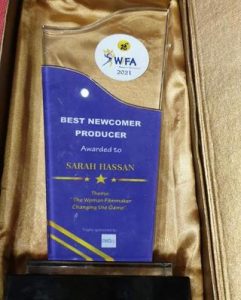 Actress Sarah Hassan crowed as the best Newcomer producer. She celebrated her win on her social media.
"Got some fantastic news last night. Thank you to every single one of you who voted. I truly appreciate you." she wrote.
Hassan made her debut on TV in 2009 in a TV show; Tahidi High as Tanya and became one of the leads at the time. That marked her breakthrough in the Kenyan film industry and ever since she has been a household name in the industry. She also starred in the hit series Demigods, Saints, and Changes.
Sarah first hosted the East African Dance show Sakata Mashariki. In 2013 she took over Noni Gathoni's, The Wedding Show as the main host till December 2014.
Besides acting, she loves fashion which has enabled her to become a brand ambassador to several local fashion lines.
READ>>>>>How Coca-Cola Empowered Over 6 Million Women Entrepreneurs
Full List of Winners of the Women In Film Awards
Best Sounder Designer- Maureen Wanjiku
Best Animator of the Year- Wixx Mangutha
Best Costume Nairobi, Kenya. Designer- Rose Kambua
Best Assistant Director- Olympia Owira
Best Location Sound Recordist- Sheila Gathoni
Best Cinematographer- Emma Nzioka
Best Newcomer Producer- Sarah Hassan
Most influential Woman Personality – Judy Kibinge
Best Editor of the Year- Angela Wamae
Best Script Writer Film- Damaris Irungu
Best Script Writer- (TV Drama)- Sarah Mwihaki
Best Producer-(Film)- Tony Kamau
Best Producer (TV Drama)- Lulu Hassan
Best Director- (Film)- Wambui Gathee
Best Director- (TV Drama) – Caroline Odongo
Best Actress (TV Drama)- Yasmin Said
Best Actress (Film)- Alison Nyawira
READ>>>>>New Journalism Awards Celebrate Digital Shift Threatening Big Boys' Revenues