Celebrity status comes with a lot of advantages and disadvantages. You might not be able to walk freely in town but then again you get a lot of followers on social media.
All celebrities are not the same. Some celebrities are down to earth while others are not. There are various ways to distinguish these two. Down to earth celebs never say no to a selfie request from a fan while those who are not do not even look the fan's ways.
These two categories of celebrities can also be distinguished by simply looking at their social media activities. Some celebrities always reply to fans' comments and some don't. Some celebrities follow back some fans while others do not follow back at all.
Here is a list of some Kenyan celebrities who follow back very few people in comparison to the number that follows them.
Betty Kyalo
She is a popular Kenyan news anchor, media personality and businesswoman. Betty Kyalo has a huge fan base. There are people who only watch news when it's Betty anchoring. This was evident when she moved from KTN to K24, she came along with all her loyal fans.
Betty is followed by 718 k people on Twitter. She only follows back a mere 664.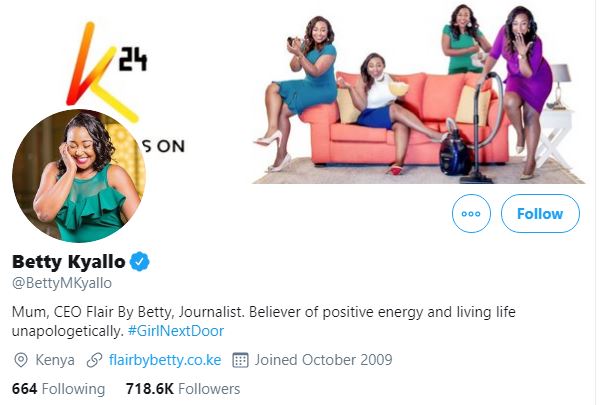 Cyprian Nyakundi
Cyprian is a controversial blogger who has a huge fan base. He gained his fan base when he was continuously finding himself in trouble because of what he used to post on his blog.
A lot of people trust Cyprian's blog and will buy into anything he posts whether its factual or not. Cyprian is the stingiest of all social media celebs as he does not follow a single soul. He is followed by over 38k people.
Lilian Muli
She is a renown senior news anchor at Citizen TV in Kenya. Just like Betty, Lilian Muli has a huge fan base of loyals who watch the news just because she is the anchor. She is also a role model to many girls in Kenya who look up to her for inspiration.
Lilian is followed by 425.6k people on Twitter but only follows back 948.
Akothee
Esther Akoth, known to many as Akothee, is a musician and a businesswoman. She is known to be a very wealthy lady who makes a lot of her money from business than she does from music. She even calls herself the boss lady.
Akothee is not a surprise name on this list as she is unapologetically proud because of her fame. She is followed by 45.8k people and only follows back 342.
Churchill
Daniel Ndambuki, alias Churchill, is one of the pioneer comedians in Kenya. He is the brains behind the famous Churchill Show which airs on NTV. He also doubles up as a radio presenter at Classic 105 where he goes with an alias of 'Mwalimu King'ang'i'.
Churchill has revolutionized the comedy industry in Kenya due to his show. Despite all these accomplishments, Churchill is still a social media stingy celebrity. He is followed by 525.2 k people but only follows back 715.
Dennis Okari
Dennis Okari is one of Kenya's media personalities who have a national wide cognition due to his work as a senior investigative and crime reporter/journalist and is attached to the Nation Media Group.
He was previously married to Bety Kyallo but their marriage did not work. He is followed by 270.2 k people but only follows back 755.
Crazy Nairobian (Billy The Goat)
The Crazy Nairobian gained popularity through his immense storytelling skills that were evident in his threads. His talent in wordplay gained him even more popularity. He has had his account pulled down once after he attained 100k followers.
In his new account, which is barely two months old, he has already gained thousands of followers but still follows back a handful. He currently has 30.8k followers but only follows back 196.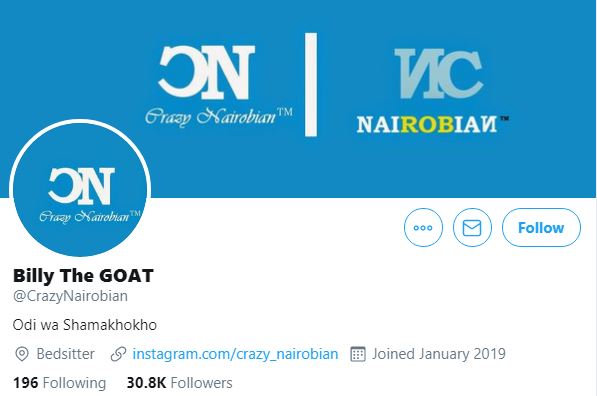 Lulu Hassan
Lulu Hassan is a Kenyan news anchor working for Citizen TV. She hosts Citizen Nipashe and Wikendi news bulletins in Swahili that airs at 7 pm alongside her husband Rashid Abdalla. Lulu and her husband are one of the admired couples in Kenya.
Despite being a role model to may, Lulu only follows 387 people out of her 376.4 k followers.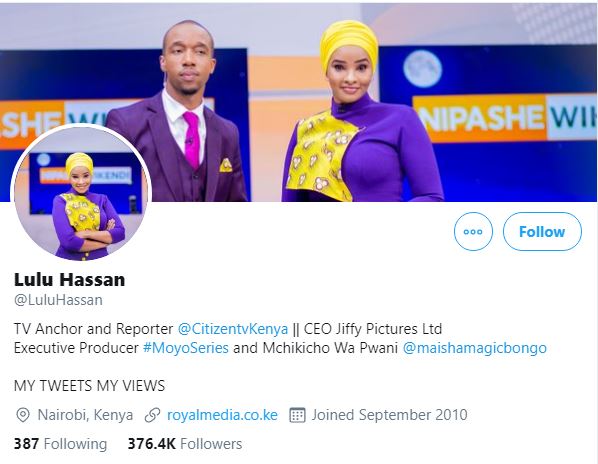 Alfred Mutua
He is the governor of Machakos County currently in his second term. Mutua has recently been a darling of the news following his allegations of being threatened by the Deputy President and his fellow Tanga Tanga comrades.
Apparently, he is not just a darling of the news but also a darling of social media. He has a huge following of up to 803.7k people but only follows back 85 people.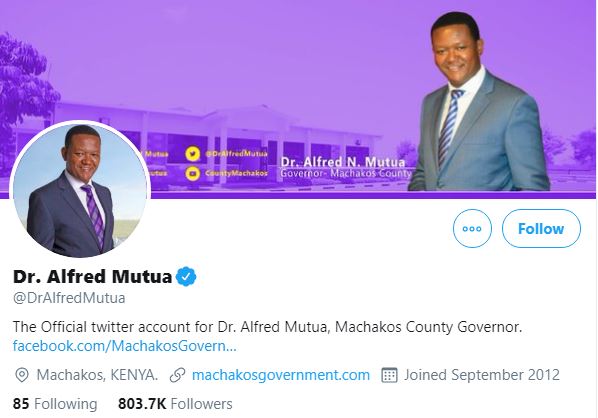 Sharon Mundia (This is Ess)
Sharon began as a blogger immediately after graduating from Monash University in South Africa with a degree in Marketing and Management. She is now a TV Host at NTV's Living with Ess. She is among the youngest media personalities in Kenya.
She is followed by 55.8 k people on Twitter but only follows back 65.