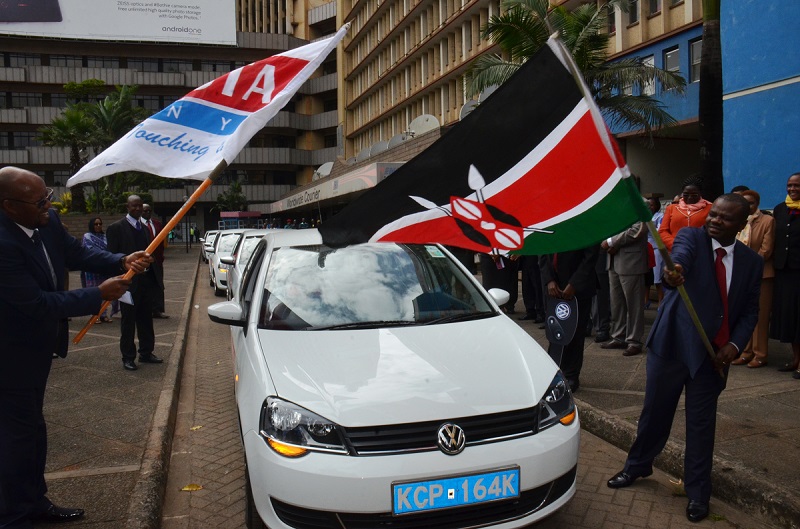 A fleet of 10 Volkswagen Polo Vivo vehicles, locally assembled at the Kenya Vehicle Manufacturers in Thika, have been flagged off to provide delivery and sales operations within the Postal Corporation of Kenya networks.
The motor vehicles worth Ksh16.2 million is the first phase while the second phase of 11 vehicles of Isuzu DMAX TRF 86 worth Ksh36 million will be delivered by the supplier in the next 30 days.
Flagging off the vehicles at Posta House, the Principal Secretary State Department of Information, Communications Technology and Innovation, Mr Jerome Ochieng, said the new fleet will complement the existing motor vehicles at the corporation to enhance sales and service delivery.
He said the government is committed to ensure that postal sector provides vibrant and efficient services, so that Kenya can access affordable services.
RELATED: POSTA REINVENTS ITS SERVICES WITH CHANGING TECHNOLOGY
The PS noted that postal services were being offered within the wider communications sector that is undergoing tremendous changes due to liberalization, competition, new technologies and the dynamic regulatory environment.
"I am proud that Postal Kenya has made sustained efforts towards the development of an effective local postal network, which has contributed to the growth of our country's socio-economic infrastructure in line with Vision 2030," he added.
He noted that despite the corporation having faced challenges in the last 20 years, it has demonstrated the ability to progress without any subsidy from the National government. The PS said the ministry will offer the Corporation any necessary support to ensure that critical services that ride on the government's agenda of growth and value addition to the economy was achieved.
Present at the function were the Managing Director, DT Dobie and Company Limited, Mr Ian Middletone, and Postmaster General, Postal Corporation of Kenya, Mr Dan Kagwe.
NEXT: DONKEY OWNERS LOSE BATTLE TO SAVE THE BEASTS OF BURDEN