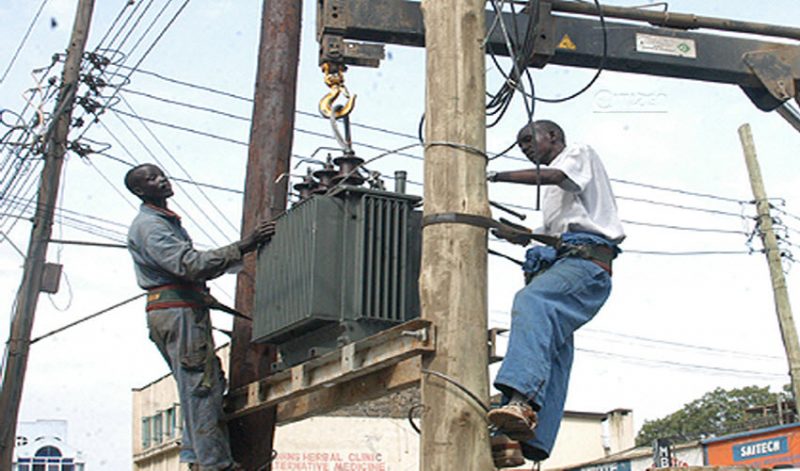 Kenya Power is keen on enhancing service delivery to large power consumers in a bid to promote the manufacturing sector and encourage a 24-hour economy, by forging a close working relationship with the manufacturing sector, one of the government's Big Four agenda.
Speaking when he toured Mombasa Cement and Kapa Oil factories, some of the premium customers metered at 66kV, Kenya Power Managing Director & Chief Executive Officer Dr Ken Tarus said Kenya Power was keen on identifying power supply challenges to large power consumers and developing a resolution matrix that is tailor-made to address each customer's concerns.
"Large power consumers, which are dominantly manufacturers,  account for about 60% of our revenue from sale of electricity. Again, manufacturing is one of the sectors falling under the government's "Big Four" agenda  and is therefore in our interest to give them power that is reliable and competitively priced," said Dr Tarus.
In December, the Company introduced a Time of Use tariff targeting this class of customers that is meant to encourage more uptake of electricity at off-peak hours hence promote 24-hour manufacturing activity.
The Company has also deployed smart meters for large power customers which allows them to easily access their readings and minimize on human intervention.
Completion of a distribution substation that is currently under construction in Embakasi is expected to pave way for evacuation of additional geothermal power which will boost supply in Nairobi, especially to customers in Industrial area.
In addition, the Company is keen on expanding the distribution network through construction of additional substations and lines to avail alternative supply points to large power customers. This move is expected to reduce downtimes caused by planned and unplanned outages and increase productivity.
The Company plans to continue with customers' engagement programme, which comprises industrial visits, establishment of regional industry liaison office to enable coordinated and efficient response to customer issues, segmentation and grouping of customers into WhatsApp groups to encourage real time communication and incident management.
"We would like to thank our large power customers for the support this far. Moving forward, we have put in place some critical interventions to continuously improve our service delivery. We have a number of ongoing projects which upon completion will improve power supply," said Dr Tarus.