A letter doing rounds indicating that the Kenya Editors' Guild (KEG) President, Mr Churchil Otieno, has resigned due to unprofessional journalism in the country is fake.
According to the letter, Churchill Otieno, who was re-elected to the position in April this year, had resigned due to frustration brought about by unprofessional conduct in journalism.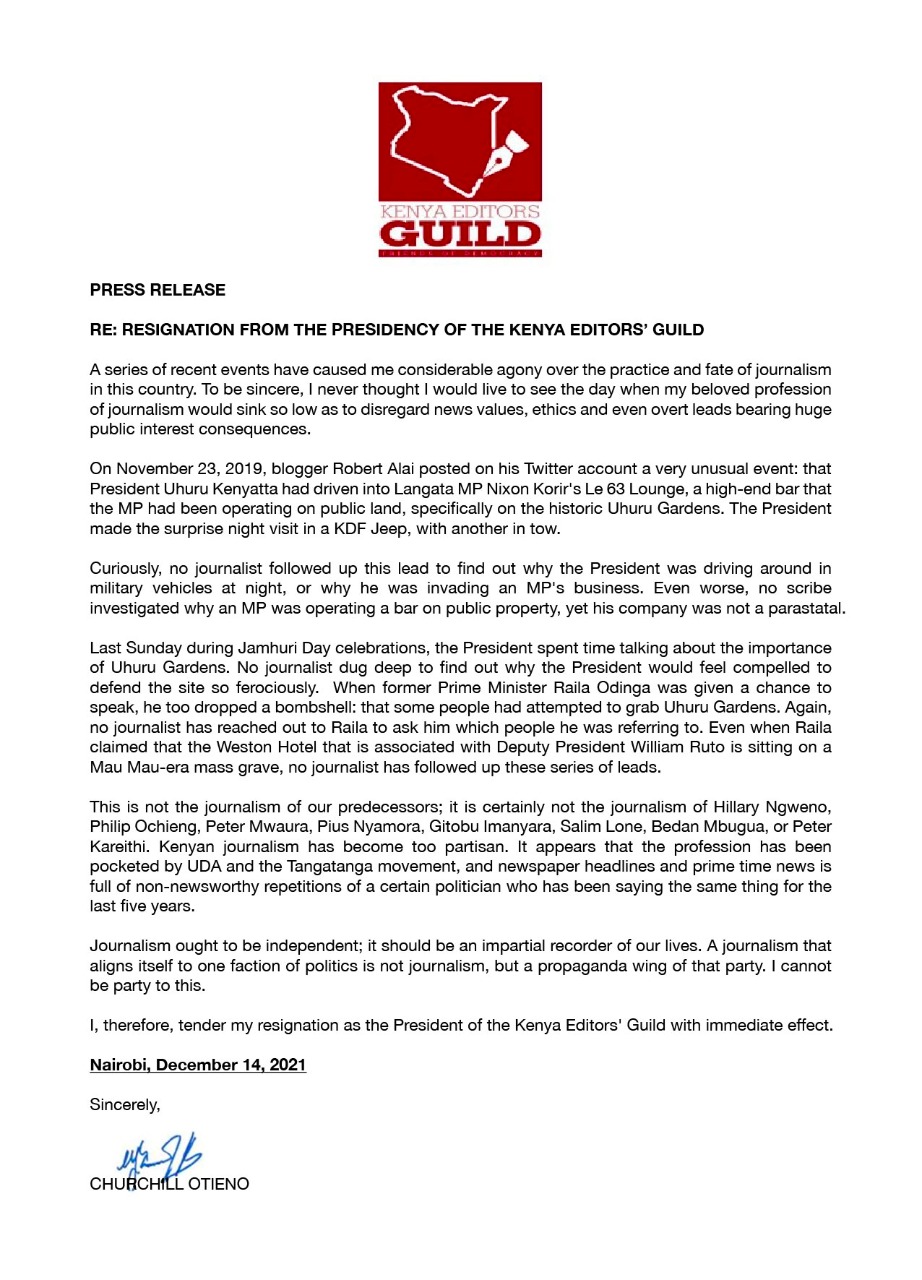 "A series of recent events have caused me considerable agony over the practice and fate of journalism in this country. To be sincere, I never thought I would live to see the day when my beloved profession of journalism would sink so low as to disregard news values, ethics and even overt leads bearing huge public interest consequences," the letter, circulated in a number of  Whatsapp groups, says in part.
It points to a reported incidént in November 23,2018, when it was discovered an MP was operating a bar at Uhuru Gardens, which is public property, and which, this letter says, the media never bothered to follow up. "Even worse, no scribe investigated why an MP was operating a bar on public property, yet his company was not a parastatal," the letter says.
See Also >> Is Kenya Facing a Financial Meltdown Over Growing Debt?
Last Sunday, during Jamhuri Day celebrations, President Uhuru Kenyatta talked about the importance of Uhuru Gardens. And the author of the KEG president resignation letter says, "No journalist dug deep to find out why the President would feel compelled to defend the site so ferociously."
The letter alleges that Kenyan journalism has become too partisan for the KEG's president's comfort. 
"Journalism ought to be independent; it should be an impartial recorder of our lives. A journalism that aligns itself to one faction of politics is not journalism, but a propaganda wing of that party. I cannot be party to this," it says. "I, therefore, tender my resignation as the President of the Kenya Editors' Guild with immediate effect."
A fact-check by Business Today, however, found that the resignation letter was actually FAKE. The letter did not originate from Churchill Otieno who has also flagged it as fake on his Facebook and Twitter pages. "Ignore these agents of disinformation. I have released no such statement," Mr Otieno said.
Business Today also reached out to Mr Otieno who confirmed he was still serving as the president of Kenya Editors' Guild. "We are just from elections," he said. Mr Otieno retained the presidency of KEG during elections held in April this year.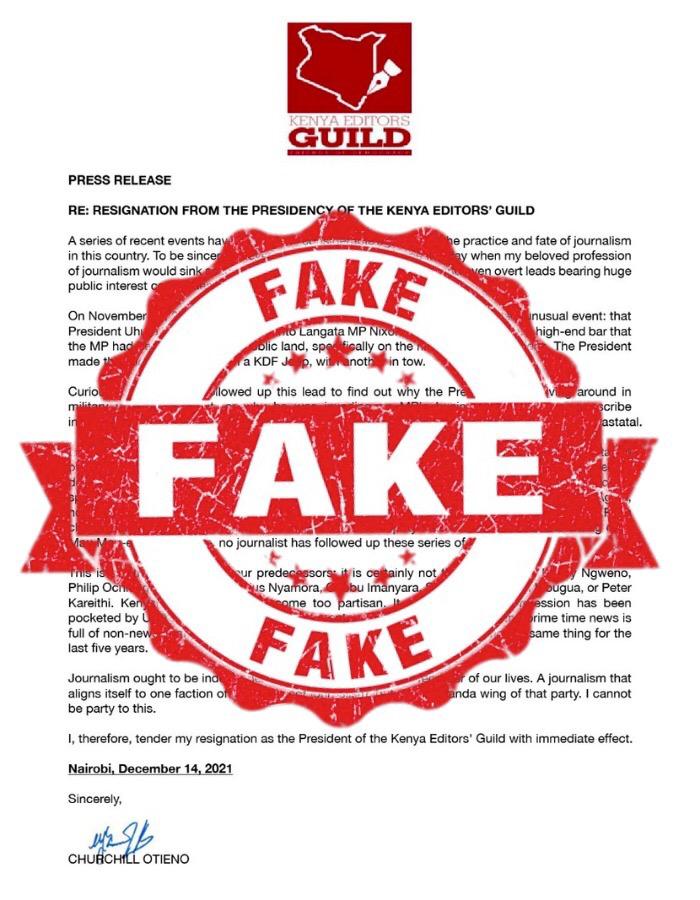 The Kenya Editors Guild also flagged the letter, clarifying that it was a product of fake news. "Please be advised that this release doing rounds on social media is fake. Do not fall for fake news," it said on its Twitter page.
VERDICT: The resignation letter by Kenya Editors President Churchill Otieno is Fake as it has been disowned by Otieno himself and the Kenya Editors' Guild. 
[This story was produced by Business Today in partnership with Code for Africa's iLAB data journalism programme, with support from Deutsche Welle Akademie ]
Next >> Joho Endorses His Successor As Governor Of Mombasa