A tweet by KTN News claiming that the National Treasury has warned of an impending financial disáster was misleading. The tweet, which was posted on 2nd December, 2021, said the National Treasury had issued a warning of a looming financial crišis as the level of debt threatens to surpass the country's total economic output, or GDP.
Apart from the KTN News tweet, the Standard newspaper website also reported the same item, saying experts had poked holes in President Uhuru Kenyatta's eighth State of the Nation Address, terming his track record a costly development.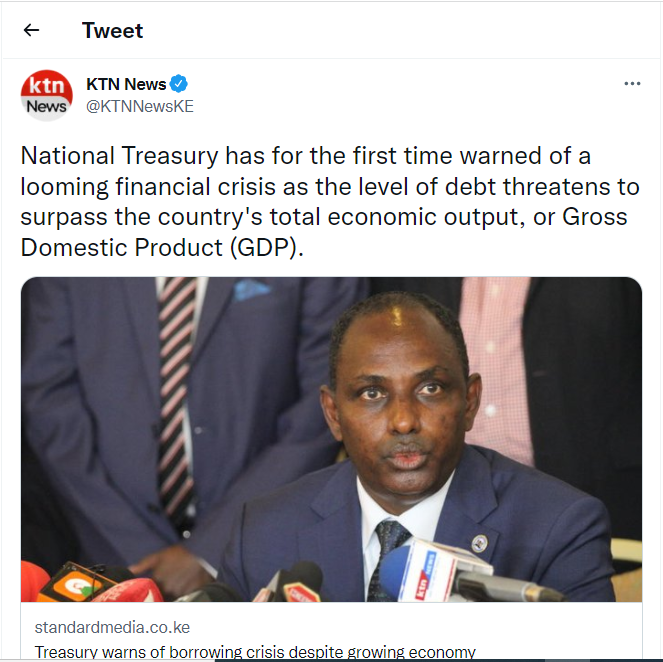 The report said higher debt had pushed Kenya into a high debt distress level, with the country now just a step from defaulting. Kenya's debt has grown by 768% since 2010 to hit Ksh7.68 trillion by the end of June 2021.
In his State of Nation Address, President Kenyatta spoke of his sterling performance in growing the economy by more than doubling the GDP in his first eight years in office. After the State of the Nation Address, the National Treasury revealed that Kenya's GDP now stands at Ksh11 trillion up from Ksh4.75 trillion in 2013, making Kenya the sixth wealthiest country in Africa.
A fact-check on the statement reveals that The National Treasury did not warn of any impending financial distress. While Treasury noted that the country's debt-to-GDP ratio stood at 68.1 per cent, compared to the sustainable level of 55 per cent, it did not explicitly warn of an imminent financial crišis
We also found that KTN News actually tweeted the article published by the Standard.
The National Treasury said the report of a financial disastèr were fake. In a tweet on 3rd December, 2021, through its verified account, it flagged the tweet and statement as Fake.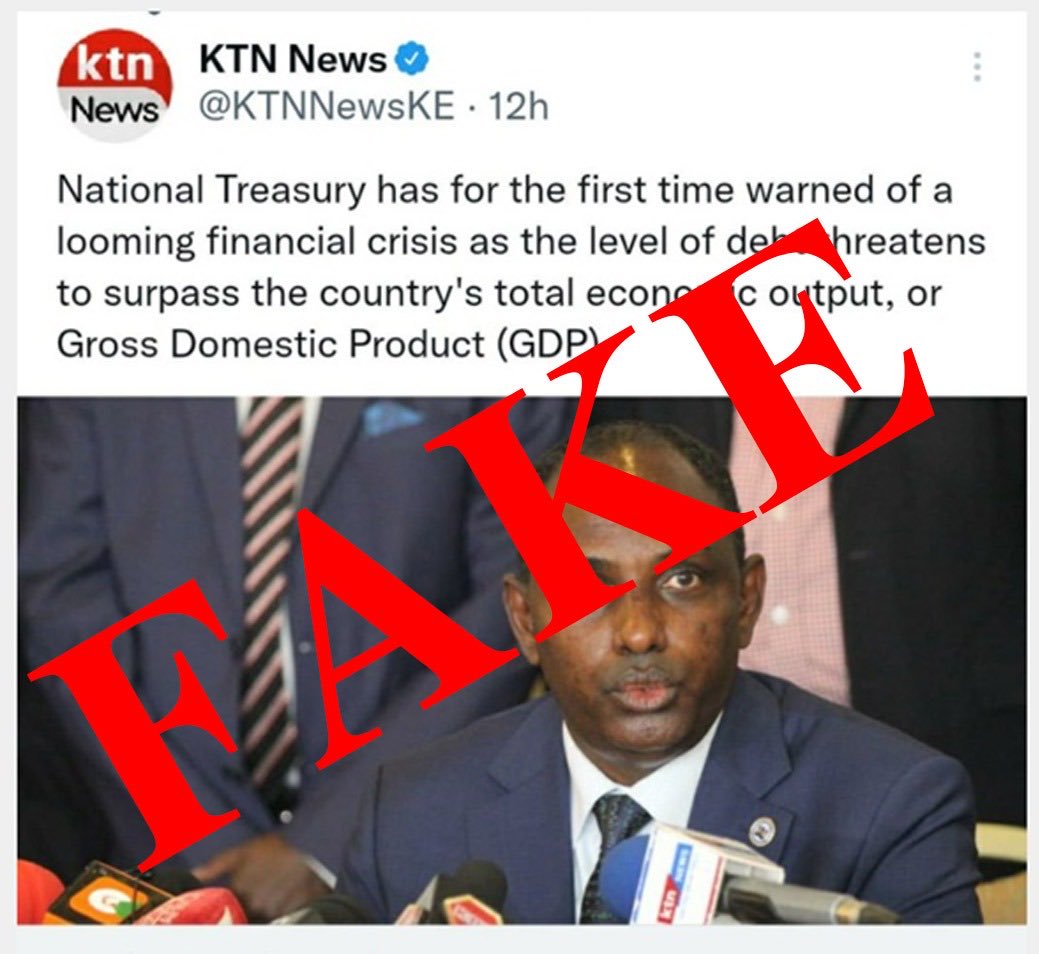 An online search of any news about the treasury warning yielded only the Standard article.
VERDICT:  Reports that the National Treasury has warned of a looming financial crisis have been found to be misleading.
[This story was produced by Business Today in partnership with Code for Africa's iLAB data journalism programme, with support from Deutsche Welle Akademie ]
>> CEO Did Not Denounce IEBC Stand On Election Committee