A position statement circulating on the internet claiming that a section of the IEBC's commissioners was opposed to the organisation's withdrawal from the Multi-Sectoral Consultative Forum (NMSCF) was fake.
The statement, dated 30th November 2021, states that the withdrawal from the Forum "was against the collective wish of some of the IEBC commissioners whose voices matter on policy issues as such."
"IEBC would wish to notify the general public that it did not sit to discuss such an issue and/or deliberate on the same," says the letter, signed by IEBC acting CEO Marjan Hussein Marjan.
The Independent Electoral and Boundaries Commission had announced its withdrawal from the election preparedness committee on November 30, 2021, citing violations of its independence.
IEBC chairman Wafula Chebukati said it had made the decision since it would interfere with its independence. The National Multi-Sectoral Consultative Forum on Election Preparedness and Technical Working Committee brings together various stakeholders to prepare for the 2022 elections, who include ministries, agencies and departments responsible for the election cycle.
A factcheck by Business Today on the letter reveals it did not originate from IEBC. The electoral agency in a tweet on December 1, confirmed the letter in question was fake. IEBC on its Facebook and Twitter pages flagged it as fake.
Also Google search yields no credible reports on opposing the withdrawal except a fact-check that also finds the letter as fake.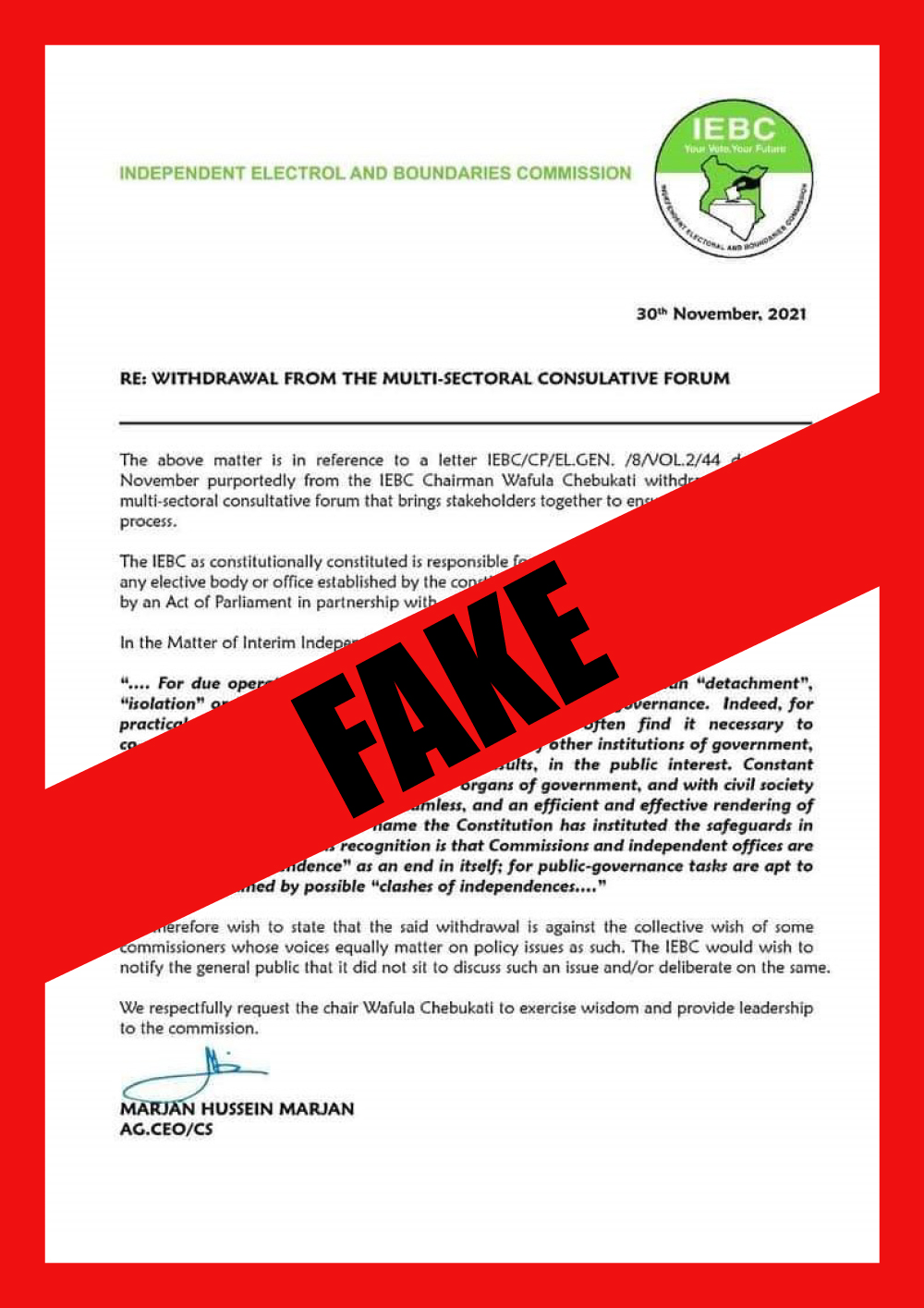 VERDICT: BusinessToday has looked into the document allegedly offering a position statement on IEBC's withdrawal from the multi-sectoral consultative forum on election preparedness and finds it to be FAKE.
[This story was produced by Business Today in partnership with Code for Africa's iLAB data journalism programme, with support from Deutsche Welle Akademie ]
>> Did Former Nairobi Governor Mike Sonko Record the President?