Electricity distributor Kenya Power's share price plummeted 6.85% to Ksh1.36 on Friday 27th November 2020 from the previous price of Ksh1.46, pushing it down to the worst performer at the close of trading this week.  Over the last one year, Kenya Power share has hit a low of Ksh1.42 and a high of Ksh3.30.
Listed under the Main Investment Segment of the NSE – Energy and Petroleum Sector – Kenya Power is engaged in the transmission, distribution and retail of electricity purchased in bulk from KenGen, Independent Power Producers (IPPs), Uganda Electricity Transmission Company Limited (UETCL) and Tanzania Electric Supply Company Limited (TANESCO ).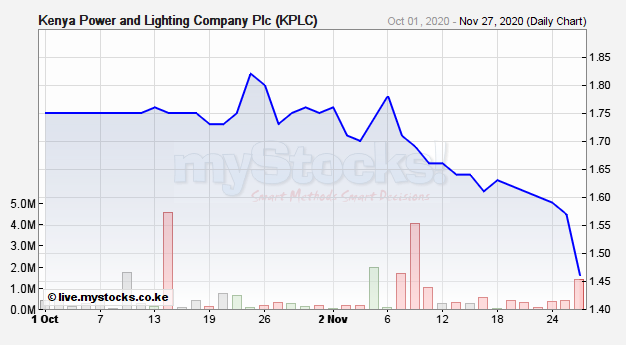 Investors are feeling the counter in reaction to KPLC reporting its worst financial performance and the first loss in a span of 17 years. While KPLC is yet to publish its 2020 financial results, details provided to Parliament by National Treasury show that the utility firm posted a net loss of Ksh2.98 billion in the financial year ended June 30th 2020.
A greenlight for KenGen to sell electricity directly to consumers, and bypassing Kenya Power infrastructure, has further worsened the fortunes of the electricity distributing firm. In June this year, KPLC issued a profit warning, the third time in a row.
While the regulator has declined a request by Kenya Power to review its tariffs, the distributor has also pointed to the high cost of purchasing bulk power from KenGen.
Apart from KPLC, other price laggards at the NSE were Flame Tree Group Holdings, which declined 6.43% to Ksh1.31, Stanbic Holdings was down 4.825 to Ksh79.00, Centum dropped 4.49% to KSh17.00 while  Sanlam Kenya fell 4.35% to Ksh11.00.
Equity Group was the day's prime mover with a volume of 6.03 million, at a price of Ksh34.40 from the previous Ksh35.55. Foreign investors dominated activity on this counter, driving a turnover of Ksh207.49 million in 121 deals.
KCB moved a volume of 3.95 million shares at the price of Ksh31.90 from the previous Ksh32.00, a drop of 1.72%. This was on a turnover of Ksh146.71 million in 87 deals that were dominated by foreign investors at the rate of 73.1%.
Safaricom moved a total of 3.91 million shares at the price of Ksh31.90 from the previous Ksh32.00, a drop of 0.31%, resulting in a turnover of Ksh121.72 million and attracting 78.7% foreign investors' participation.
The fifth top mover was EABL with a volume of 270,100 at the price of Ksh153.75 from the previous Ksh155.00 on a turnover of Ksh41.53 million and 41 deals that were dominated by local investors.
News of plans by Carbacid Investments to acquire 100% stake in BOC Kenya continued to push Carbacid as the top price gainer, with its price rising 9.76% to Ksh10.80. Other gainers were Express Kenya, TransCentury, Sameer Africa and Housing Finance Company of Kenya (HFCK).
Meanwhile, the NSE 20 Share Index was down 9.29 points to 1781.09 to 1790.38 while the NSE 25 edged 0.63 points from 3266.68 to 3267.31. The benchmark NSE All-Share Index rose to 143.98 from 143.93, an increase of 0.05 points.