The Kenya Electricity Generating Company (KenGen) is on track to begin direct power sales to consumers pending the finalization of regulations on enforcement of the Energy Act, 2019.
The move would mark the end of Kenya Power and Lighting Company's (KPLC) over 100-year stranglehold on retailing electricity in Kenya.
KenGen is eyeing large consumers including industries and other power-intensive operations.
KenGen Chief Executive Rebecca Miano expressed confidence that the regulations being crafted would enable KenGen to begin direct sales with the right infrastructure in place.
"The Energy Act 2019 has a provision for us to sell power directly especially to large consumers.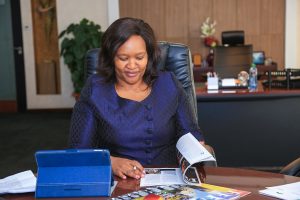 "What is pending are the regulations of how that would be undertaken and how the infrastructure would be based. We are certain that when the regulations are ready, that possibility will be there," she explained.
The plan to target large consumers is sure to cause jitters within KPLC which derives much of its revenue from such operations.
The company recently caused a stir after warning that many of its large clients were switching to solar, spelling doom for its profits.
Already struggling under the weight of controversial long-term power purchase contracts, the loss of large clients would undoubtedly be a major blow to KPLC.
The Energy Act was signed into law by President Uhuru Kenyatta in March 2019.
Section 140 of the law compels KPLC to "provide non-discriminatory open access to its distribution system for use by any licensee, retailer or eligible consumer."
What remains, however, is the drafting of regulations providing a framework for other companies to apply for retail licenses to sell electricity.
Under the law, KPLC will retain ownership of distribution lines even after firms pay to use the infrastructure.
Consumers hope that the regulations will lead to reduced power prices.
The Ministry of Energy, however, cautioned that new electricity distributors would need to invest heavily in infrastructure.
"A new power distributor would require new assets and thus there may be expensive duplication of roles," noted Cabinet Secretary Charles Keter whose ministry is playing a central role in development of the regulations.