The demolition of Taj Mall began early today as the government made good its warning to bring the multi-billion shilling down as it moves to reclaim restricted land.
The mall is owned by Mr Rameshchandra Govino Gorasia, who had been given 14 days to tear it down, but apparently defied the directive hoping perhaps the courts would help or authorities would change their mind.
Police stood guard and blocked the public from the shopping complex as the green excavator chipped away at the massive building that houses many businesses and had become an iconic reference for Embakasi, Cabanas and Pipeline area.
The mall is one of several structures that have been destroyed as the government seeks to reclaim road reserves and riparian land. The operation is being overseen by the Nairobi regeneration team.
Its demolition follows that of Southend Mall along Lang'ata Road which has been sitting on riparian land.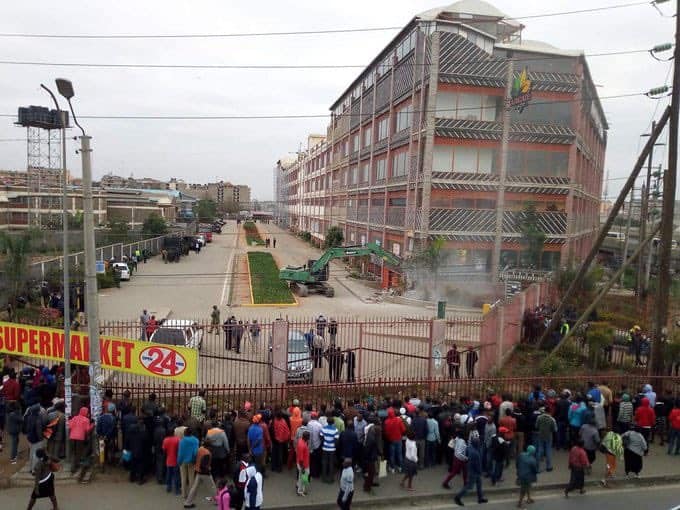 Southend Mall was demolished on August 9 as Ngong River ran between it and an annex building which had not yet been occupied. The owners of the building had constructed a car park above the river.
The two buildings were owned by former Bobasi MP Stephen Manoti. Mr Manoti, his brother DanSteve Ragira and their lawyer Nyaboga Mariari accused the government of ignoring a court order on the demolition and said its construction followed a "clean deal by the government".
SEE ALSO: DREAM HOMES TURN INTO NIGHTMARE