Huawei telemedicine solution gets experts' nod
The solution currently piloting at Lamu can be deployed in any other remote locality within East Africa with measurable positive impact
A telemedicine solution being piloted by Huawei Technologies in Kenya, has been identified as an important priority for the East African region amongst other digital health initiatives.
The solution developed by Huawei Technologies in conjunction with Safaricom Limited, United Nations Population Fund (UNFPA) and the Ministry of Health, among other stakeholders, is ready for testing in remote Lamu County and the Coastal region once the nurses return to work.
Key national and regional stakeholders attending the Regional East African Integrated Digital Health Roadmap Conference in Kampala, Uganda last week, expressed interest in the solution and hope that, if successful, similar solutions can be scaled up nationally and regionally enabling the sharing of scare medical expertise between counties and countries in the region.
Speaking at the conference organised by the East Africa Health Research Commission (EAHRC), Huawei Technologies Public Affairs Director, Adam Lane, said the telemedicine solution can allow for remote specialized consultations and medical education at Lamu County Hospital and other facilities. Doctors and nurses will be able to utilize video conferencing facilities for consultations which, Lane explained, can provide for a more efficient health system in the remote coastal region.
Even if there were enough specialists, even if there was enough funding to pay for them, and even if they are willing to live in remote areas—none of which is currently the case—it would still not be efficient having specialists based in rural areas with sparse populations, even though they also need access to such services.
"At Huawei, we have been leveraging Telemedicine among other ICT solutions to improve healthcare delivery in Lamu County. The solution currently piloting at Lamu can be deployed in any other remote locality within East Africa with measurable positive impact," Lane said. "In the future, we hope the EAC members will be able to collaborate closely to enable the sharing of medical experts between facilities through video conferencing, lowering costs and improving care for patients across the whole region."
In Huawei's social economic estimates, the deployment of telemedicine solutions can afford the economy significant cost savings from reducing travel time by up to 12 hours and travel costs by US$20 per patient.
"These costs are per person and often a patient needs to go with accompanying family members and even stay overnight incurring greater costs; in fact frequently the time and financial costs are so high that half of patients who need referrals for non-emergencies are put off and do not go for their referrals," Lane explained.
Some of the biggest problems of healthcare systems today are unevenly distributed medical resources, costly services, and difficulty of providing training to health workers. The Huawei Telemedicine Solution makes care-at-a-distance a reality and extends the reach of quality healthcare to remote locations with remote expert consultation, remote medical education, remote monitoring, and more.
The East African Digital Health Conference brought together government officials, development partners, donors, private sector partners, and national, regional and international experts to discuss the eco-system, policies, regulations, infrastructure and costs necessary for the successful scaling up of digital technology in the EAC region.
The participants discussed the draft Regional East Africa Digital Health Roadmap which will guide the regional implementation of digital health initiative. The roadmap guided by collective vision and commitment towards harmonization of digital health information systems in Eastern Africa will: facilitate collaboration within and among countries, the private sector and donors; harmonize digital health systems in the EAC region; facilitate plans and mechanisms to operationalise the resolutions and commitments on digital health; strengthen cross
Kenyans rearing crickets to meet growing demand for special proteins
The cost of establishing a basic system is about Ksh3,096 (US$30), in addition to the cost of the initial breeding colony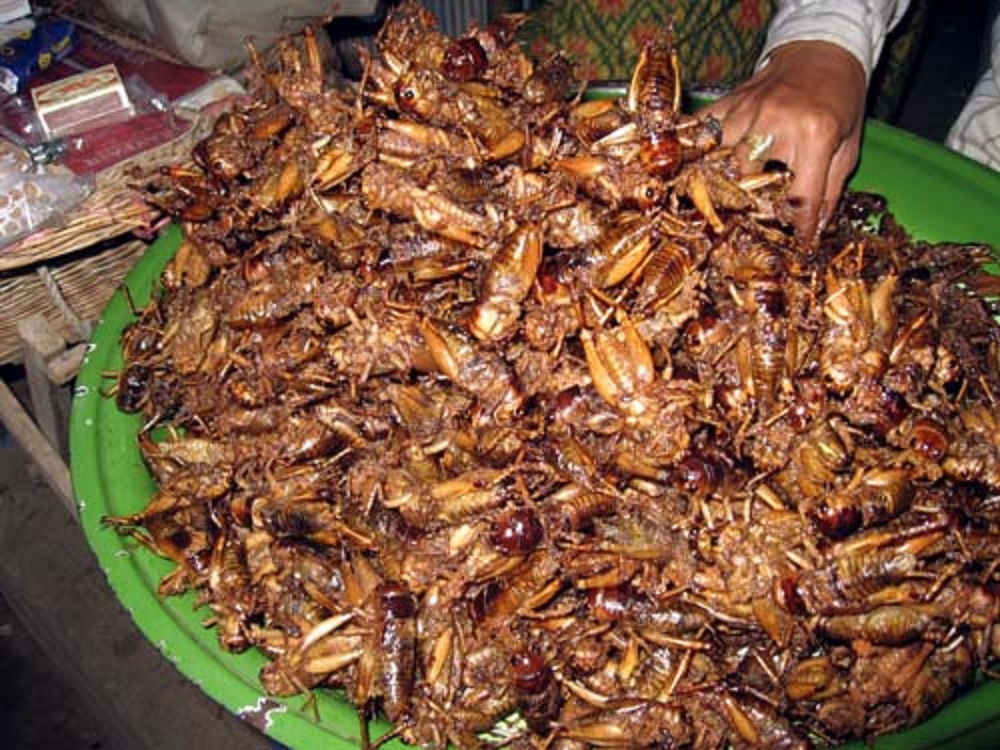 When Jane Mbiriri's granddaughter was diagnosed with acute malnutrition six months ago, she had limited knowhow on the best remedy for the condition and only wallowed in self-pity in her humble house located in rural central Kenya.
The 62-year-old farmer was at wit's end having no stable source of income to afford a balanced diet for the granddaughter as recommended by the physician. Mbiriri is currently raising three of her grandchildren following the demise of her only daughter one year ago.
However, her search for an affordable and sustainable source of protein for her granddaughter led her into discovering cricket flour which, as she puts it, got her granddaughter's growth curve back on track. Scientists have in the past cited crickets as a great source of protein compared to soya beans and beef, which are among the conventional sources of proteins.
Cricket floor
In Mbiriri's case, the insects, which are slowly finding their way into Kenyan recipes, have proved their worth. "At first when a friend recommended cricket flour and promised to get me some from her source in western Kenya, I almost turned down the offer since I had never heard of it," Mbiriri told Xinhua. "But my options were limited. My dairy cows do not earn me enough to afford the kind of food these children are supposed to eat."
She has since embraced cricket flour, which has immensely improved her granddaughter's health, and is contemplating on rearing the insects herself. "In our last visit to the doctor one month ago, I was very happy with the results as my grandchild has now gained weight unlike previous visits," Mbiriri said. "The cricket flour is not as expensive as other flours and now that I have established a relationship with the supplier, I get discounts from time to time," she said.
Initially she bought the cricket flour from a farmer in western Kenya but she has now established a new source not far from her home, where cricket farming is gaining traction.
"I also plan to venture into cricket farming, which from what I see is paying more even than dairy farming as the crickets are not capital intensive," Mbiriri said.
She belongs to a growing army of small holder farmers who have gradually embraced cricket farming.
Joseph Kairu took up cricket farming recently. The cost of establishing a basic system is about Ksh3,096 (US$30), in addition to the cost of the initial breeding colony of crickets.
To start such a colony, at least 200 crickets are required, and the colony should not be used for feeding until well established and the first babies mature into adults.
Kairu, who has a bachelor's degree in nutrition, saw a rising demand for cricket flour as an alternative source of protein for people residing in rural areas. "I come across so many cases of malnourished children. I realized there is a need for alternative sources of protein after a recent assignment in Turkana, where for every 10 babies that I attended to, more than seven suffered from high protein-energy malnutrition," Kairu told Xinhua.
Even though most Kenyans are still debating on whether to embrace alternative eating habits, there are those like Mbiriri and Kairu doing it and seeing the results. "There is a group of women in western Kenya who are already earning huge income from cricket farming and that is where I got some of the tips on cricket rearing," Kairu said.
Members of the group, made of 20 farmers, rear crickets each on their own but market their products collectively.
One of their clients is a leading hotel in Kisumu. "This is where I came across the different ways in which the crickets can be prepared," Kairu said.
According to Kairu, a kilogramme of crickets can sell for approximately Ksh516. "We are still far from embracing such alternative sources of vital nutrients, but with proper marketing and heath campaigns, I believe Kenyans will respond positively," said Kairu.