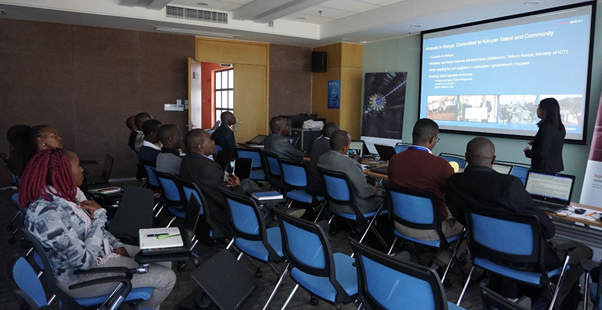 Huawei Kenya has launched a 10-day training programme for 12 local universities to implement the Huawei Authorized Information and Network Academy Train the Teacher Training (HAINA TTT), which is aimed at imparting cutting edge technical skills among professors to support them to train their students adequately.
Huawei's Senior Director of Public Affairs, Adam Lane emphasised the need to prepare students for the job market by building their ICT skills through proper training.
"Skills transfer and partnerships are a key strategy for the State Department for University E*******n, and this example shows how universities are partnering with leading multinationals to build the skills and employability of students," said Mr Lane.
The programme was first launched in 2017 under the name Huawei Authorized Information and Network Academy (HAINA). It is an authorised and certified non-profit programme that provides the latest technical training and certifications to students using the Huawei Authorised training curriculum and tools.
The certifications offered are curated based on the leading Information and Communications Technology (ICT) technologies and global ICT practices.
Since 2017, Huawei has partnered with Technical University of Kenya to provide cutting edge technical skills for professors and support them to train their students through HAINA. Now in 2018, Huawei is drastically expanding this programme to reach more universities, their professors, and their students.
This will enable Kenyan universities to provide the skilled workforce that employers need, and that will drive the continued transformation of the economy. The 10-day training will host 22 partners, and is focused on coaching university lecturers on Huawei Certified Network Associate – Routing and Switching (HCNA-R&S).
The HAINA TTT participant universities include Kenyatta University, Riara University, Daystar University, Jomo Kenyatta University, University of Nairobi, Multimedia University of Kenya, East Africa Institute of Certified Studies, Dedan Kimathi University of Technology, Zetech University, South Eastern Kenya University, AFRALTI and the Slumcode center.
By the end of the training, the lecturers from selected universities and training centres will have the necessary knowledge required to deliver Huawei Certification Course to university students in Kenya pursuing subsequent courses in the ICT industry.
READ: SEVEN WAYS BEING SINGLE MAKES YOU MORE SUCCESSFUL
Globally, Huawei has cooperated with more than 350 universities and educates more than 12,500 students every year. Through these trainings Huawei has cultivated professionals with practical skills globally and in the ICT industry chain, driving the transformation of society in the 21st century through creating technological innovation and economic growth.
Huawei intends to partner with many more institutions with the focus of creating continuous innovation and cooperation in the Information and Communication Technology (ICT) Industry.