Reports on social media claiming that President Uhuru Kenyatta ordered the temporary shutdown of Wilson Airport are false.  According to the claims that circulated on 18th January, and published on Kenyans.co.ke, Uhuru ordered the airport closed and all planes grounded because Hungarian President János der was scheduled to board a passenger plane to destinations outside Nairobi. 
According to Kenyans.co.ke, quoting unnamed sources at Wilson Airport, President János Áder was to visit either Diani or Masai Mara, via the local flight but Uhuru ordered the Kenya Airforce to take over and fly Áder to his destination.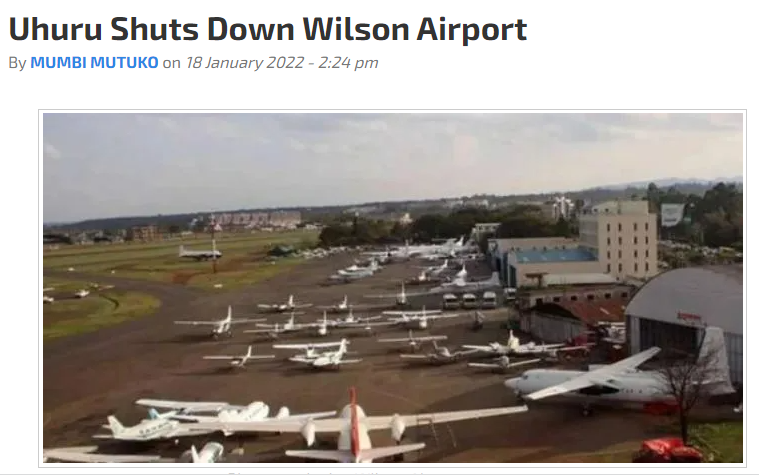 The post went viral with other websites and blogs picking up the news and publishing it. Business Today did a fact-check on the Wilson Airport closure and found it to be fake. Indeed, Hungarian President János der arrived in Kenya on 16th January 2022 for a four-day state visit in Kenya.
But on the issue of closing Wilson Airport, we could not establish any official communication either from State House, Ministry of Interior, Kenya Airports Authority or Wilson Airport, to that effect. In fact, the Kenya Airports Authority dismissed claims that Wilson Airport was closed in a tweet on 18th January, 2022, indicating that it was fully operating.
"Jambo, we would like to correct misleading reports indicating that Wilson Airport has been closed. The airport is fully operational," Kenya Airports Authority said on its Twitter page.
A Google search revealed only a few blogs and websites reported the "closure", with no mainstream media publishing it.
[This story was produced by Business Today in partnership with Code for Africa's iLAB data journalism programme, with support from Deutsche Welle Akademie ]
Next >> Kitutu Chache MP Not Really Interested In being Governor