[dropcap]I[/dropcap]nside the buzzing Buru Buru estate in Nairobi, people are up and down. The environment gives a total feel of entrepreneurship. It is all about business. Nancy Amunga introduces her team of employees and pulls a chair from her normal sitting position to face me. She looks quite skeptical.
At 24 years, Nancy is the founder and managing director of Dana Communications, which offers courier services in Nairobi. In-house courier services are available, where a client is provided with courier for a whole day to run errands. "We provide a fueled motorbike and the courier," Nancy says. "We provide personal errand management services for busy professionals and business people."
After graduating from Multi-Media University, where she studied media and communications specialising in public relations, Nancy engaged in various activities including modeling and hosting the comedy club that aired on NTV as well as directing Beba Beba show. She finally ventured into a mission that continues to shape her life. "I am happier where I am despite the challenges," she adds.
Her aim was to fill the gap in the courier industry. "I once bought a television set online and the delivery took longer than I expected," she says. "That's when I was convinced of bridging this gap."
SEE ALSO: Kenya's sexiest CEO speaks on business and beauty
Finding initial capital was a challenge but she managed to get Ksh70,000. Like many self-invented people, Nancy is watchful and innately administrative, although very outspoken.  She relies on self-effacing jokes and principles, not rules and bluster to mask an ever-present challenge of muscling her way to remain the manager of men.
Which may explain her strictness. "I really do not believe in rules, I believe in excellent delivery. I have seven employees, four of whom are men who sometimes are a little challenging," she says.
Dana's work involves dealing with many clients simultaneously – and meeting people with different attitudes and moods. "You always have to be patient and listen to them," Nancy say.
Stiff competition
She is a good motorbike rider and often joins her staff in running errands. While she looks fit and stable in her position, spending much of her time on social media to market her company and find clients, Nancy is not happy with the local authorities that constantly frustrate young entrepreneurs.
She wouldn't disclose hard figures, but indicates annual revenues are well over a million.  She attributes her success to patience, discipline and hard work, with her mother being her greatest mentor.
Read: The graduate who sleeps with chickens for money
Competition in the courier industry is stiff but Nancy is not shaken. "Our aim is to make our clients comfortable by giving them what they want at the right time. That is how we fight for our space," she says.
Dana Communications is, however, not the end game. She aims at expanding the business and start up a PR company in the next one year. "I studied PR and I like it too, so I am looking forward to that," she anticipates. With their ever-expanding client base, Nancy also looks forward to taking their services out of the capital city into other towns.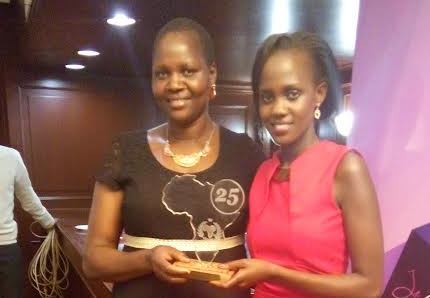 FACTS ON DANA COMMUNICATIONS
Ksh70000: Initial capital used to start Dana Communications
Qualification: A a Communications graduate from Multi-Media University, specialised in PR.
Founded: March 2014
Seven: The number of employees, most of whom are riders


---
Nancy was born and raised up in Kaloleni area of Nairobi. Her experiences growing up have played a role in her life. While seeking advice from people is good, he says, be careful who you talk to. "If you want to start up a butchery business, do not seek advice from a shoe shiner," says Nancy. She says people would discourage her from turning her idea into reality.
If there is one thing she is ever proud of, is the fact that her entrepreneurship has created employment. She has learnt some lessons the hard way. She recalls when a prospective client turned into a con and disappeared with her Ksh70,000 worth of capital top up.
NEXT READ: What a woman can do, a man can do even better
She was born a leader, she says. She is a reader and boasts The Richest Man in Babylon by George Calsson and Who Moved my Cheese by Spenser Johnson as some of the books she reads to inspire herself.  She was recently recognised and nominated among Kenya's Top 25 under 25 entrepreneurs and now looks forward to making it to the Forbes magazine. "I believe in my determination," says Nancy, an ardent Arsenal fan. "I know I will make it."
Her advice is simple. "Look around you and make money. Any ambitious entrepreneur should be self-driven, smart and an absolute problem solver."