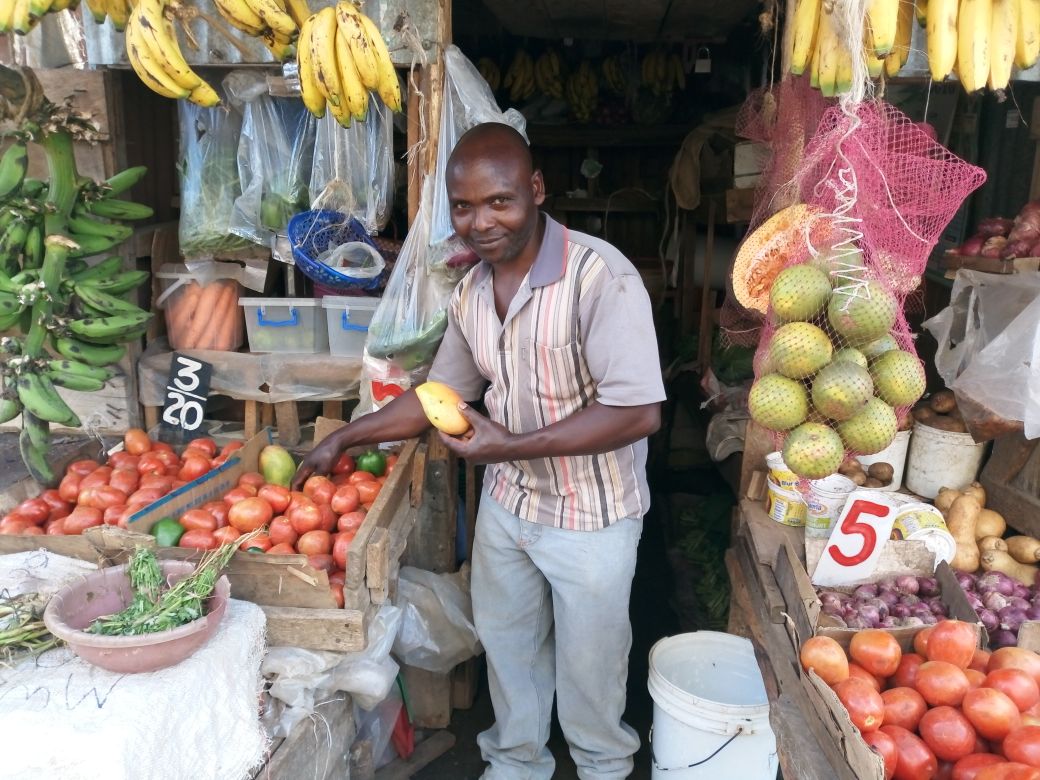 [dropcap]W[/dropcap]hen the hustle and bustle gets real, no power can decelerate it. For decades now, running a green grocery is a business that has been treated as feminine. However, for Christopher Ngugi, 45, this has been his hustle for the past 22 years.
After a fall out with his cousin over pay, Ngugi, then a young boy, moved out and opened a small informal roadside grocery in Nairobi's Kayole estate. Little did he know that this was where he would spent his adulthood.
"My decision to run a grocer came through experience. As a teenage boy, I was employed as sales person in my cousin's shop. However, my cousin took advantage of me and on many occasions failed to pay me my dues. After working for two years, I decide to quit. I only had Ksh 800 at hand. Several thoughts crossed my mind among them going back home, but I finally decided to choose a business that I could easily join with this cash. That is how I landed in a green grocery," he narrates.
Twenty two years below the line, Ngugi now a family man is still in his green grocery and has a tale to tell.
"A green grocery is a business many people ignore but the fact is, there is real business here. a bigger percentage of the neighbourhood buys from us. Initially, when I started, I would make close to Ksh 10,000 per day because we were very few then. The numbers have since increased but business is still good. That's why I am still here 22 years down the line," Ngugi says with a broad smile on his face.
According to Ngugi, the love he has for his job has seen him keep his business intact despite encountering negative energy from some people. "With love and positive attitude towards what you do, you can achieve a lot in life," says Ngugi.
Just to authenticate his words, he shares with this writer how being a grocer has impacted on his life. "I have so far bought two plots here in Nairobi. My first born graduated a year ago. I currently pay fees for two children in private schools. All these I have managed with the funds I get here."
On a typical day, Ngugi wakes up at 4am and retires to bed at 11pm. He is, however, not worried about the long hours he spends working. Instead, he says however small business is, respect, dedication and perseverance is what will make you succeed.
"No one supervises me but discipline, dedication and perseverance has kept me going every day. I don't complain waking up early because at the end of the day, I get huge benefits," he says.
Ngugi's advice to youths who sit back waiting for free things is; " trust yourself and don't listen to what people say about you and what you do. Know where you have come from, where you are headed to and what you want and you will surely achieve a lot."
Peter Njine: Tiny cash that has built a big empire
Across the road just a stone throw miles away in Komarock estate is Peter Njine, a fruit vendor, who has been in the industry for the past seven years. Before venturing into fruits business, Njine worked in the same industry but felt he was underpaid and decided to quit and start his small stall.
Njine believes there is a very big difference between formal employment and running a business. His key tenets are not very different from Ngugi's – discipline, dedication and hard work.
"I don't think anyone can employ me now. My hustle does it all. I love what I do and it in turn pays me handsomely. My seven years in this business has not gone to waste. I have had a lot of personal achievements including buying a plot and building my own home. I don't pay rent," stresses Njine.
According to Njine, people who choose what to do are those that have people they depend on. "How do you rule out an idea you have not tried just because you feel it's feminine or it is not paying?" poses Njine.
Njine only needed to accumulate Ksh 4,000 to start his hustle but today, he takes home an average Ksh 5000 from his hustle. "I love the fact that I am my own boss. On a good day, it's not a miracle to take home Ksh 5,000. I am here to stay and take this hustle to the next level. Watch this space," closes a vibrant Njine.