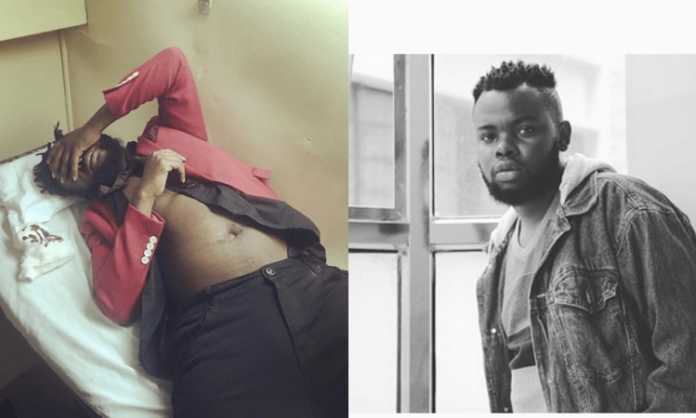 Churchill comedian Nicki Bigfish was recently beaten by two 'bouncers' while shooting a prank for his Ebru show 'jibonge'.
Nicki while acting out of script, denigrated the personas of the two bouncers; alluding that they dropped out of school to go into bodybuilding and possibly using muscle enhancement drugs. The two guys unaware that it was a prank, got angry and roughed him up.
Kenyan comedians have lately been on the receiving end of violent criticism for lack of or dull content. The pressures to produce and impress, too, has weighed heavily on the comedians. Those especially put on the comedic pedestal, find the pressures quite immense; to maintain their comedic stature and relevance. This has imported lots of desperation by many comedians in seeking content for their fans.
A case in point; a time back Erick Omondi was on the spot for being extreme in his quest to crack ribs when he posted a video of him swimming nude with children. The comedic stunt attracted much scorn than laughter; portraying him as desperate and possibly deranged.
Few others, especially on the popular Churchill show have been criticized for being lewd and performing offensive stunts. This is believed to be motivated by the comedian's desire and desperation to impress or steal the show.
In the recent case of Nicki Bigfish, it is unfortunate that it ended as it did, however, as many people have been warning, this was bound to happen. In performing practical jokes or pranks, one needs acute keenness and caution. Unlike other kinds of jokes, this is quite delicate and risky. In spite of the victim's ignorance of a prank, a prankster ought to employ a lot of tact when performing the practical joke.
In the video shared on social media, it is evident that Nickie Bigfish went overboard with his pranks. Perhaps, blurred by the desperation to crack and attract more viewership for his show, he lacked tact in projecting his pranks on the two bouncers.
He failed to see the limits. It was rather late before he realized that his victims were sharply offended and cared less that it was a prank.
Out in the streets, parks, among other places where pranksters consider to be hotspots for pulling their pranks, lots of folks have silent injuries they are nursing. Some have enormous insecurities. Some have serious personality disorders and delicate tempers. Culminating it all is the financial stress burdening a majority of Kenyans.
It is slightly improper to play certain pranks on such individuals without being careful and evaluating the limits you can stretch to. Few shall respond with the expected reaction, or bother that it is a prank.
In as much as tolerance is requested on the part of prankster victims upon realizing that it is just a prank, much wisdom and caution is to be demanded on the part of the pranksters and comedians; hunger for content notwithstanding.