Just who dares correct the President's English? Well, linguist Willice Ochieng, who is also a linguistics lecturer, yesterday did the unthinkable: he clinically deconstructed President William Ruto's grammar in a tweet he posted as he left for a state visit to Tanzania.
Never mind that the country he was travelling to is not so much known for its strength in English. Here is President Ruto's Tweet:
"My friend @RailaOdinga, am off to Tanzania for a human capital meeting to harmonise the expansion of employment opportunities in our continent. Am back tomorrow evening, and as you have always known, am available to meet one on one with you anytime at your convenience."
This was meant to be a political teaser for Azimio leader Raila Odinga from a president he claims to be dodging dialogue with him over some unfinished political business. Of course, Kenyans on Twitter, in their usual style, took sides on the President's messaging – throwing barbs and banquets at each other in hilarious retorts.
See Also >> Inside Details Of Raila Odinga's One Billion Shilling Resort
But it is Willice Ochieng – christened word master on a KTN show he used to appear as a pronunciation and grammar expert – who carried the day by correcting the President's message, one sentence at a time.
"Great spirit there, Your Excellency," Mr Ochieng writes in his reply, and, knowing that he was treading on slippery surface, added a caveat that the correction is "JUST FOR LEARNING."
"Am off to Tanzania" (NO)
I'm/I am off to Tanzania (YES)
"Am back tomorrow" (NO)
I'm/I am back tomorrow (YES)
"Am available" (NO)
I'm/ I am available (YES)
*AM is not used at the beginning of a DECLARATIVE SENTENCE.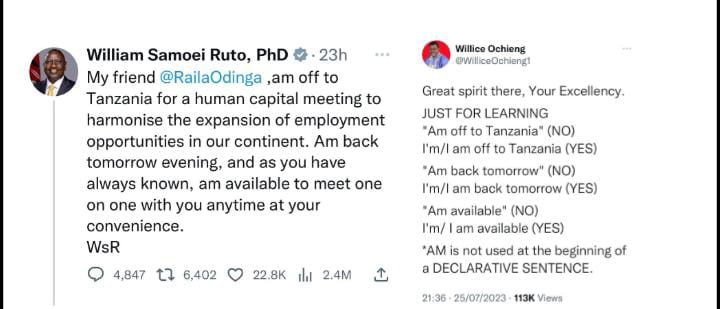 It is not clear whether the President understood his explanation at the end.
Other Kenyans, tongue in cheek, reacted to Mr Ochieng's English lecture to President Ruto, with some being sarcastic about it. Dr Ruto holds a Doctor of Philosophy degree in Plant Ecology, Bachelor's degree in Botany and Zoology and a Master's degree in Plant Ecology.
@SylvesterOgola said, Utafinywa bana Willice, prezzo hapendi jokes.
@MisigoHarun, responded: Willis, he's a scientist. He might not have sat pretty well in an English class.
Mr Ochieng, reacting to the responses, adopted a conciliatory tone, noting that humans are not perfect.
"Take it easy, bro," he said in one of his responses. "To err is human and WE ALL MAKE MISTAKES, sometimes accidentally or unknowingly. What is more important is LEARNING from positive/friendly corrections because NOT EVEN WILLICE (myself) or those who are in England can be perfect/spotless all the time."
Read >> Ngina Kenyatta Running a Multi-Million Green Haven
He thanked Kenyans for the kind and encouraging words. "Our free lessons — like brothers and sisters — mean a lot in our society, especially the way almost everyone on our platform embraces humility and the positive/friendly interactions," he said.
This is not the first time Willice Ochieng is scoring a public figure. Five years ago he corrected President Uhuru's spelling error in a tweet.  Uhuru had tweeted that he had visited his friend, former cabinet minister Kenneth Matiba, 'who is convalescencing at a Nairobi Hospital'. Ochieng pointed out that the right word was convalescing meaning to recuperate from the verb convalesce.
Meanwhile, after attending some wedding in November last year, Wiper leader Kalonzo Musyoka tweeted; "I was honoured to witness the joining of Michelle and Anselm this afternoon. Your parents are fantastic people whom I'm privileged to know. I wish the both of you all the love and happiness for eternity," he tweeted.
Willice Ochieng shot back: "Sir, you are always a man of great English, humility and sober leadership. Just for learning; "I wish THE both of you . . ." (NO), I wish both of you . . . (YES). The definite article THE is not used before the word BOTH. But we all make such mistakes, sometimes accidentally."
Next Read >> Meet Uhuru's Son In Law Running Multi-Million Venture Capital Firm