Ngina Kenyatta, former President Uhuru Kenyatta's 32-year old daughter, is an operator in the hospitality sector – a sector into which her family has ploughed billions of shillings over the years with various luxury resorts spread across the country.
Ngina Kenyatta serves as a director at the Kenyatta Trust and is the holder of a Bachelors  degree in International Relations and Politics.
She is the proprietor of The Green Experience Restaurant located in Lari, Kiambu county. As it names suggests, the restaurant boasts a serene, greenery-filled ambience intended to offer a relaxing experience. It sits on the Kenyattas' tea estate in Kiambu county.
Kiambu is one of several counties in which the family owns large tracts of land. A declassified CIA report made public seven years ago also revealed some of the family's land holdings at the time of Jomo Kenyatta's passing in 1978 – with Mama Ngina Kenyatta, Uhuru's mother, owning at least 115,000 hectares including a 13,000 hectare ranch in the Kiambu district and two tea plantations at Matu and Mangu.
The restaurant was opened by Ngina in 2018. It featured classy design and sleek fittings, as well as outdoor seating areas overlooking the lush tea estate, and promised meals prepared by some of the most talented young chefs in the country.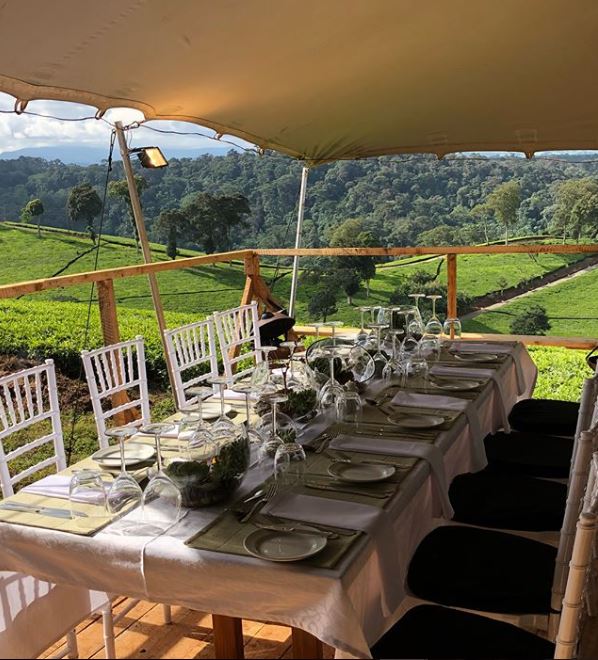 READ>6 Multi-Billion Kenyatta Family Companies & Assets
Several members of the larger Kenyatta family have been pictured at the restaurant, including former Kenyatta International Convention Centre (KICC) CEO Nana Gecaga, one of Uhuru's cousins.
The Green Experience restaurant was closed in April last year for a major upgrade.  The renovation is intended to make it an even more attractive destination for local and international tourists among other leisure-seekers.
Ngina last year notably also got married to Alex Mwai – the son of former Karen Country Club General Manager Sam Mwai. They have been together for over 12 years.
SEE>Meet Uhuru's Son-in-Law Running Multi-Million VC Firm