Francis Gachuri, the Citizen television political reporter, has been assaulted at the Wiper Party headquarters along Othaya Road, Nairobi. According to reports, Gachuri was assaulted by NASA supporters who did not want particular media houses to cover its Parliamentary Group meeting in Nairobi over alleged biased reporting of the unfolding political events in the country.
It is reported that another NTV camera person, Jane Gatwiri, was also assaulted when she tried covering the fracas, in an apparent overflow of emotions just a day after Uhuru Kenyatta was declared the winner of the disputed repeat presidential election.
Gachuri was saved from the angry mob, comprising Wiper supporters, by Wiper MPs who tried  to calm the situation.
All journalists who had gone to cover the event walked out of the premises in solidarity with the assaulted journalists. The incident has attracted sharp reactions from the journalism fraternity.
Kenya Union of Journalists Secretary General Eric Oduor and Kenya Political Journalists Association chairman Isaac Ongiri condemned the action, warning that journalists would retaliate by ignoring NASA functions.
"When your supporters attack journalists," Odour said in a Facebook update copied to NASA communications team led by Dennis Onyango and Philip Etale. "We will also boycott your functions. please advise your bosses accordingly. Journalists are not politicians."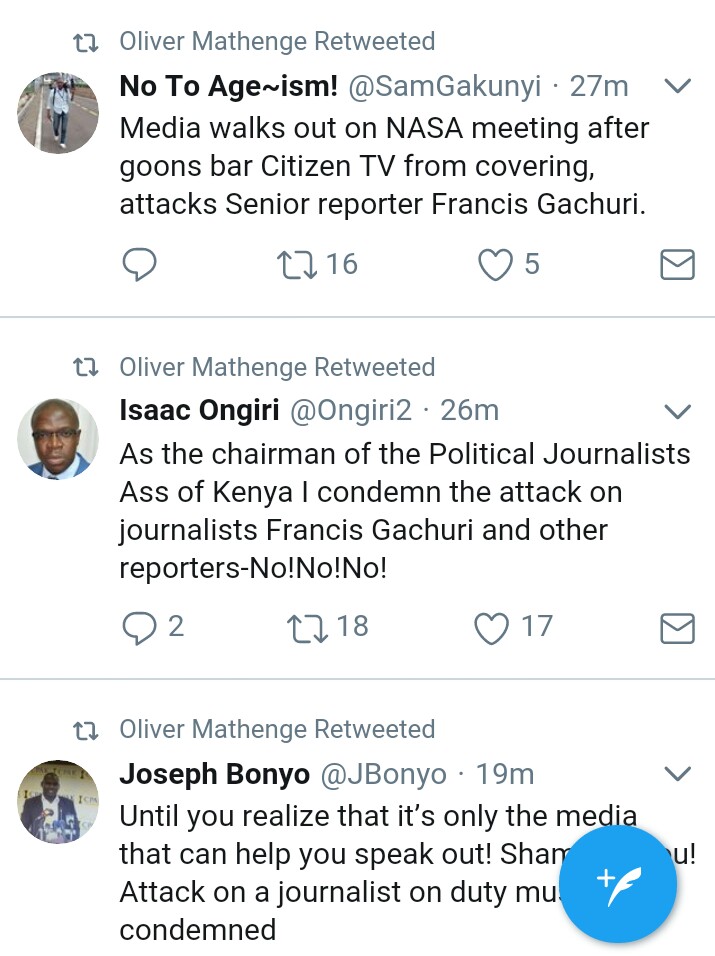 Etale, the ODM director of communication and a former mainstream journalist, apologised over the incident.
"Dear colleagues," he said, "I must say here what I saw was unfortunate, barbaric and archaic. I have reported the matter to Hon Raila Odinga and he is not amused at all. "A statement on the same will be released and the youths involved will be reprimanded. On behalf of NASA I apologise for the attack on my brother Gachuri and sister Jane of NTV. I am very disturbed."
NASA later issued a statement condemning the attack and promised to investigate the matter. "The National Super Alliance is deeply disturbed by an incident in which some youths attending its meeting at Wiper headquarters earlier today assaulted some reporters from local media houses," read the statement from Kathleen Openda, NASA communications director. "We wish to make it clear that the youth acted on their own and we condemn their actions in [the] strongest terms possible.
She added: "We ask media houses that may have captured the said youth on video to provide them to the Coalition for investigation and action. The Coalition registers unreserved apology to reporters who fell victim to this unfortunate incident."
This comes amidst complaints of infringement of media rights and freedom provided for in the Constitution by the police and political actors. Recently, there have been calls by politicians for the boycott of particular media outlets and their products owing to the role of media in critiquing their actions.