Kirubi: If you're poor, check your mind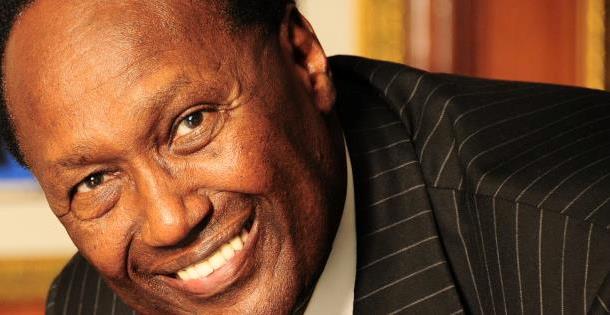 Poverty is something many of you may know too well. It hurts and stings, making you feel less important than those who are privileged, according to businessman Chris Kirubi.  It seems to cloud the mind convincing you that you are incapable of changing your situation and hinders many young people from becoming successful.
In his ASK KIRUBI column on Capital FM, he says circumstances may seem that way but it's important to understand that poverty is just your physical state not mental.
You may be poor on the outside but full of wisdom and intelligence on the inside. However, you can corrupt that if you let your state of poverty affect your mind. Instead, choose to fight and improve your situation knowing that you have much more to offer.
Arm and empower yourself with knowledge that you can use to better yourself. Remember, an investment in knowledge always pays the best interest.
It's time the young people who have been affected by poverty began seeing it as just a state of the mind. That regardless of their background, with the right mind-set, you can break away from the 'physical' shackles of poverty. It may be easier said than done but it's not impossible.
SEE ALSO
Make a decision to create a better livelihood for yourself and even those around you. Partner with those who are like minded and have faced similar hurdles like you and create opportunities for yourselves.
Show those who have succeeded that you too can succeed given the opportunity. Let it encourage them to give the underprivileged opportunities or partner with them to enhance their livelihoods.
You, my friend, are no different. You may have to work twice as hard for opportunities, but there's nothing more satisfying then enjoying the fruits of your hard earned labour. Let poverty motivate you to do more and live a better life.
Tour firm woos youth with special packages
Ngurumah intends to drive domestic consumer demand and position Kenya as a top of mind holiday destination for younger travellers
One of Kenya's pioneer travel companies, Ngurumah Tours, has realigned its offerings to target the youth and boost a travelling culture in the country. Managing Director Isaac Mwangi said the company will now be tailor-making tour packages at affordable prices aimed for the youth.
Through this new move, Ngurumah intends to drive domestic consumer demand for Kenya and to position Kenya as a top of mind holiday destination for the biggest potential market – the youth.
According to data by the Ministry of Tourism, domestic tourism recorded a 14.6% growth last year, and this has made it imperative for Ngurumah and other tour companies to slot in to take up this growing market.
"The Kenyan youth are now more open to the beauty of the country and East Africa from the continued growth we have been observing. They also have the right to explore their country and the world, and we have taken the steps to empower them to do exactly that. We have decided to become a truly youth-friendly company," says Mr Mwangi.
He adds that Ngurumah will be creating special packages for everyone including students, young professionals, youth groups and the older but young-at-heart starting from as low as Sh. 1,000.
Apart from tour packages, Ngurumah will also be providing car hire services, also tailor made for the youth. "Whether you need to travel upcountry, or are a visitor in Kenya and needs to move around, or you are a group of friends going for a friend's ruracio, we have several, well maintained vehicles that we can hire out to you at a friendly fee." Mr Mwangi explains.
Where at thou Romeo? For many ladies, search for a man is serious business
With fewer and husband-material guys to choose from in Kenya, eligible women are finding themselves desperate between a rock and a hard place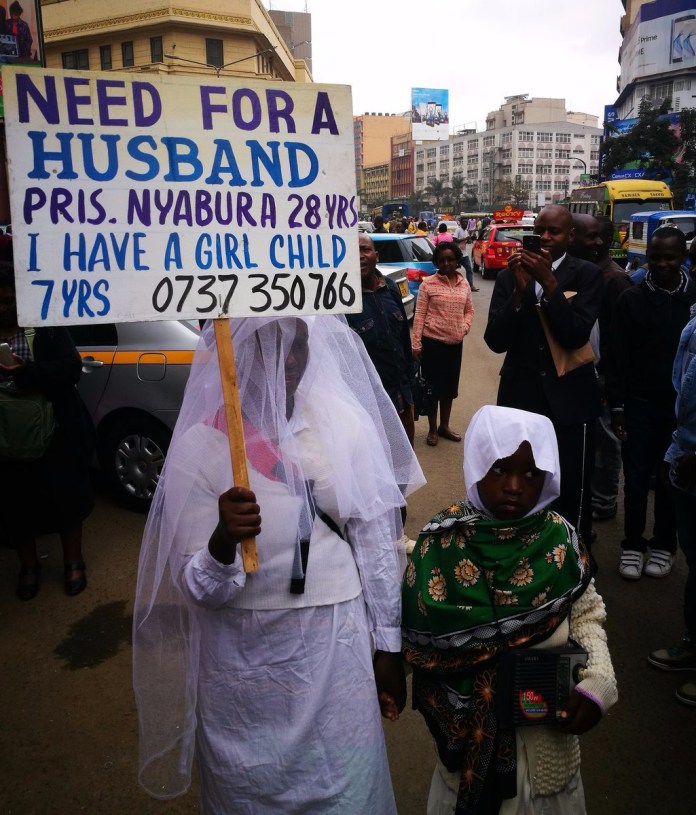 A 28-year-old lady has set the internet ablaze after she took to the streets of Nairobi early today seeking to get a husband. Priscilla Nyabura was photographed by different people  holding a placard indicating her need for a husband and her phone number for interested parties.
What could have pushed her to go to the streets still remains unknown, but poverty, loneliness and possibly unemployment. Wearing a wedding gown, signalling her readiness to tie the knot, she was even accompanies by her seven-year old daughter, perhaps a sign of transparency and prove of fertility. 
Nyabura, accented version of Nyambura, a common name for ladies among the Kikuyu, has redefined the search for a man to live with, through her open-air advertisement. There have been cases of eligible individuals putting advertisements in the classified sections of the papers, but it's hasn't been this extreme.
The behaviour is unusual, but the reasons behind it could be the hard economic times complicated by changing social structure where the number of eligible bachelors is shrinking. Most men are cruising past marriage age range of 24-35 without wives, choosing to stay single and avoid the social and finacial responsibilities that come with settling down.
This has left many women eligible for marriage without reliable partners. What's often available are the 'hit-and-run' types of men out for short term pleasures. An increasing number of women are growing up without the desire for a man, emboldened by economic empowerment and discouraged by the high propensity for being hurt or abandoned by a once-committed man.
Ms Nyambura's case is an explosion of frustrations among ladies in getting a long-term soulmate in a country where both men and women are searching for financial stable partners. But due to the reality of poverty and unemployment in Kenya, getting a mate has become about as hard as getting a virgin.  
Government statistics show that 46% of Kenya's population of 46 million lives below the poverty line, leaving a huge segment without means for earning a living. Most young men are left without the most important resources that attract women: money and power.
Access to basic quality services such as healthcare, education, clean water and sanitation, is often a luxury for many people, yet a necessity for good life that makes a marriage work. That by  no means indicates poor people don't marry. Large segments of the population in Kenya, including the burgeoning urban poor, are married. They simple make the best out of their situation. 
According to the Kenya Demographic and Health Survey 2014, out of a national population of about 38 million, over 23.4 million, or more than half, have never married.
But the modern lady looking for good life is not read to make the best out of a bad situation. They want the best life can give: lots of money, nice house, good food stored in a fridge and cooked on a huge gas banner before being served on glittering glass plates. Then washed down with wine or whiskey.
Ladies find themselves in a pool of dilemma of morals versus money. Some hope for – and, at times lucky to get – wealthy husbands. And there is always a group of men from the middle class and the high end segment ready to 'help' such ladies for sexual benefits, which has spawned a new tribe of men called 'sponsors' – the guys with means who care less about love and moral and thus ready to finance a lady's desired lifestyle in exchange for sexual favours. 
On the other side, so-called 'good men' often impregnate ladies but soon turn dead beat dads. They then embark on getting the next catch, often from the same poverty stricken group, who will not give much trouble once they smell a thousand shilling note. This class is also a preference since they rarely seek legal redress in case they are abused. They just opt to move on to fend for themselves or hope another man will be sympathic enough to take care of them.
What follows are use-and-dump scenarios. Others who might be willing to marry them are their fellow poor chaps, who are not even capable of taking care of themselves. The young single mothers eventually lack somebody to marry them. They have to pay rent, eat and take the child to school. The options for survival are fewer. Many get into the vicious circle of searching for the elusive tall, dark and handsome (rich) men.
Those who fear public scorn use online dating sites where the situation is worse with strangers who exploit their desperate conditions to prey on women. Others get their 'love' on social media but soon find that they are not compatible.
Nyambura decided to invent a new way of getting a marriage partner, a shortcut of some sort, which redefines the art of getting married by removing the bliss of dating and courtship, which can take years and many litres of coffee and other drinks.
The most overlooked factor of success
Finding a good partner is one of the fast tracks towards success and wealth. It can, however, be one of the fast tracks to failure
Steve Jobs had Steve Wozniak. Warren Buffett had Charlie Munger. Larry Page had Sergey Brin.
Some of the most successful people in the world owe their success to the partnerships they forged.
Thomas Corley, the author of In my Rich Habits Study,  interviewed 233 wealthy individuals (177 of whom were self-made millionaires) with at least $160,000 in annual gross income and $3.2 million in net assets.
According to Rich Habits research, finding a good partner is one of the fast tracks towards success and wealth. It is, however, also one of the fast tracks to failure or, worse, bankruptcy. Choosing a bad partner can create havoc with your financial and personal life. Bad partnerships lose money, find themselves in litigation, and can destroy a marriage.
READ: How I learnt baking on YouTube
So how do you go about finding the right business partner? Corley, the author of Rich Habits: The Daily Success Habits of Wealthy Individuals, and Rich Kids: How To Raise Our Kids To Be Happy And Successful In Life, lists below are some questions to ask that will help you identify potentially good business partners:
Is your potential partner honest?
Is your potential partner humble?
Does your potential partner have skills you lack?
Does your potential partner have control over their emotions?
Is your potential partner sound financially?
Does your potential partner have good relationships with his family members? Family includes immediate family as well as parents and siblings.
Does your potential partner treat their family members well?
Does your potential partner have a hard work ethic?
Is your potential partner a rule follower?
Have you worked with this potential partner before?
Do you know this potential partner very well?
Is your potential partner positive, upbeat, and optimistic?
Does your potential partner have a good reputation?
Does you potential partner have integrity?
If your potential partner has a spouse or significant other, do you know them well?
Is your potential partner a good listener?
Does your potential partner have a reputation for keeping their word?
Is your potential partner a good learner?
If the answers to these questions is yes, then you have a perfect partner candidate. If you don't know the answers to any of these questions, do not partner with a potential partner until you do.
Some other points I'd like to make regarding potential partners: Find three or more individuals who have worked with this potential business partner and ask them the above questions. This includes former partners and vendors. Ask your potential partner's family members these questions:
Who does your potential partner surround themselves with?
Are their friends standup people or not?
Would you associate with their friends?
Never partner with someone who surrounds themselves with fools or people who lack integrity.
You will never know everything you need to know about a potential partner, but asking the above questions is good due diligence and will help you to better vet potential partners. Knowing as much as you can know about future business partners significantly reduces your risk.
The more you know, the lower your risk. Not knowing as much as possible about potential business partners significantly increases your risk. The less you know, the greater your risk.