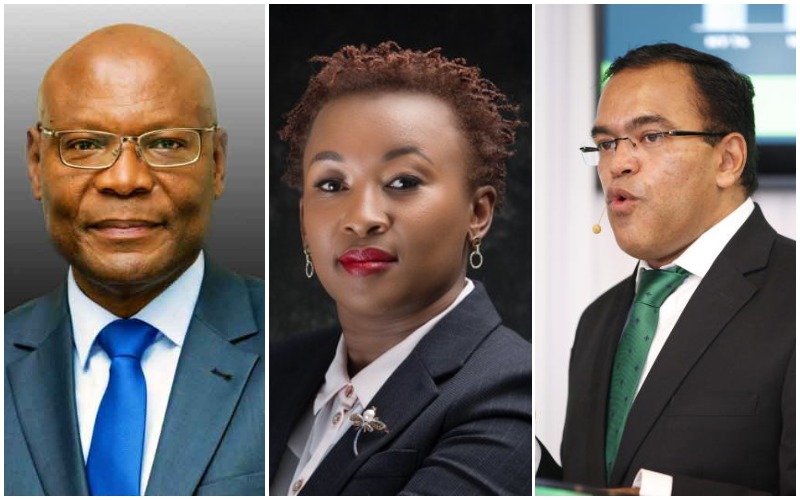 There is a maxim in power circles that there should never be a leadership vaccum. Thus when the king is d**d, long live the (next) king.
As Safaricom mourns the loss of its chief executive Bob Collymore, the giant telco has already made a move towards ensuring the vacuum does not subsist with the  appointment of Michael Joseph as interim CEO.
Matters of succession are sensitive, especially in circumstances such as these when the incumbent d**s in office. Whereas in politics the law provides for the filling of an occupant's position, Kenya's business scene is now in uncharted territory.
A titan in the telco industry, who helped propel Safaricom to become the most profitable company in the East Africa region has d**d while in office. For the time being however, thoughts remain with the departed CEO's family and friends as they lay Collymore to rest and continue to mourn his loss.
When the dust does settle, or even before judging by the reactions of Kenyans on Twitter (KOT), debate will rage on who is appropriate to take over from the beloved departed Collymore.
Indeed, it already seemed as if the succession intrigues were in operation even before the Guyana-born UK businessman announced that he was set to extend his stay at the helm of Safaricom for another year.
Having already extended his contract twice before, the then Safaricom CEO was initially set to exit in August 2019 but then reports emerged of a struggle between government and the telco over who should take over next.
The government's particular gripe is that Safaricom appoint a Kenyan at its helm. "I would be very surprised if they can't find a Kenyan," ICT Cabinet Secretary Joseph Mucheru was quoted by Reuters in April. "It will be hard for them to justify, what is so special about telecoms."
[Read: Bob Collymore: Guyanese boy who was living his dream]
Any succession plan that was in place may now be subject to the tussle with government over the next CEO, and may even be a pointer as to why in temporarily appointing Joseph, a Board member and former CEO, the telco has played it safe.
Others however have not seen it that way, with former Presidential aspirant Martha Karua stating that it was a snub on potential current senior level executives who could perform the role of interim CEO.
"Not good at all , this looks like a vote of no confidence on all the senior guys at Safaricom and talks volumes of a deficit in succession planning," she tweeted on July 2.
Not good at all , this looks like a vote of no confidence on all the senior guys @SafaricomPLC and talks volumes of a deficit in succession planning! https://t.co/XGXi0iafiT

— Martha Karua SC (@MarthaKarua) July 2, 2019
The "senior guys" who may be expected to be in the conversation include some Kenyans who could be front runners.
Chief Customer Officer Sylvia Mulinge and the Chief of Special Projects Joseph Ogutu hold high positions within the Safaricom hierarchy in case the telco decides to play to the government's tune.
Mulinge, a former Brand Manager of Unilever Kenya's Sunlight, has been at Safaricom for 13 years. She rose through the ranks at the giant telco from head of retail and head of Safaricom business sales to become General Manager Entreprise Business and Director of Consumer Business.
In late 2018, Mulinge was appointed to her current position of Chief Customer Officer where she leads "Safaricom's customer obsession through leadership of Consumer Business, Sales Operations, Customer Care Service, Brand Marketing & Experience, Digital and Market Development."
The University of Nairobi graduate has of late been seen to be performing the role of "the face of Safaricom." and is being seen by some, not least some vocal types on social media, as a favourite for the role.
Beyond overseeing a myriad of Safaricom events in the recent past , part of her potential credentials has been the fact that she was approved to serve as CEO of Vodacom Tanzania before the country south of the border denied her a work permit.
Ogutu meanwhile, like Mulinge, has considerable experience at the firm having worked at Safaricom since 2005.
The former HR chief also has the advantage of being in the telco industry since 1982, with Kenya Posts and Telecommunications Corporation and Telkom Kenya prior to joining Safaricom.
[Read: Sitting in front of TV harmful to the heart]
Other positions he has held at Safaricom include Director of Strategy and Innovation as well as Corporate Affairs Officer. It is during his tenure as innovations chief at the telco that M-Pesa, the mobile money transfer service that contributes heavily to the telco's earnings, has bloomed.
The chair of the Safaricom Foundation also lent a helping hand in leading Safaricom along with current chief finance officer Sateesh Kamath when Collymore proceeded for medical leave in late 2017.
Experience in taking temporary charge of the telco is also an advantage that gives Ogutu an upper hand in the event the board is looking for a Kenyan to fill the chif executive position.
The two Kenyans would probably not be lost in the role in the event the telco goes the Kenyan way and picks an insider.
The Vodafone-Vodacom Effect
Vodacom is owned by British telco Vodafone who also hold a 5% stake in Safaricom (although as majority shareholders in Vodacom, the UK company has more of a say in Safaricom seeing as Vodacom's stake is 35%).
This could mean that someone who isn't a Kenyan but is within the overarching arm of the telco network could be tapped.
In this, Kamath, the Safaricom CFO, may be in the running considering that he was stepping in for Collymore during the medical leave period.
Kamash joined Safaricom from from Vodacom Tanzania and has over 22 years' experience in both mature and emerging markets across Asia, Europe and Africa. He also has a background in strategic performance management and building robust operations across telecoms.
If picked, he would represent a Vodafone choice which the UK firm has had a hand in in previous occasions. Or perhaps rumours will circulate again of former Vodafone Ghana CEO Yolanda Cuba, who left West Africa to join Vodacom South Africa in February, of being granted the position.
The British telco, which also owns M-Pesa, has however in the past brought some of its own from beyond Kenya's boundaries.
[Read: Michael Joseph appointed interim Safaricom CEO]
Ever since Vodafone came on board the Safaricom ship following the split from Telkom Kenya, the British telcom has always had a substantive hand in appointing who leads Kenya's largest telco by subscriber base.
In 2000, Michael Joseph landed the gig lasting until 2010, with Collymore taking over. Joseph is an American national who was born in South Africa while Collymore was a British citizen who was born in Guyana.
Joseph however has dual citizenship following the implementation of a new constitution in Kenya in 2010 while Collymore also qualified for the same having been married to a Kenyan for three years.
Whichever way the succession goes, with Joesph in temporary charge for now, the Safaricom board has, for now, given itself room to ponder.
[See Also: Bob Collymore to be laid to rest on Tuesday in private ceremony]