It has been a rough year for Standard Group (NSE: SGL) shareholders. Since January, the Standard Group share price has declined about 50% to Ksh5.54 as at the close of trading on Friday, 10th November 2023. And there appears to be no relief in sight for Standard investors.
The Kenya Union of Journalists (KUJ) has picked up a fight with the media company. The union has condemned the Standard for failing to pay its journalists for many months, estimated at six, and has threatened to rally Standard Group journalists to a strike that would disrupt the company's operations.
A strike by Standard journalists could cause more investors to sour on Standard stock and bail out, causing Standard Group share price to plunge even further. Founded in 1902, the Standard Group is one of the oldest and leading media companies in Kenya. It operates several media brands.
The Standard Groups owns television stations KTN, KTN News, and KTN Farmers as well Radio Maisha, Spice FM and Vibes FM. Besides, it publishes the namesake Standard newspaper and the weekly tabloid, The Nairobian. The Standard also runs several digital media outlets.
What is happening? The Standard Group has not paid its team of journalists for at least six months, according to the Kenya Union of Journalists (KUJ).  Its photojournalists are the most affected, having not been paid for 10 months.
>> At Standard Group, Old and Young Employees Scramble for Early Retirement
The KUJ last week criticised the Standard for frustrating its journalists by making them work without paying them salaries. The newsroom labour union said the company has made several false promises about paying its journalists, causing it to threaten the strike. The union sought the Standard to start paying its journalists within seven days, or else it would ask the journalists to stop working.
The union's decision to go public about its frustration with the Standard over a lack of salaries for journalists is damaging to the media company's reputation. A bruised reputation could make it difficult for the Standard to attract investors, customers and retain its star journalists.
Is the Standard facing financial problems?
It seems. In addition to not paying its journalists their salaries, the Standard has been trying to shrink its workforce in apparent belt-tightening efforts. The company has made several rounds of layoffs in recent years. It is considering additional job cuts in the future as it seeks to control its costs and get back in good financial shape.
How did it get here?
You remember the coronavirus outbreak? Let's start there.
As the virus spread rapidly, it became hard for media companies to make money. The Covid-19 pandemic caused many sectors of the economy to shut down or scale down activities sharply. The tourism industry virtually ground to a halt following the disease outbreak. The consequence for media companies was a sharp decline in advertising revenue.
In 2022, Standard's revenue dropped to Ksh2.7 billion from Ksh3.1 billion in 2021. The company's loss ballooned to Ksh1 billion in 2022 from Ksh22 million in 2021.
But the Standard's financial troubles predate the Covid pandemic. As you can see from the chart below, the company has struggled to grow its revenue and turn a profit over at least the past five years.
But is there hope of things getting better at the Standard? It is possible, but there's no guarantee.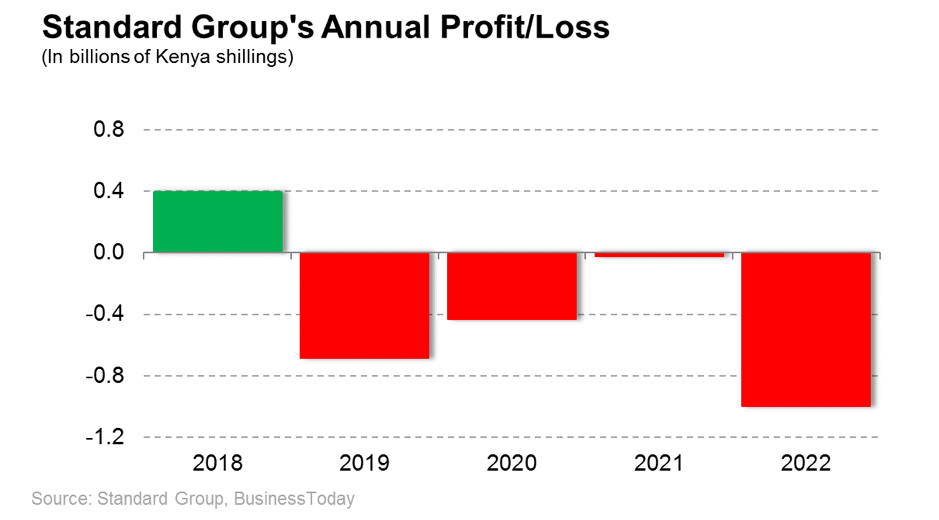 The Standard is struggling with two major problems: high operating costs and low sales. It can do a lot about the operating costs. It can cut jobs to reduce operating costs. It can also curtail its costs by reducing its fleet of cars to save on repair and insurance expenses. Moreover, the Standard can eliminate some costs by outsourcing some newsroom roles and offering lower salaries to its workers.
Growing sales is the most difficult part. But there are a few things the Standard could do to make more money. For example, the company has introduced a paywall on the digital version of its flagship Standard newspaper. But without publishing high-quality articles and high-demand exclusive stories, the Standard may see little benefit from the paywall since people have many free alternative news sources on the internet.
Buy or sell Standard?
While competition remains tight, Kenya's advertising market remains promising for media companies with strong digital platforms. Kenya's digital advertising market was valued at $63 million in 2020 and is forecast to grow to $95 million in 2024 and reach $113.5 million in 2027, according to Statista data. As the market is there, the job for the Standard Group is to capture the money.
Okay. I get it. But should I buy Standard shares now or sell whatever I may have?
That's a tough one. If you believe the Standard Group can navigate out of its current mess and build a financially sound business, now may be a great time to buy Standard shares because you can purchase them cheaply.
But if you doubt that the Standard can get out of the woods and that its financial health is only going to deteriorate, you may want to steer clear of Standard Group shares. It's a case of whether you view the glass as half full or half empty.
>> Meet Uhuru's Son-in-Law Running Multi-Million Venture Capital Firm