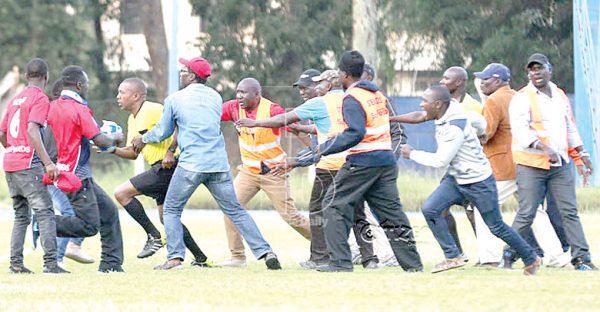 AFC Leopards management has suspended their organising secretary Timothy Lilumbi and a member, Ian Mukhobi following an assault on a referee in their previous match against Nzoia Sugar.
Mr Lilumbi was videotaped alongside a section of the club's fans beating up the referee, George Mwai after Sunday's 1-1 draw at the Kenyatta Stadium in Machakos. They were angered by the referee's decision to award Nzoia's equaliser deep into added time.
"Following the unfortunate incident after our match last week in Machakos and seeing the charges since been instituted against us. The management of AFC Leopards SC has firthwith susoended the organising secretary, Mr. Timothy Lilumbi for his alleged involvement in the fracas and a member one Mr. Ian Mukhobihas also been suspended pending conclusion of investigations and ruling by IDCC(Independent Disciplinary and Complaints Committee)…" said AFC Leopards' chairman Mr Daniel Mule in a press release.
On Monday, the Football Kenya Federation President, Nick Mwendwa, demanded that Leopards produce the hooligans who attacked the match official.
READ: KHU TO HOLD AFRICA OLYMPIC QUALIFIER NATIONAL TRIALS
"Leopards, tusaidiane (let's help each other) and let's make it fast. Produce these shameless fellows beating a referee in broad daylight. I am appalled because for a while this behaviour had gone. It's your home game and you have to do your job . No need to have stewards if you cannot. Very frustrating," Mwendwa tweeted.