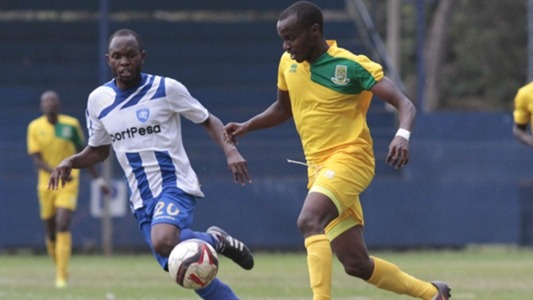 [dropcap]I[/dropcap]t's not easy being a fan of AFC Leopards these days. It has been cringe after frown as the once-indomitable Ingwe, the Luhya word for leopard, loses biting and pawing powers in the Kenya Premier League jungle.
The current season is perhaps the club's worst in recent years with the team playing in the red zone as the first leg hurtles towards the end.
Collins Madegwa, a devoted Leopards fan, agrees something is seriously wrong in the den. "I don't know where to start," he told our writer recently. "We are not doing well. Things aren't looking good. We are as fans are not even motivated to show up for matches in support of the team."
Although Madegwa, an insurance worker in his twenties who ails from AFC's base in Western Kenya, is not old enough to have seen the club's heydays when it won continental titles, he knows one or two things about the team's woes.
"It's management," he said recently a day after AFC was beaten 2-0 by Mathare United, a team comprised mainly of players from the slum it's named after. "When the new committee was brought on board, the management got worse. They are now engaged in supremacy battles instead of addressing the club's welfare."
Unarguably one of the big clubs in Kenya, AFC Leopards has had a huge burden as fans demand exemplary performance season after season. But the fans have not had many happy moments and the shouting and taunting from the blue-and-white uniforms have been diminishing as the season gathers speed, especially after losing the league's famous Mashemeji Derby to archrivals Gor Mahia recently.
Ingwe has registered a mere three wins and eight losses out of 15 outings.
Just when and how did things go wrong for AFC Leopards? Ingwe has been playing in the top-flight Kenyan League since being promoted back in 2009. But since then the side has a record 27 coaches as they try to find their footing, with little success.
Nicholas Muyoti, a former AFC striker and later assistant coach, puts the blame squarely on management, which has "been making rush decisions" in running the club's affairs. He blames a lapse in management for the high turnover of coaches and star players.
"The situation is worrying. Every six months the club experiences changes in coaches," says Mr. Muyoti, now coaching KPL side Kakamega Homeboyz, which hit AFC 3-0 on December 15th, 2018. "A new coach comes with new players. Management doesn't give time for players to learn the new coach's philosophy."
The executive committee members at AFC push for their commercial interests in signing up players and (mis)managing sponsorship from SportPesa worth Ksh156 million for three years starting 2018. According to people familiar with Ingwe's affairs, management officials impose players on the coaches since they get a cut from the fees. AFC spends Ksh500,000 to sign up a player, which offers fertile ground for deal-making by club managers, some of whom, keep getting a cut from players' monthly stipend.
This is how the club has ended up with low-caliber players who can't produce results. "Even on hiring coaches no much due diligence is done as some of them are brought in by brokers," said an AFC insider who requested not to be named to avoid reprisals from the club's officials. "Players trials are done to hoodwink people as the club eventually signs up those who were not at the trials. In the end, the team suffers as managers make money and the problems are pushed to the technical bench."
[dropcap]I[/dropcap]ngwe has a rich history in Kenyan football which is why, in spite of its poor show, it is still considered a big club, thanks to its fanbase that comes second after Gor Mahia's.
Imran Otieno, a football analyst for Futaa.com, compares AFC to English Premier League side Newcastle who are also slowly falling from their giant status. "Ingwe haven't had good management in recent years and their recruitment of players has been poor," Mr. Otieno says. "If they get good management and good recruitment they can challenge for the title because their rivals too are suffering from poor management but their recruitment is superb."
In their KPL campaigns over the last 10 years since they returned to the league, Ingwe has never been in a good form as they were in the 2013 season when they lifted the GoTV shield after beating rivals Gor Mahia in the finals, the last time Ingwe won a fixture between them. The team then was managed by Jan Koops, who quit amidst claims of salary arrears. Since then the team has been struggling, winning only one other GoTV shield under Kenyan coach, Robert Matano.
Read: Taxify rebrands to Bolt 
Now the team is under Rwandan Andre Casa Mbungo billed to have been recommended by a big portion of the club's management. Fans had hoped for the team's form to improve but the hopes are slowly diminishing; a single win out of four games and just two goals.
Even Gor Mahia fans are concerned. Pro-Gor Mahia newspaper columnist Tom Osanjo says AFC's troubles are a result of past players inability to intervene in the club's management. "Leopards just need to rally their supporters to contribute money for the club in order to buy quality players. You cannot get sponsors when you are performing poorly," Mr Osanjo said in an interview.
Gor Mahia, popularly known as K'Ogalo, will suffer if its rival gets relegated as playing AFC gives bragging rights in town. A big part of Gor's success is felt by their dominance over Leopards.
"Gor Mahia has come from far," says Mr Muyoti, "They have been patient with their players and coaches. But AFC wants to build a house from the roof. The team appears never to have learned from their past relegation."
Mr Muyoti says the best way to salvage AFC is to change the composition of management by bringing in football experts including the club's ubiquitous legends, who can help in scouting players and offering strategic advice.
He said the crop of leaders that has been managing the club are self-centered individuals. Those interested in management often sabotage the club to create loopholes to get in but never provide solutions to pitch problems. "Politicians don't understand club affairs. They take advantage of the flawed elections to buy their way through."
Also See: Gor should look beyond officiating errors ahead of clash with Zamalek 
Among club's supporters in Nairobi and Western Kenya, optimism is guarded. If the club gets its act together it can still make a comeback in the second leg and revive the hopes of disenfranchised fans like Madegwa, who have to make the painful decision to pay gate entrance fees to watch their team pulverised.
"Even if the team isn't performing well we need to give players support," he said. "We are among the big clubs in Kenya and we cannot afford to abandon our club."