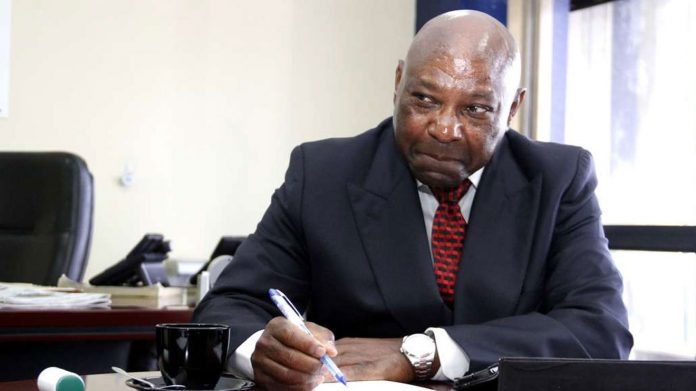 Dyer & Blair Chairman and CEO Jimnah Mbaru is one of Kenya's prominent investment bankers. He led a group of local shareholders in acquiring the entire shareholding of Dyer & Blair from Kenya Commercial Bank (KCB) in 1983.
The firm operates in East Africa through its wholly owned subsidiaries in Kenya, Uganda and Rwanda and is a member of the Nairobi Securities Exchange (NSE), Uganda Securities Exchange (USE) and the Rwanda Stock Exchange (RSE).
MTN Uganda confirmed the selection of Dyer and Blair Uganda Ltd as lead retail brokers in their IPO which debuted on Monday, October 11 and is set to be the biggest in the Ugandan market – guaranteeing Mbaru's firm a fat cheque. The IPO is expected to increase the number of retail investors at the Uganda Stock Exchange (USE) to 200,000 from the current 40,000.
Dyer & Blair was founded in 1954 in Nairobi as a partnership of stockbrokers Hickman and Grey. Ownership of the firm changed hands in 1956 to Derek Ingram Dyer & Patrick Murdoch Blair before it was acquired by KCB in 1973.Since Mbaru took over in 1983, the firm has played an instrumental role in some of the biggest deals by publicly listed firms across East Africa. It converted into a fully-fledged licensed investment bank in 2004.
Here, Business Today looks at five multi-million dollar transactions in which Mbaru's Dyer and Blair played a lead role.
MTN Uganda IPO
MTN Uganda, a subsidiary of South Africa's MTN Group, is the largest telco by market share in Uganda. It listed 20% of its shareholding on the Uganda Securities Exchange (USE) on Monday, October 11 after receiving regulatory approvals.
The IPO is expected to raise Ksh132 Billion. Dyer & Blair Uganda was selected as the lead retail broker. Kenyan investors will also be able to take part in the IPO through SBG Securities and Dyer and Blair which is the lead retail broker.
"MTN Group (has) appointed SBG Securities Uganda Limited as transaction adviser and lead sponsoring broker, S&L Advocates as legal advisers, KPMG Certified Public Accountants as reporting accountant, Crested Stocks and Securities Limited, and Dyer and Blair Uganda Limited as lead retail brokers and Equity Stockbrokers Uganda Limited and UAP-Old Mutual Financial Services Uganda Limited as selling agents," the firm noted in its IPO prospectus.
Safaricom IPO
Safaricom is Kenya's biggest telco and one of the region's biggest companies. It debuted on the bourse in 2008 in what was the largest offering in the East African region.
Dyer & Blair was selected as the lead adviser in the IPO which was oversubscribed and attracted over 800,000 new investors – who put in more than Ksh220 billion against the Ksh50 Billion the firm was eyeing to raise through the offer.
25% of the company's shareholding was listed in 2008 with a share price of Ksh5. As of Thursday, October 14, 2021 Safaricom shares were trading at around Ksh41.80.
Bralirwa IPO
Dyer & Blair was the lead adviser in the Bralirwa IPO, the first IPO on the Rwanda Stock Exchange (RSE). Bralirwa (Brasseries et Limonaderies du Rwanda) is the largest brewer and soft beverage company in Rwanda.
Dutch conglomerate Heineken Group owns a controlling 75% stake in the company.
The Government of Rwanda in December 2009 successfully divested from the company by selling 5 percent shareholding directly to the Heineken Group and by listing the remaining 25 percent on the RSE.
Helios Investment Partners acquisition of 24.99% Stake in Equity Bank Group 
Dyer & Blair was the sole adviser for one of the largest mergers and acquisitions in East Africa when Private Equity (PE) firm Investment Partners acquired a 24.99% stake in Equity Bank Group for USD 179 Million (Ksh19.8 Billion) in 2007.
Helios successfully exited  its position in August 2015 and, at the time of Helios' exit, Equity Bank was Kenya's largest bank by number of accounts and among the top three in market capitalization and assets.
NIC Insurance Uganda IPO
Uganda's biggest underwriter, the National Insurance Corporation (NIC) raised $4.59 (Ksh508 million) from its IPO in 2010. It was the first insurance firm to go public in Uganda.
Dyer and Blair was the lead adviser for the IPO which outperformed expectations.