Many Kenyans know Jimnah Mbaru for different reasons. Some remember him for his failed bid to become Governor of Nairobi in 2013, when he lost to Evans Kidero, while others know him as the billionaire maverick banker behind Dyer & Blair, a leading investment bank. Others know him as one of the big players at the Nairobi Securities Exchange (NSE).
Reflecting on his failed 2013 gubernatorial bid, Mbaru wrote in October 2020: "This interview was held on 18th January 2013. I never made it. People of Nairobi rejected me overwhelmingly."
At the same time, others know him as one of the famous Rwathia billionaires – a group of extraordinary businessmen and captains of industry who all hail from the same village in Kangema, Murang'a County. Others in this group include Equity Bank head honchos James Mwangi and Peter Munga, former Britam Chief Executive Benson Wairegi and investor Chris Kirubi.
Mbaru is one of Kenya's richest men mostly thanks to his majority shareholding in Dyer & Blair – which was established in 1954 as a partnership between stockbrokers Hickman & Grey. It changed hands, and its name, in 1956 when it was acquired by Derek Ingram Dyer & Patrick Murdoch Blair.
In 1973, the bank was bought out by Kenya Commercial Bank (KCB) becoming a wholly-owned subsidiary as KCB looked to offer brokerage services. Mbaru entered the picture in 1983, leading local investors who bought KCB's entire shareholding in the bank.
The holder of a BSc. Commerce and an MBA, Mbaru spearheaded Dyer & Blair's growth and saw it become a fully-fledged investment bank in 2004. The bank has been the lead adviser for many of the biggest transactions in the region, including Safaricom's USD 840 million IPO in 2008,  the acquisition of a 24.99% stake in Equity Bank Group for USD 179 million by private equity firm Investment Partners, the first IPO on the Rwanda Stock Exchange with Bralirwa and the NIC Insurance Uganda IPO which was the first listing of an insurance company at the Uganda Stock Exchange.
But while most of his fellow Kenyan billionaires rarely offer insight into their thoughts and lives away from business, Mbaru doesn't shy away from sparking debates, offering criticism or sharing his grand ideas to transform Kenya and Nairobi's economy.
His platform of choice is Twitter, where his bio reads: "Investment Banker. Sometimes I tweet to provoke debates. You don't have to believe everything I tweet."
His favorite topics – Nairobi, markets, Kenya's economy and politics. One thing that is clearly dear to him is his vision for Nairobi to become "Africa's Business Capital". He has referenced the vision countless times on his page over the years.
He once stated that the plan to establish Nairobi as the continent's biggest financial hub was the bedrock of his plans for the county when he ran for Governor in 2013. It makes sense that Mbaru is so passionate about Nairobi, as it was in the city that he began his professional career in 1971 after graduating from the University of Nairobi. Working for the Ministry of Commerce and Industry as a District Trade Development Officer, he was responsible for the promotion of African businessmen and women in Nairobi and vetting small-scale loan applications and applicants.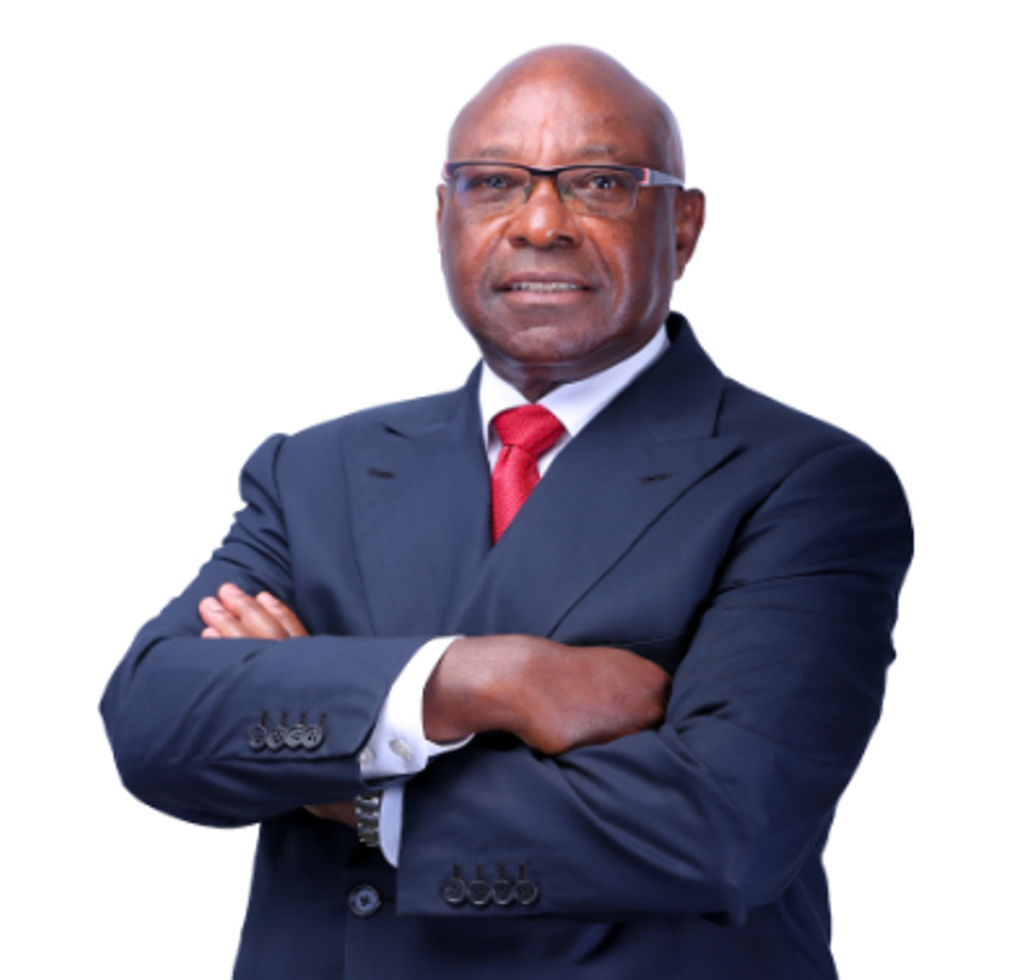 And while it was only in 2016 that the country ambitiously embarked on attaining International Financial Centre status for Nairobi by 2023, Mbaru revealed that he first pitched the idea in 1995.
"Nairobi as an International Financial Centre will be a reality soon. I proposed this idea on 12th November 1995. It took so long to implement," he shared on March 28, 2018 along with his writings from 26 years ago.
As of last year, the Capital Markets Authority (CMA) was struggling to meet performance indicators required for Nairobi to become an IFC which would massively boost foreign investment inflows. The missed targets include growing the ratio of equity market capitalisation to GDP to 70 per cent in 2023 from 50 per cent in 2014, increasing equity market capitalisation to $84 billion, and reforming the Growth Enterprise Markets Segment (GEMS) to ensure at least three to four listings annually.
"My original vision for Nairobi was' Africa's Business Capital'. It was going to be the basis of planning and service delivery in Nairobi.
"For Nairobi to emerge as vibrant regional capital market centre we must have flexible regulations and incentives to encourage its evolution," Mbaru maintains. On different occasions he has shared ideas for Nairobi to become a medical tourism hub, an international entertainment centre, a Silicon Valley-esque tech hub and more. 
He has proposed cable cars running from Nairobi to Mt. Kenya, and even questioned whether the capital city should be relocated, asking in a 2015 post: "It is now apparent that the Capital of Kenya i.e Nairobi was located in the wrong area due to potential flooding. Shouldn't we relocate it?"
When it comes to how the city is run, Mbaru questions everything from the trash on the streets to crime rates, why there are constant fires at Gikomba Market and why water is such a headache for residents. He regularly tweets about how much he hates the city's traffic and has previously suggested the establishment of a Nairobi Economic and Social Council (NESC) to drive economic growth and efficiency in service delivery.
Mbaru also regularly offers his thoughts on how to make the Nairobi Securities Exchange (NSE) more vibrant. Having previously served as its Chairman, he knows a thing or two about the bourse.
While it is in 2021 that the NSE is pushing the government to raise up to Ksh762 billion and spur the under-performing market by floating some of its stake in parastatals such as Kenya Airports Authority (KAA) and Kenya Ports Authority (KPA) on the bourse, Mbaru has been championing such moves for years.
"Jomo Kenyatta International Airport (JKIA) is supposed to be a continental airlines hub. It should not be owned or managed by a single airline. JKIA is well managed so far. Instead Government should partially privatise the airport by listing shares on Nairobi Stock Exchange," he shared in 2019.
Most recently, he suggested that banks begin issuing script dividends as opposed to cash dividends.
"Commercial banks in Kenya should be encouraged to issue script dividend instead of cash dividend. Those shareholders who need cash would sell their shares or script on Nairobi Securities Exchange. That way banks retain their cash while shareholders get the cash. A win win for all," he wrote on March 29.
Mbaru is equally committed to pushing for Kenya's economic transformation – offering several ideas.
For instance, he has called for increased investment in agro-processing and the creation of a well-capitalized Agricultural Development Bank to lead growth in the sector. Vision 2030, introduced by former President Mwai Kibaki's administration, is also close to his heart and he regularly calls for its implementation to be taken seriously.
In fact, he has previously stated that economic policies and implementation of Vision 2030 were his main considerations when picking a Presidential candidate to support.
And while it is only in 2018 that President Uhuru Kenyatta's administration has established the Kenya Mortgage Refinance Company as part of his affordable housing plan, Mbaru noted that he first proposed the creation of a National Mortgages Corporation in 1992 in his book 'Transforming Africa'.
On multiple occasions, he has called for the creation of an Economic Planning Board to drive transformative economic planning in Kenya.
"I studied in Switzerland and noted its great wealth and high standards of living. I keep on asking myself why can't Kenya adopt some of the strategies Switzerland used to help Kenya grow fast and faster. Someone answer me why we can't," he wrote in 2018.
Having previously plunged into the world of politics, Mbaru still occasionally shares his thoughts on hot political topics.
He has repeatedly insisted on the intertwined nature of politics and Kenya's socio-economic realities, writing in 2017: "I wonder whether many Kenyans are able to see clearly the relationship between politics & economic growth, un/employment, poverty, investments etc."
Most recently, he has appeared to support the possibility of a Raila Odinga presidency in the forthcoming 2022 General Elections, stating on April 13: "All things said and done Raila Odinga would still make the best President for Kenya after Uhuru Kenyatta has finished his term."