10,000 bartenders in Kenya are set to receive world class training at the newly unveiled Diageo Bartender Academy over the next four months.
Kenya Breweries Limited on Thursday, February 25 unveiled the academy at the K1 Johnnie Walker Bar in Nairobi.
The program aims to upscale, build capacity and trade engagement to Kenyan bartenders. It is expected to boost the larger hospitality and tourism industry in Kenya by entrenching professionalism and quality service delivery from bartenders.
Kenya is a preferred destination for millions of business and leisure travelers around the world.
"(The program) will sharpen the skills of bartenders in Kenya, and as well raise the profile of the art form of bar service.
"We want to build a very strong bartenders' movement in Kenya. Our consumers taste, and needs are evolving every day, therefore it is important we champion this course," KBL Commercial Director, Joel Kamau noted at a media event.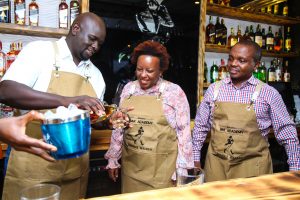 He further explained that they hoped to see bartenders develop their careers through the program, and promised that KBL would continue to support the communities it works in.
With bars' operating hours in Kenya restricted due to Covid-19 restrictions, many bartenders have been engaged in other activities even as others grapple with unemployment and wage cuts. It is expected that the program will offer them an opportunity to use the time on their hands to upgrade their skills to world-class standards, placing them in a good position to bounce back from the shocks of the p******c.
"The Academy serves as a great platform to keep bar brains sharp as well as entertained during this period of downtime," KBL noted in a statement.
The program includes modules on customer service, the art of bartending, tools of the trade, bartender secrets, drink categories, spirit production, brand knowledge, perfect serves, counterfeit spotting, up selling and, importantly, responsible serving.
Those interested in the program were urged to contact the KBL Call Centre, Sales Representatives or to visit the Diageo Bar Academy website.