There is a common feeling amongst Kenyans that the Jubilee Government treats sports like an afterthought or better still a sector that provides for flashy campaign manifestos to lure the young populace when elections come calling, plans which get abandoned as soon as State House occupancy is confirmed.
Political analyst and commentator Herman Manyora last year told Business Today that the Sports Ministry is reserved for the 'most useless' minister in the government.
It is hard to argue with Manyora considering that the current Sports Cabinet Secretary Amb Amina Mohamed is a career diplomat who has left a lot to be desired in her latest role after President Uhuru Kenyatta re-assigned her to Kencom House after deeming her performance at the E*******n Ministry underwhelming.
In social media circles, CS Amina has been christened 'The Minister for Congratulations' for always being at hand to laud Kenyan sportsmen and women when they put Kenya on the global map but goes AWOL when they need facilitation.
Both her predecessors under the Jubilee Government Rashid Echesa and Hassan Wario are now p****n candidates after being charged with conspiracy to commit a f****y by forging a document with the intention to defraud in a fake arms deal and a***e of office respectively.
Wario presided over the infamous Rio Olympics s*****l that rendered him a political liability once President Kenyatta was re-elected.
Stadiums Lie
In 2013, when President Kenyatta and Deputy President William Ruto were gearing up for a b******g campaign battle against the Coalition for Reforms and Democracy (CORD) in the race for State House, the two promised alongside an avalanche of other promises to build 5 modern stadiums across the country.
Except that wasn't done during their first five years in office. President Kenyatta admitted that the government had failed to deliver but blamed that on more pressing needs but DP Ruto blatantly lied to Kenyans during the Jubilee Party re-election manifesto launch in June 2017.
The sites where the supposed stadiums will be built remain idle pieces of land and in some, a place for cattle to graze.
Kenyan economists have argued that stadiums are not commercially viable hence not a priority. Respected economist Kwame Owino is convinced that Jubilee made the right choice by passing up on the stadiums.
"Whether this promise was let unmet by default or mendacity does not matter. By not constructing five stadiums in Kenya, the Jubilee administration has shown uncharacteristic prudence, and it's also a good thing Parliament did not approve the spending," Kwame wrote in his Daily Nation column in April 2017.
This argument is pedestrian at best and ridiculous at the very worst.
Cost of stadiums
In order to proceed with this argument. It is important to assess the country's sports infrastructure needs, the desired quality and what it would cost the country to build such stadiums.
Kenya needs at least five stadiums that can serve our sports teams. Having stadiums is not enough, they must meet FIFA and IAAF standards (more on that later).
Forget DP Ruto's suggestions that Kenya should build stadiums in Moyale and Wote. Financing of the stadiums would most likely hinge on the capability to fill the stadiums. It is hard imagining football or rugby fans traveling all the way to Moyale to watch a match.
Stadio Olympico is a stadium in Rome, Italy which acts as a home ground to Italian football team AS Roma. The stadium also has a running track which makes it easy to host athletics tournaments.
The stadium is worth a whopping $400 million USD (Ksh40 billion) and would represent a good template for Kenya. Five proper stadiums with a capacity to host 70,000 people would cost Ksh200 billion.
Assuming that the government built the stadiums instead of the Standard Gauge Railway (SGR) and fans are charged Ksh200 per game/event and that football and rugby teams play two matches per week in every stadium that would amount to Ksh56 million, multiply that by four weeks you will get a monthly figure of Ksh224 million. In a year that would amount to Ksh10.7 billion.
Had the Jubilee invested the Ksh200 billion to build the stadiums in 2017, the stadiums would be breaking even by the end of 2020.
The challenge that exists however with the stadiums is whether they can be filled on every match/event day.
But it is possible that Jubilee could have had the stadiums and the SGR. Analysis of the Auditor General's report shows that in the first six years of Jubilee's reign, the government lost Ksh1 trillion every year to c********n.
Machakos and Kakamega county governments have shamed the national government's complacency by building their own stadiums. Kakamega has built the Bukhungu Stadium at a cost of Ksh300 million, expected to rise to Ksh4 billion once it is completed.
Meanwhile, renovations at Nyayo Stadium and City Stadium have been ongoing forever and signs show that trend will be maintained.
Stadia Standards in Kenya
To say that Kenyan stadiums are in bad shape would be an understatement. A better description would be 'Old, deteriorated and poorly maintained.
According to the Sports Kenya website, the Ministry believes that Kenya has two world-class stadia that are fit to host international matches. On the ground, however, only one stadium is fit to host an international match if FIFA requirements are anything to go by.
The Moi International Sports Centre, Kasarani has been hosting all international football matches for three years now. Nyayo stadium, on the other hand, has turned into a picnic location for politicians who trickle in donning a yellow helmet to take some pictures for PR purposes.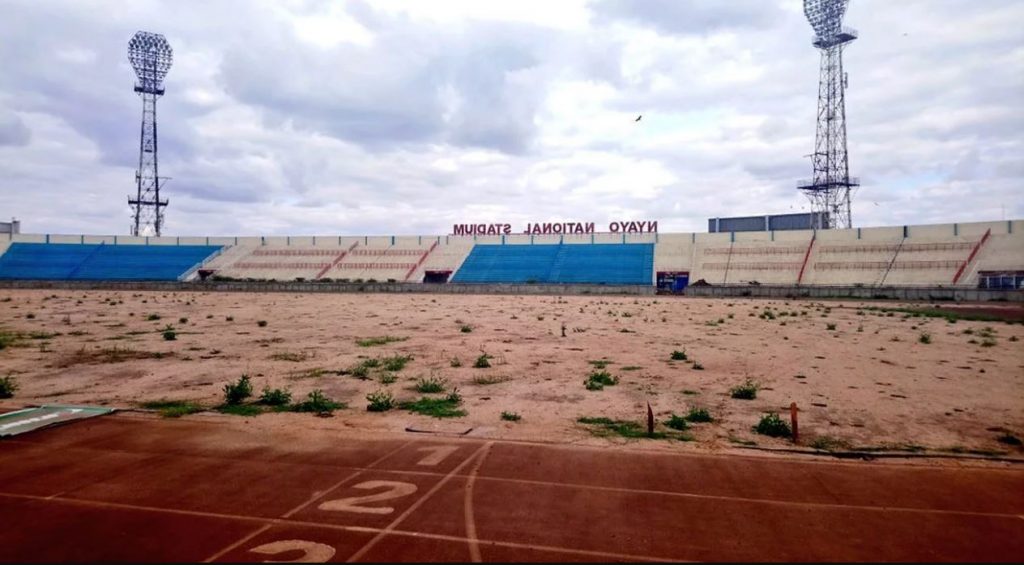 However, if Nyayo would have been ready by now then it would be categorised as a world-class stadium. Both Nyayo and Kasarani are the only stadia that can host an international match in the country but Nyayo's state has left Kasarani as the only option.
In terms of capacity, FIFA requires a stadium to have the capability of holding at least 40,000 fans at a go for it to host an international match. However, this figure gets lower and/or higher depending on the significance of the match. Some matches attract fewer fans than others.
In the case of Kenya, a stadium that could hold 30,000 fans is enough to be passed by FIFA as fit to host an international match. Kasarani has a capacity of 60,000 while the sleeping giant, Nyayo stadium, can hold 30,000 fans.
If the Jubilee government's promises before they got into the office are anything to go by, Kenya should have the capability of hosting even the FIFA World Cup today. However, going by the current circumstances, Kenya can only host CECAFA tournaments.
In 2017, the Football Federation of Kenya (FKF) banked on the government's promises and applied to host the CAF African Nations Championships (CHAN). The competition was to be held in January 2018 and the Federation believed that the stadia 'being constructed' by the government would be ready by December 2017.
CAF officials who visited the country to assess Kenya's preparedness for hosting the tournament said that the information they received from the Federation was misleading.
"Kenyan officials weren't truthful," said CAF President Ahmad Ahmad in Accra Ghana, when he read out the decision in the presence of FKF President Nick Mwendwa and the then Sports Principal Secretary Kirimi Kaberia.
The federation had proposed five stadia that would have hosted the CHAN matches in 2018. Today, only one out of the five can host an international match.
The five stadia are the Moi International Sports Centre in Kasarani, Nyayo National Stadium, Kinoru Stadium Meru, Kipchoge Keino Stadium, Eldoret and Kenyatta Stadium in Machakos. Out of these stadia, Kasarani is the only one that can host an International match.
Nyayo Stadium cannot be banked on because it is unclear whether the renovations at the stadium will ever be completed. The stadium has been under renovation for so long that two CHAN competitions have already been held in that timeframe. It was closed for renovation in readiness for hosting the 2018 CHAN tournament.
The remaining three stadiums each have a capacity of 10,000 which is below the requisite standard for a world-class stadium. Kenya is filled with football pitches but only one proper football stadium.
Some of the pitches the government has supposedly built cannot even host a simple Kenya Premier League match, let alone a continental tournament. The standards of Kenyan stadia are way below par. Kenya needs to build at least four Kasarani-like stadia to get a s**t at hosting a continental tourney.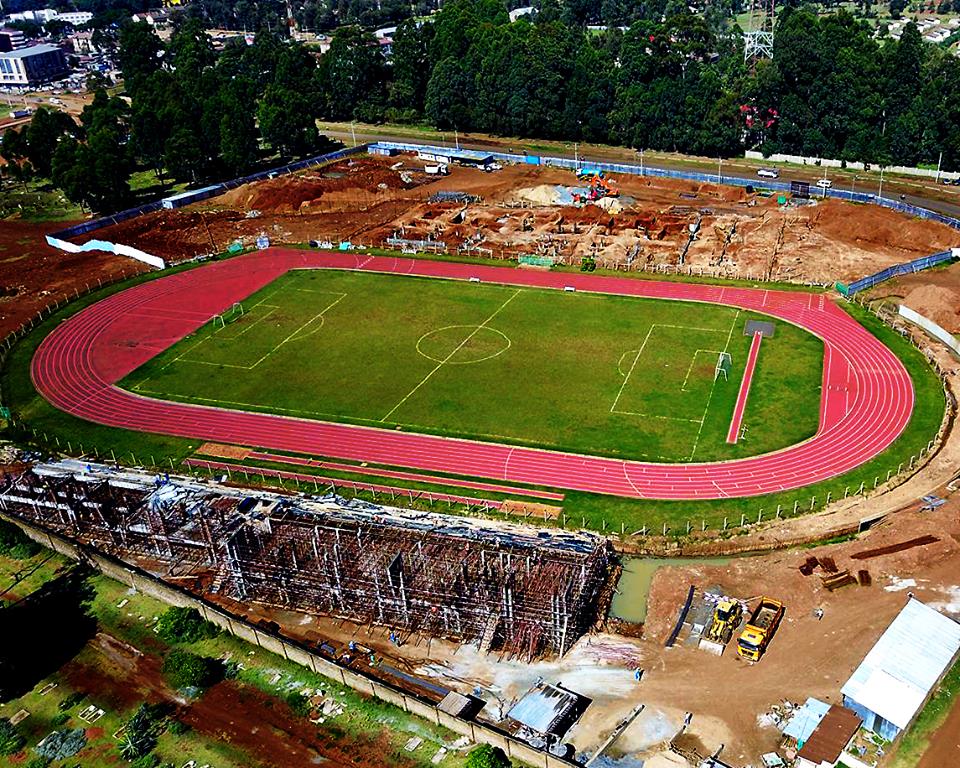 IAAF's requirements, on the contrary, are a bit more complicated than FIFA's. However, just like FIFA, the World Athletics governing body requires a stadium to have a capacity of more than 30,000 seats before it qualifies to host an athletics event. It is also requisite for the stadium to have an eight-lane synthetic track.
The IAAF also requires the stadium to have warm-up facilities including a standard 400-metre track with at least six lanes and a separate area for long throws as well as three different training venues close to the host stadium.
IAAF events take longer and constitute of different disciplines meaning there will be a beehive of activities within and out of the stadium. Hence, the Federation also asks for in-stadium hospitality and facilities, including catering.
Benefits for National teams
Besides the capacity standards, world-class stadia come with a lot of other amenities. In fact, a world-class stadium can host pitches tailored for different sports. In one stadium, there could be a football pitch, a volleyball indoor pitch, a swimming pool, an indoor basketball pitch among others.
The stadium should also have residential rooms for players whenever there is a training camp. Last year, we witnessed the Harambee Starlets evicted from their training camp over unpaid dues.
The Federation had been forced to book a private training camp for the girls who were preparing for an Olympic qualifier match. The government had delayed remitting the funds needed to support the girls in the training camp forcing the federation to call off the training camp.
"Since Starlets played in the African Women Cup of Nations (AWCON), we have been duly applying for the team's funding in vain. We have incurred debts every time our team has been involved in international duties waiting to pay as soon we are funded, but it has never happened," a furious Mwendwa told the press after calling off Starlets' training camp.
The girls were later called back to camp after the government released the funds. However, they were not successful in their quest to qualify for the 2020 Tokyo Olympics.
Having a stadium that is government-owned and has the necessary amenities would save the government a whole lot of cash. Teams could be holding their training camps at these stadiums and would be more prepared for their matches.
A world-class stadium that consists of multiple sporting facilities would see different teams hold training camps simultaneously. Getting world-class stadia will not just benefit a single sport but different sports will blossom in the country.
This article was written by Business Today reporters Kevin Namunwa ([email protected]) and Samuel Gitonga ([email protected])