"We are not a charity," former Tottenham Hotspurs manager Mauricio Pochettino said when asked why he was not giving Harambee Stars' captain playtime.
Wanyama's career has been dwindling ever since. The Kenyan skipper has not featured much for Spurs as it seemed the coach did not have any plans for him. Wanyama's absence in the English Premier League has negatively affected him as seen in the past Harambee Stars matches.
The Kenyan captain desperately needs playtime to get his game back to where it was last season. Spurs might not need Wanyama but Harambee Stars needs him. The national team need him to get back to his initial form.
Wanyama might have cracked a smile when he learnt that Pochettino, the man who said he will not give him playtime, was sacked by Spurs. It is a fresh start for Wanyama as he has the chance to win the favour of the new manager Jose Mourinho.
Wanyama is more likely to play under Mourinho than he was under Pochettino. Here are some of the reasons why the Kenyan skipper could get back to first-team football.
Mourinho is a defense-minded coach
Mourinho is known for his prowess knowledge of how to defend. For years, he has been likened as the master of 'park the bus' tactic. When facing a threatening team in a****k, Mourinho knows how to stop them on their tracks and bar them from finding the back of the net.
Being a defensive midfielder, Wanyama is likely to be frequently used by Mourinho to park the bus. Under the new coach, there will be times when Wanyama will be subbed in for a striker to protect the team's lead in the game. We have seen it happen severally with Marouane Fellaini at Manchester United.
Wanyama's big body is crucial for the new coach
If indeed Mourinho will continue with his defensive style at Spurs, he will need big-bodied defensive midfielders to boss the game. This is where Wanyama comes in.
The new spurs coach also has a tendency of tasking one midfielder the job of b******g the opponent's playmaker to frustrate him. This could easily be Wanyama's job if he steps up for the challenge.
Mourinho has worked with Wanyama's brother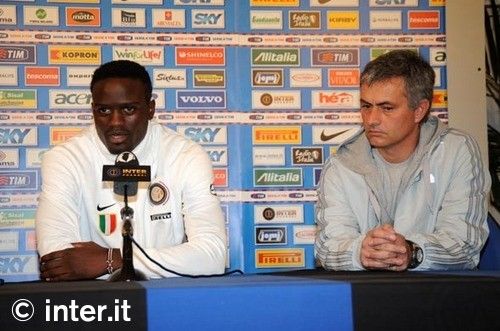 Wanyama's brother McDonald Mariga was among the squad that won the UEFA Champions League under coach Jose Mourinho. Mariga was very crucial for Mourinho and his brother might just follow in the steps.
It was Mourinho who signed Mariga at Inter meaning he recognized his talent. Mourinho might look for similarities between the two brothers and if he does find some then Wanyama might get back to playing for Spurs.
Fresh Start for Wanyama
Mourinho might want to get Wanyama back to the first-team squad but the Kenyan international will have to work too. It is clear that Wanyama had fallen out with his Pochettino hence his absence in the first team.
Under the new coach, Wanyama has the chance to impress in training. If he impresses well in training, Mourinho will sure put him back to the first team.