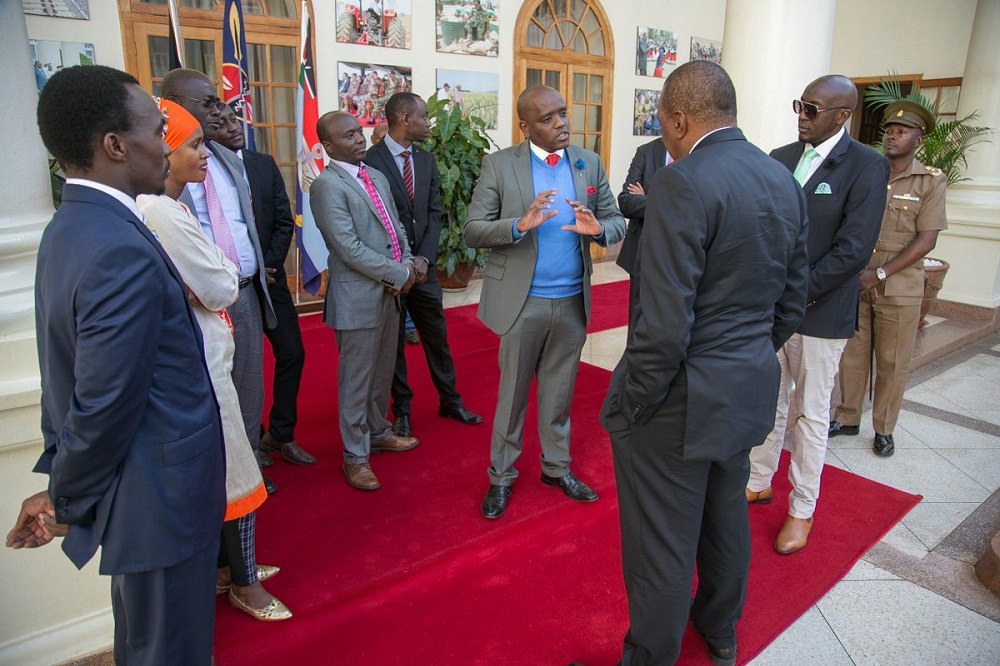 The origin of reports that the Presidential Strategic Communications Unit (PSCU) could be disbanded and that its directors have been kicked out of State House now appear to be the product of a fierce State House turf war as the various centres of power seek to consolidate themselves.
The reports, which have been emanating from high level sources that even Business Today with its established credible sourcing network could not second guess them, are apparently propaganda aimed at aiding the machinations of those who want to have a hold of the government's communications architecture and hence, power.
It has previously been alleged that there is a plan to consolidate how official information and news is disseminated by establishing a Government Communications Unit (GCU) under the ministry of Interior and Coordination of National Government at Harambee House.
Then last week, Business Today was informed that PSCU directors, save for its head Manoah Esipisu, who doubles Secretary Communications and State House Spokesman, had been kicked out of State House and that they were now working from the office of the Deputy President while others had opted to work for some Cabinet Secretaries and parastatal chiefs.
The Sunday Nation, in its Talk of Town column, also went to town with the same. However, some of the directors have since protested that these were rumuors.
In all the claims, Chief of Staff and Head of Presidential Delivery Unit (PDU) Nzioka Waita has been alleged to be the man spearheading the transformation. However, it is possible that those peddling the rumuors are being used by other forces and are using his name to render them credibility.
By virtue of his position, Waita is the most senior staff officer at State House to whom all supporting staff should report and the primary aide-de-camp to President Uhuru Kenyatta.
However, when President Uhuru was constituting his State House team, fears were expressed that he was creating too many centres of power that there was likely to be a conflict as each seeks relevance.
This is because apart from elevating Waita, he also appointed former Nakuru Governor Kinuthia Mbugua as the Comptroller of State House, who in previous administrations, was the person calling the shots at the House on the Hill. That could still be the case, raising questions over what powers Waita then exercises as Chief of Staff.
Then there is Head of Public Service Joseph Kinyua, Deputy Chief of Staff, Policy and Strategy Ruth Kagia, Deputy Chief of Staff, Legal, Constitutional and Legislative Affairs Njee Muturi, Deputy State House Comptroller George Kariuki and Personal Assistant Jomo Gecaga to complete the staffing of the Executive Office of President.
Anyone who wants to take charge of any particular establishment, including State House, must control want is disseminated to the outer world. And that is where PSCU falls in.
READ ALSO: ANNE NGUGI, SACKED BY K24 WHILE EXPECTANT, MAKES MAJOR COMEBACK 
With most of its directors drawn from individuals who campaigned for President Uhuru during the make-or-break 2013 elections and hence have a personal touch with him, it is not rocket science why anyone who wants to take charge of State House – be it Nzioka, Mbugua or anyone else – would want to dispense with them. It has happened twice in the past though, in at least one case, for different reasons.
In fact, the PSCU team was unveiled at an elaborate ceremony at State House attended by senior editors and journalists.
The latest reports generated a lot of chatter on social media especially with regard to Dennis Itumbi, the Director of Digital Communications and Diaspora, and the most active of the team.
Most of those reacted were full of admiration of him for the work he is doing to engage the public and defend the Jubilee administration even as some dismissed him as a propagandist.
READ: NYERI MPS BRAWL IN ARUSHA
The other directors are Munyori Buku (public communications), Eric Ng'eno (messaging), James Kinyua (branding and events)  and Munira Mohammed, who joined the team later.
The million dollar question is : Who wants the PSCU directors out?