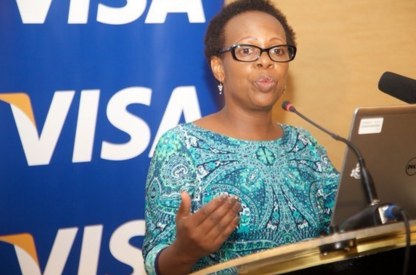 Managers at MasterCard, the providers of Visa card, are a happy lot. Electronic money transactions are growing by the day. Almost everyone wants the chip and pin swipe.
That's why Visa has become a leading champion of safe electronic payments. Visa is working with players in the sector to implement technologies to fight fraud and protect consumer information as criminals develop more sophisticated attacks.
Cards remain arguably the most secure way to make purchases, but challenges of security are still a concern. Visa is working on protecting consumers and believes that the new square metal microchip embedded on Visa cards is the most powerful weapon against card fraud.



The MasterCard Company argues that the three-digit code on the back of the card makes it safe for authentication of transactions.
According to Visa Director of Risk Services for Sub-Saharan Africa, Ms Nita Omanga, Visa now carries out real-time fraud monitoring, meaning every transaction is checked for unusual activity on the VisaNet system. "A unique element of data is required for every transaction," she said.
The Europay MasterCard and Visa (EMV) chip also prevent data breaches. "There's remarkable decrease in fraud when EMV technology is implemented," said Jabu Basopo, Visa General manager for South & Sub-Saharan Africa.
The company also introduced Visa 'Zero Liability' to help guarantee customers that they may not be held responsible for unauthorised transactions made with their accounts. Consumers are advised to continually monitor their monthly statements to identify any unauthorized transactions.
Visa is also involved in talks with government to ensure that there are policies that enhance the safety of electronic transactions. "We engage with regulators regularly to address risk-related issues," said Ms Omanga. "We also work with police by providing electrical evidence on criminal deception to them."
Visa is currently present in over 150 countries around the world as one of the most universal credit cards.