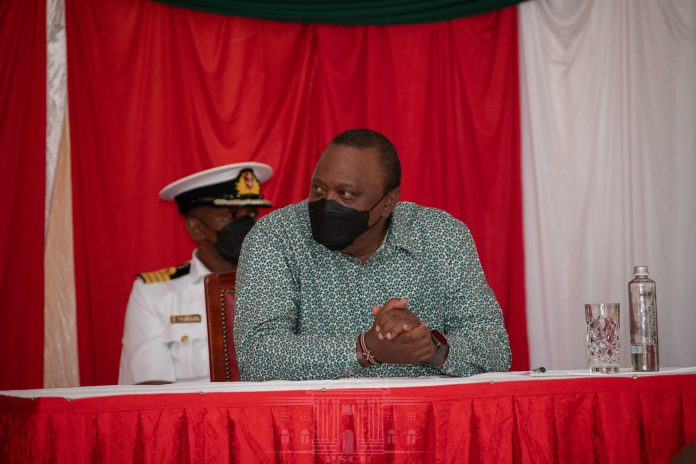 President Uhuru Kenyatta on Monday, October 18 sought to calm growing public frustration over the nationwide curfew as he promised that it would be lifted "soon". He, however, also urged citizens to adhere to Covid-19 restrictions.
The President spoke at Sagana State Lodge, Nyeri County when he held a meeting with government officials and leaders from Kirinyaga County ahead of the Mashujaa Day celebrations set for Wang'uru Stadium, Mwea.
The curfew has affected countless Kenyans with many businesses forced to downsize or close down entirely due to the restricted operating hours. The negative public sentiment has been made worse by the sight of uninterrupted large political events by several leaders.
The easing of the curfew as well as other restrictions is being counted on by businesses to help them bounce back from the effects of the p******c.
The President went on to address the ongoing reforms spearheaded by the State in the coffee and tea sectors, promising tea farmers of the highest ever prices for tea in Kenya's history in 2022.
He stated: "The prices of farm produce are increasing. I have no doubt that next year tea farmers will be celebrating better prices which they have never had since we started growing tea in our country. All this is happening because of work and not because of empty rhetoric."
The reforms have so far seen the Kenya Tea Development Agency (KTDA) overhauled, the Tea Bill enacted and a taskforce has recommended p*********n and seizure of assets from top KTDA officials alleged to have been engaged in c********n and a***e of office.
Uhuru also used the opportunity to highlight various projects being undertaken by his administration including the Ksh8.5B Thiba Dam Project in Kirinyaga County where the Mashujaa Day celebrations will held.
"We have fulfilled these projects because of the cooperation and peace among leaders which has ensured that we not only transform the lives of the residents of Kirinyaga but also all citizens of Kenya.
"Our rice farmers are now getting better prices for their produce. With Thiba dam we will be able to increase rice farming acreage to meet the local demand. We need to grow and eat what comes from our County," he stated.