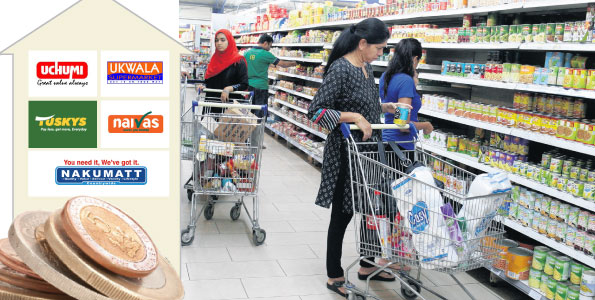 Tuskys supermarket has taken over the management of its biggest rival Nakumatt in what is seen as an attempt to rescue Kenya's biggest retailer from collapse.
The two retailers are said to have signed a merger deal geared at helping revive Nakumatt whose shelves have been empty for a long time in a unique strategic deal between rivals. Nakumatt, with retail stores in Kenya's major towns, will now access stock from suppliers using Tuskys supermarkets' goodwill and value chain.
The brands will remain the same but Tuskys will provide managers to offer leadership. It not clear whether its a merger, buyout or just management partnership.
It is understood that Nakumatt Managing Director Atul Shah and his family have agreed to cede shareholding to new financiers. "This is a home grown solution. The deal will allow Nakumatt access stock immediately and once it has stock then it can get the cash flows to remain afloat," a source familiar with the deal is quoted as saying by The Standard newspaper.
If the deal goes through and works out, it will be a huge boost for the Tuskys brand which could make it the biggest and most successful retail chain in Kenya today.
Nakumatt's cash-flow problems have seen it taken to court and in some cases face the auctioneer's hammer in Uganda.  The retailer has been unsuccessful in finding financiers to pump in cash to pay huge debts pulling it back.
Most of its suppliers have stopped deliveries, leaving most of its shelves empty, and forcing it to close some of its most affected branches including its newest high-end store at NextGen Mall on Mombasa Road. Under the circumstances, Nakumatt has been staring at d***h as it lost customers to its rivals, mainly Tuskys, Naivas and Choppies as Uchumi is also facing a supplier revolt over delayed payments.