Former Nairobi Deputy Governor Polycarp Igathe could join Equity Bank as the Chief Commercial Officer. In what could be a teaser before his unveiling, an Equity Bank business card has been doing the rounds on social media indicating his designation. A True Caller search has confirmed the number belongs to him.
The former Vivo Energy CEO was present at the Equity Group's 14th annual general meeting held in Nairobi on May 3rd and sat at the directors' table.
However, according to The Standard, CEO James Mwangi at the time downplayed this when he was asked to explain his presence, claiming he joined the high table as "a good friend" as well as a "big" shareholder in the bank.
"I am not aware of it. People don't join unless with approval from Central Bank of Kenya (CBK). A process of somebody joining the bank is rigorous," Mr Mwangi told the newspaper on the day of AGM. "There is a process called fit-and-proper review. You do that to get approval and that's when you can join."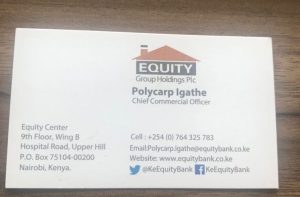 However, the paper reports, even with this denial that was punctuated with smiles, Mwangi went ahead to pour praises upon Igathe.
"He is a seasoned executive. He has been a Chief Executive for 18 years. He is young, dynamic and very well known. That will be a very good opportunity," it quotes Mwangi as saying.
READ: ANNE NGUGI MAKES BIG COMEBACK
The latest development ends speculation that he could be the next CEO of Nation Media Group. He could be unveiled during the investors' briefing to announce first quarter performance.
Igathe, the former Vivo Energy CEO, resigned in a huff as Governor Mike Sonko's deputy in January, saying he had failed to win the trust of his boss. He was among contenders for the NMG top job but sources say the Nation board felt Mr Igathe was "too young" to run the media behemoth.