[dropcap]A[/dropcap]delaide Odhiambo loves beginning any conversation on insurance with the story of Joseph. Staying near Lake Victoria, Joseph spends most of his time in its water, trawling its shores and deeper ends for fish.
At one point, Joseph's wife is diagnosed with cancer and admitted. Unfortunately, it's advanced and the wife dies, despite Joseph selling his boat and land, the sources of his livelihoods, to save her life. Friends and relatives help him raise Ksh50,000 for funeral expenses.
"Very few insurance companies are thinking about Joseph," says Adelaide, the CEO of Bluewave Insurance.
Her company focuses on micro-insurance, the part of the insurance industry considered bottom of the pyramid. Insurance is often seen a product of the elite, but Adelaide has defied these perceptions to deliver cover for low-income earners who can now buy insurance for as low as Sh20 per week, rising to even Ksh300, depending on the benefits sought.
Sounds too good to be true. "We are not disrupting insurance," Adelaide told BUSINESS TODAY. "We are offering alternatives and breaking barriers to insurance in Africa."
Bluewave's flagship product Imarisha Jamii has already become an instant hit. Imarisha Jamii provides cover for Hospital Cash (against hospitalisation for three nights or more), disability and funeral benefits. Subscription and raising claims are done through a USSD code *643# on any phone.
RELATED: A TECH ENTHUSIAST ROLLS OUT PAPERLESS INSURANCE
Benefits vary depending how much premium you pay. For instance, Ksh20 weekly premium entitles a policy holder to Ksh500 hospital cash, Ksh5,000 funeral compensation and a similar amount for disability. Doubling the amount doubles the benefits, too.
A monthly premium of Ksh150 offers Ksh5,000 hospital cash, Ksh50,000 funeral and Ksh50,000 disability payout, with benefits doubling when the monthly premium grows to Ksh300. The company is working with Safaricom but plans to expand the services to other networks.
Bluewave is proving that using technology and well-structured products can find loyal takers at the bottom of the market. "Our technology is designed to deliver insurance products and even trigger claims in case a risk takes place," says Adelaide. "These products are empowering people as they can live knowing that if anything happens they have some sort of soft landing."
The trick is designing simple products that are easy to understand to counter the emotional skepticism about conventional insurance products.
She says micro-insurance is not about just technology, but a value proposition that gives a peace of mind to people who would have otherwise been desolate. The service is well suited for people with fluctuating incomes, such that you can buy cover only when you can have the cash since it's structured in weekly or monthly bundles.
Bluewave has positioned itself as an intermediary, with Jubilee Insurance underwriting the Imarisha Jamii policy.
The trick is designing simple products that are easy to understand to counter the emotional skepticism about the shocks often hidden in the fineprint of upscale insurance products. In Adelaide's words, it's making insurance cool.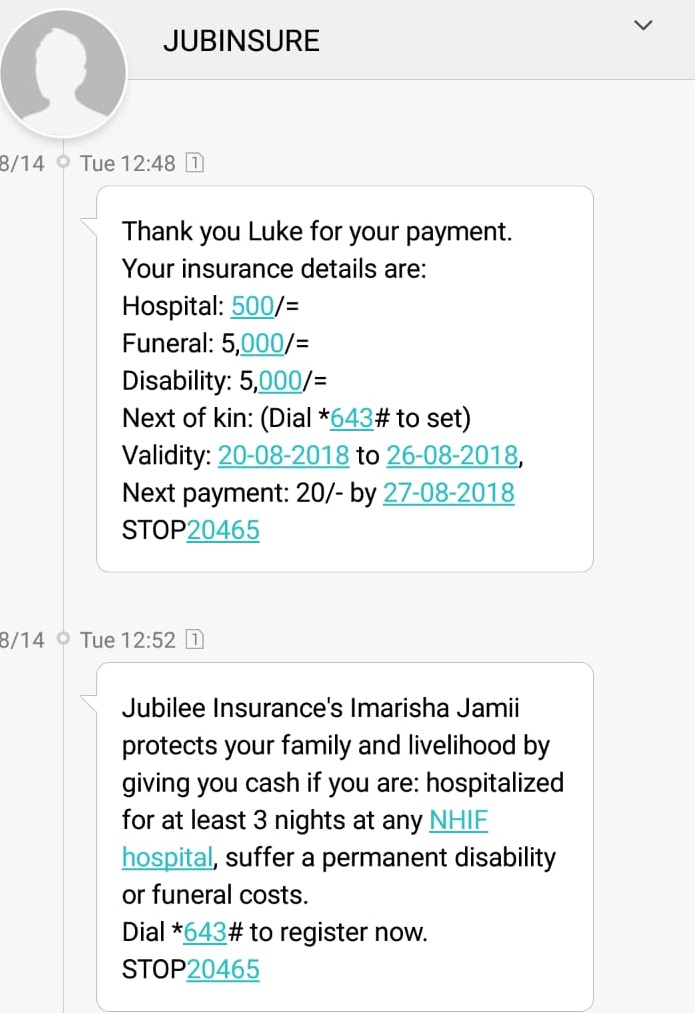 In its partnership with Jubilee, Bluewave pitches camp in Kawangware, Nairobi, where residents in the low-income neighbourhood have been signing up for cover.  She is hoping the experiment with Jubilee will open doors to many partnerships with other insurance companies, banks offering bancassurance products as well as telecommunications companies looking to tap the microinsurance segment.
Bluewave is targeting to sign up one million Kenyans to its insurance products in the next three years, a manageable feat given that the total insurance penetration in Kenya is only 3%, most of it consisting of mandatory policies.
READ: WHERE KSH12,000 CAN BUY YOU A FUNCTIONAL CAR
After two years operation in Kenya, Bluewave has set sights on Rwanda, Nigeria and Ethiopia, among other African markets, as it courts investor to finance the expansion.
As CEO and co-founder of Bluewave, Adelaide is undeniably passionate in making insurance more accessible. She has worked big insurance companies in Kenya, including Jubilee Insurance, Microensure and APA. That deep understanding comes to test every day as she seeks to recruit more Josephs onto the Imarisha Jamii bandwagon.
"By the way insurable risks are happening daily," she says later over lunch as she munches chicken stew and boiled rice. "Being an actuarial scientist, I pretty well understand how to identify and manage them."