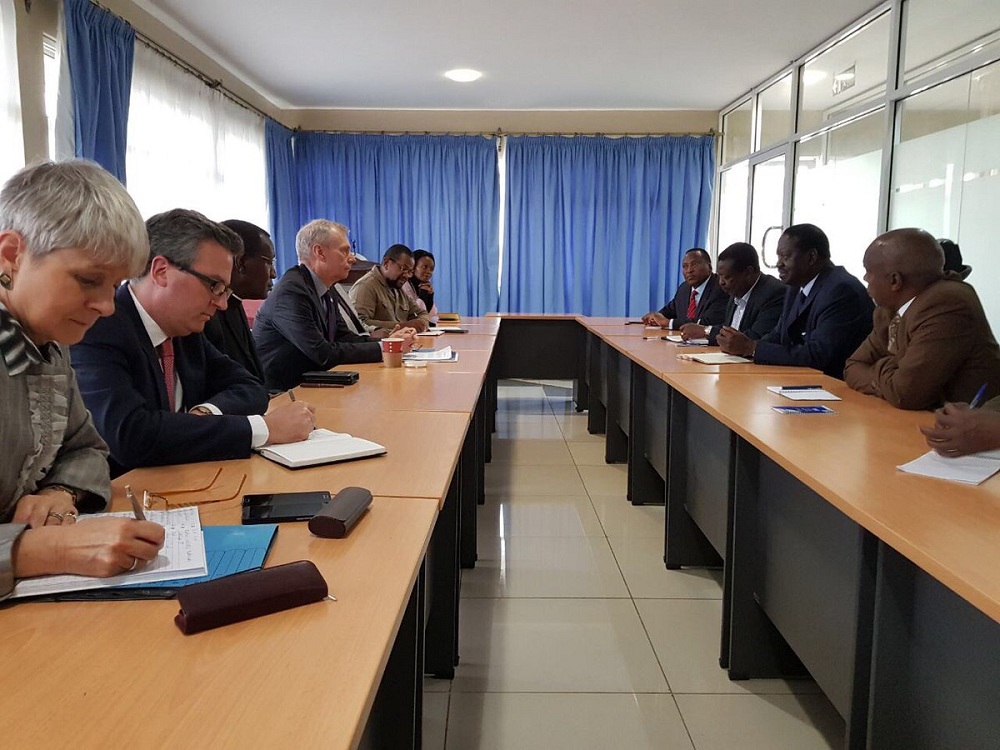 [dropcap]U[/dropcap]ncertainity over the country's political future continues after the National Super Alliance (NASA) on Sunday suspended the planned "swearing in" of its leader Raila Odinga as the "People's President."
In a statement, NASA said the ceremony, which had been planned for Tuesday, December 12 to coincide with Jamhuri Day was put off after "consultations and engagement with a wide range of national and international interlocutors".
Though it did not name the interlocutors, it has been in public space that western capitals led by London and Washington as well as local business and religious leaders have covertly and overtly been pressuring NASA to exploit legal means to address its grievances rather than resorting to unconstitutional means.
Attorney General Githu Muigai had also on the advice of the National Security Advisory Committee declared that the move to swear in Raila was treasonable, an act whose punishment is death.
The decision to put off the exercise has eased anxiety and political tensions while at the same time opening a window for a possible political settlement between NASA and President Uhuru Kenyatta's Jubilee Party. NASA, however, says it would be announcing a new date for the swearing in ceremony and the launch of its People's Assembly as well as a more vigorous and prolonged resistance.
Which way Kenya?
There is no doubt that the upheavals, twists and turns the country witnessed over the last few months have been unprecedented.  For the first time in African history, we witnessed the Supreme Court nullify the election of a President and, more so, a sitting one.
The move could in other circumstances have plunged the country into anarchy and chaos.  However, President Uhuru Kenyatta demonstrated statesmanship by agreeing to be subjected to a fresh election, which was held on October 26 but was boycotted by NASA, which accused the Independent Electoral and Boundaries Commission of stonewalling talks on a wide range of reforms it said were necessary to avoid a repeat of the illegalities and irregularities that marred the original election held on August 8.
Before announcing the plan to swear-in Raila, NASA formed a national resistance movement to push for a new election in 90 days. In their push, they vowed to use all legal means and civil disobedience to achieve their goals, including passing of motions to form a People's Assembly in Opposition-leaning County Assemblies.
All said and done, one thing is clear. We cannot remain in an election mood forever. Election seasons must be predictable so that people and their chosen government can move on with the business of nation building. The loss of more than 70 people in post-election confrontations was equally uncalled for.
Already, the Kenya Private Sector Alliance says the electioneering period has cost its members Ksh 700 billion over the last four months and the situation is likely to get worse if the push-and-pull persists.
Most of those affected are small and medium enterprises, which are in business because of loans they are supposed to repay and it would take many more months to be back on their feet again if the uncertain political climate persists. Most sectors of the economy have been adversely impacted and a lot of job losses are looming. Central Organisation of Trade Unions (Cotu) secretary general Francis Atwoli, on his part, says over 100,000 jobs have been lost in the last three months.
While Raila and NASA may be having genuine grievances that need to be addressed, it is time the Opposition realises that the country needs to move on even as means of creating mechanisms to address them continue to be pursued if they have exhausted all available legal means.
Raila is famed as the enigma of Kenyan politics. But he must also realise that he cannot continue to be a conundrum forever to the detriment of national good.