The front page of 5th November 2021 edition of Taifa Leo newspaper with a vulgar headline shared on social media is fake.
The page, dated 5th November, has the photos of Machakos County Governor Dr Alfred Mutua and his estranged wife, Lilian Ng'ang'a. The headline uses a vulgar word that's unprintable in a newspaper, conservatively translating to, "Please Make Love To Me".
A fact-check by Business Today reveals that the genuine cover-page, which had the headline "Uhuru Atia Doa Ndoa Ya ODM, Jubilee" (Uhuru Casts Doubt On ODM Jubilee Marriage, was altered.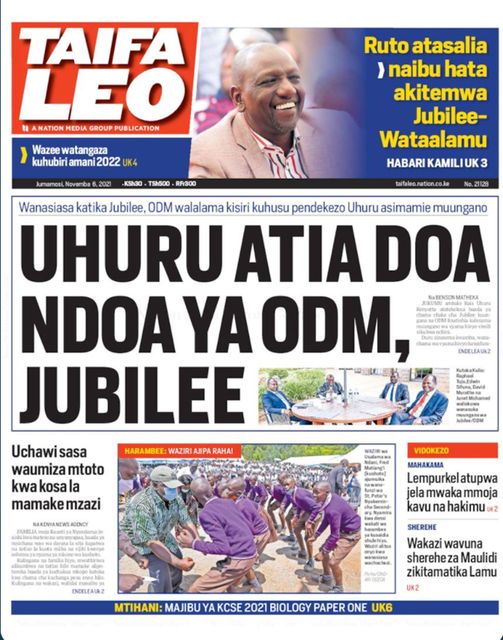 A closer look at the two front pages shows that to create the fake cover, the main headline and photos were edited out and replaced with the o*****e heading and photos of Mutua and Lilian.
Taifa Leo, published by Nation Media Group, also flagged the page as Fake.
It wrote on its Twitter page: "TAHADHARI: Kichwa hiki cha habari kinachoenezwa mitandaoni ni feki. Tunaomba ukipuuze. Tunajitahidi kukabiliana na usambazaji wa habari feki. Vinginevyo, endelea kufurahia uhondo wa habari, makala na taarifa za kuelimisha na kuburudisha za Taifa Leo."
Translation: "Caution: The cover page and headline being shared on social media is fake. We urge our readers to ignore it. We are working hard to deal with the spread of fake news. Meanwhile, keep enjoying news, features and educational content in Taifa Leo."
See >> How Alfred Made Millions In Dubai And Ran Away
Mutua and Lilian have been at loggerheads since they ended their marriage in August this year, with their fight lately centered around property ownership.
VERDICT: The Taifa Leo cover-page of 5th November with a vulgar headline is fake as it was altered.
  [This story was produced by Business Today in partnership with Code for Africa's iLAB data journalism programme, with support from Deutsche Welle Akademie ]
>> Did Kenya's Passport Printer Really Break Down?