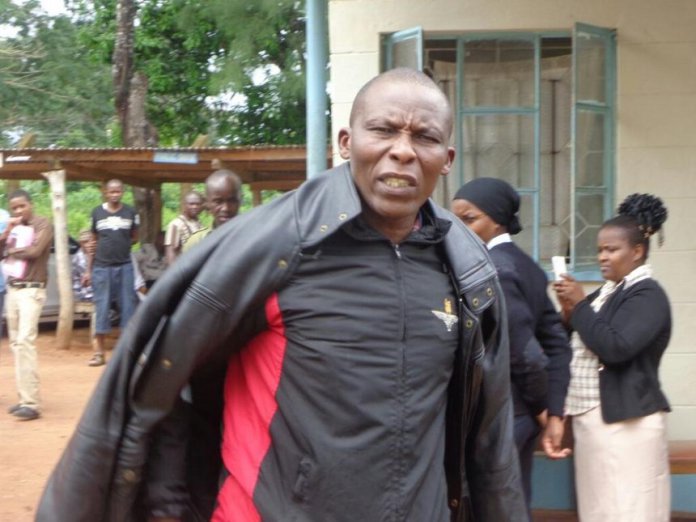 Daniel Muigai Ngengi, the man who claimed he witnessed the Lake Nakuru plane crash and a road accident that claimed life of the late Nyeri  Govenor Wahome Gakuru, has been jailed by a Kwale court for one-and- half years for impersonation.
Not known to many, Ngengi had been a wanted man in Kwale after he jumped bail for impersonating a Kenya army officer in 2014.
Kenyans knew the strange eye-witness on October 21 last year when the Nakuru plane crash occurred. An aircraft under Flex Air Charters plunged into Lake Nakuru, and Dennis was interviewed at the scene where he claimed to be a pilot working for the state. He claimed he was well acquainted with the pilot of the ill-fated craft that claimed lives of staff working for senior Nakuru county politicians.
A few days later, on November 7, Ngegi also happened to have been at the scene of the accident involving the late Governor Wahome Gakuru's car as he travelled to catch an interview on one of the media houses in Nairobi. The governor died shortly after being taken to hospital succumbing to the accident injuries even though those that were in his company claimed he looked fine.
Ngegi, who was nick-named super witness, described the scene as captured by the media saying, "Driver wa Governor alikua anaondokea asiue yule jamaa wa motorbike, so kustukia yule jamaa amechomoka naye driver wa Governor akarudi upande hii ndio akagonga hio chuma…tukaona hio chuma imesimama kama mtu."
These left many Kenyans wondering how he managed to be at the high profile accidents in a span of two weeks. His vivid accounts of what he alleged transpired at the scenes turned him into some sort of witnessing expert. Others were left suspicious of the deaths as Dennis claimed he was a state officer.