Royal Media Services and Standard Group dominated during this year's Communication Authority of Kenya (CA) Kuza Awards during a gala ceremony held at Crowne Plaza in Nairobi on Wednesday night.
Citizen TV was voted as the People's Choice Favourite TV station followed by KTN News and Inooro TV.
It also won the Objective and Impartiality in News and Current Affairs (TV Category) with KTN Home settling for the 1st Runners Up position followed by sister station, KTN News.
RMS won the Professional and Ethical Broadcasting Award with Nation Media Group coming second and Standard Group third.
In the My Kenya Story Award, RMS was also voted the winner, KBC ( 1st Runners Up) and Standard Group (2nd Runners Up).
Inooro TV, which is also owned by the SK Macharia owned media house, won the Diversity Award followed by Ebru TV and Focus TV.
First times,  CTAM (Christ is the Answer Ministries, KU TV and EDU TV won the Copyright Award, Local Content Prime Time Award and Children Programming Award respectively. Imani Radio and TV won the Communication Authority KUZA Award.
In the radio category, Citizen Radio won, among others, the Objective and Impartiality in News and Current Affairs Award but was beaten by Standard Group's Radio Maisha to the People's Choice Award.
The results were based on the votes of four million Kenyans who took part in the exercise between April 9 and May 9 this year.
The Kuza awards that were launched last year are part of CAK's strategy to push broadcasters to strive for quality services and compliance with regulatory standards.
"This award aims at motivating broadcasters to devote their energies and resources to offer quality services to the consumer, considering the strong influence broadcasting exerts to society on language, culture, morals, values, and our worldview,'' CAK Director General Francis Wangusi said.
Speaking during the fete, ICT Cabinet Secretary Joe Mucheru defended the new laws to fight cybercrime, saying that they will not be abused.
He instead reiterated that the new law is there to bar cyberbullies and discourage people from posting fake news.
Mucheru noted that the media industry had grown despite disruptions caused by technological innovations.
"Through digital migration, Kenya now has 62 TV stations. This has increased competition and given consumers choice for content," said Mucheru.
"The local industry has also given us a chance to grow. Creativity, diversification will be the ideal thing if you want to remain in competition."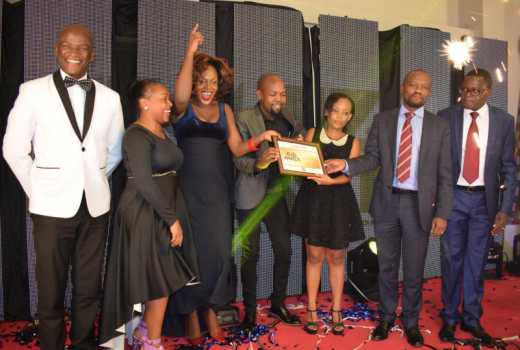 At the same time, Wangusi said that the media had grown while attracting fewer legal issues as compared with yester years.
READ: BUSINESS TODAY FETED AT BAKE AWARDS 2018
He said: "You have lived to the promise of your ethics.  We are moving from being a police man to play a collaborative role."
Here is the full list of winners in the various categories.
People's Choice Favourite TV Station Award 
2nd Runners up: Inooro TV
1st Runners up: KTN Home
Winner: Citizen TV
Objective and Impartiality in News and Current Affairs (TV Category)
2nd Runners up: KTN News
1st Runners up: KTN Home
Winner: Citizen TV
People With Disability Sign Language & Interpretation (PWD) Accessibility Award
2nd Runners up: KTN Home
1st Runners up: KBC Channel One
Winner: Citizen TV
Impact on Youth, Women & Persons Living with Disabilites (TV category)
2nd Runners up: KBC
1st Runners up: KTN Home
Winner: Citizen TV
Professional and Ethical Broadcasting Award
2nd Runners up: Standard Media Group
1st Runners up: Nation Media Group
Winner: Royal Media Services
Impact on Children Welfare (TV category)
2nd Runners up: KBC
1st Runners up: KTN Home
Winner: Citizen TV
My Kenya Story Award
2nd Runners up: Standard Group
1st Runners up: KBC
Winner: Royal Media Services
Diversity Award
2nd Runners up: Focus TV
1st Runners up: Ebru TV
Winner: Inooro TV
Local Content Programming Award
2nd Runners up: Njata TV
1st runners up: Mgogo TV
Winner: Inooro TV
Impact on Agriculture Award (TV Category)
2nd runners up: KBC
1 st runners up: KTN home
Winner: Citizen TV
Impact on Agriculture Award (Radio Category)
2nd Runners up: Radio Maisha
1st Runners up: Inooro FM
Winner: Citizen Radio
Objective and Impartiality in News and Current Affairs (Radio Category)
2nd Runners Up: Inooro FM
1st Runners up: Radio Maisha
Winner: Citizen Radio
Impact on Youth, Women & Persons Living with Disabilities (Radio Category)
2nd runners up: InooroFM
1st runners up: Citizen Radio
Winner: Radio Maisha
Impact on Children Welfare (Radio Category)
2nd Runners: Inooro FM
1st Runners up: Citizen Radio
Winner: Radio Maisha
ALSO SEE: CITAM TARGETS GEN Z WITH LIVE CHURCH SERVICES
Children Programming Award
2nd Runners up: K24 TV
1st runners up: KBC
Winner: EDU TV
Copyright Award
2nd Runners up: Nation Media Group, Imani radio and TV, Radio Africa
1st Runners up: TBN Family Media
Winner: CTAM
Local Content Prime Time Award
2nd runners up: NTV
1st runners up: Kass TV
Winner: KU TV
Communication Authority KUZA Award
2nd Runners up: Ebru TV
1st Runners up: Multcoice Kenya Limited
Winner: Imani Radio and TV
People's Choice Award (Radio Category)
2nd Runners up: Inooro FM
1st Runners up: Citizen Radio
Winner: Radio Maisha
Story Credit: Standard/Citizen Digital