The power games and succession battles at the Standard Group have come to the fore yet again after its daily newspaper, The Standard, went to town with a headline story on the Capital Markets Authority (CMA) report that indicted six former top managers at the National Bank of Kenya (NBK) for embezzling funds and misrepresenting  the bank's books of accounts in the 2015 financial year.
Mr Chris Kisire, a former Group Chief Finance Officer at the Standard Group, was among those found culpable by the regulator for the financial misdeeds at NBK, and was disqualified from the leadership of any quoted firms for three years. Also to get a similar disciplinary measure was former Head of Treasury Solomon Alubala, who was banned for 10 years and recommended for criminal investigation by the Director of Public Prosecutions Keriako Tobiko alongside Kisire.
While the story about the CMA disciplinary measures was strong enough for a page one lead from an editorial point of view, the nature of its treatment by the Standard gets more interesting as Business Today has learnt that key investors had fronted him as the company's next CEO. The position has remained vacant since Sam Shollei bolted out about seven months ago and Orlando Lyomu appointed in acting capacity.
While former President Moi, whose family holds majority shares at the company, is said not to have a problem with Kisire returning to Mombasa Road as CEO, a group of editors and board members allied to his son, Baringo Senator Gideon Moi, are said to be resisting and the CMA indictment was godsend.
Mr Kisire is said to be allied to Moi's former Private Secretary Joshua Kulei, who also holds a substantive stake in the media house. News of his ban by CMA is said to have sparked celebrations by the group as it now locks him out of the race.
Dr Julius Kipng'etich, an independent director, is said to have personally vouched for his mugshot photo to be used on the front page of The Standard today, something that could not have happened previously. "Dr Kipng'etich is turning out as the man who calls the shots at Standard. In fact, he comes to Mombasa Road on an almost daily basis. I'm sure he viewed Kisire as a threat," a senior staffer told Business Today.
Mr Kisire is the CEO of Sovereign Group, a fund associated with the Moi family and the retired president's close business allies. Its chairman is Kulei.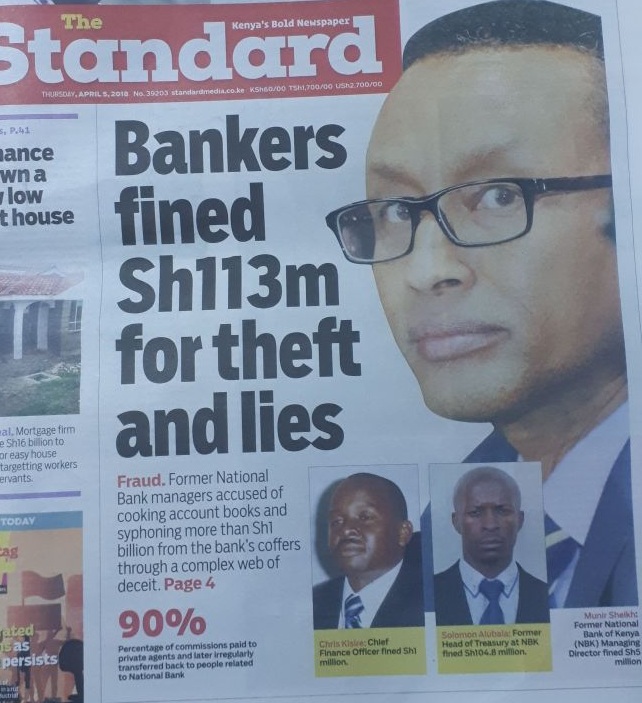 In launching its crackdown, CMA said the misrepresentation of financial statements was occasioned by premature recognition of sale of assets amounting to Ksh 800 million and under provisioning of loan amounts and wrongful recognition of interest income leading to the overstatement of profit in the respective periods.
Those accused alongside Munir, Kisire and Alubala are George Jaba (Former Chief Credit Officer), Wycliffe Kivunira (who acted as Chief Finance Officer), Boniface Biko (Former Director, Corporate and Institutional Banking) and Dennis Chumbe (Former Relationship Manager, Business Banking).
The former MD was also fined Ksh 5 million by the regulator.  Alubala was, however, hard hit after he was fined Ksh 104.8 million, twice the amount the regulator says he embezzled.
It is not the first time, however, that Kisire is finding himself in trouble. He was forced to quit the board of Bamburi Cement, where he represented Kulei's interests, after he featured in the 'List of Shame' tabled by President Uhuru Kenyatta in Parliament in 2016 thanks his stint at the financially troubled Mumias Sugar. He left NBK under a similar cloud.