The stage is set for this year's Beyond Zero Marathon that aims to bring prenatal and postnatal medical treatment to less privileged women and children in Kenya. Initiated by First Lady Margaret Kenyatta on January 2014, the Sunday marathon will be the fifth and expects to attract over 20,000 people.
This year's edition is expected to feature Paralympians and will also act as a qualifier for the Tokyo 2020 Paralympics. There will be four different races in the Sunday event. The Paralympic race will be flagged off first at 6:30 am followed by the 21km half-marathon at 7 am. The 10km road race and corporate run will be flagged off at 8:30 am followed by the 3km family fun race.
With all these races, a number of roads are expected to be closed and if you will not be participating in the race and plan on using any of the roads, you'll have to get an alternative. The closure is, however, only for the better part of the morning when the racing events will be taking place.
The following roads will hence be closed;
1. Mombasa Road
2. Lusaka Road – Mombasa Road Junction to the City Stadium
3. Aerodrome Road
4. Bunyala Road – Mombasa Road Junction to Unilever Kenya
5. Haile Selassie Roundabout – August 7th Memorial Park
6. Kenyatta Avenue
7. University Way
8. Waiyaki Way
9. Museum Hill – Waiyaki Way Junction – Ojijo Road/Kipande Road junction
All the races will be flagged outside Nyayo Stadium on Uhuru Highway. After the flag off, the participants will head towards CBD on Uhuru Highway all the way up to the Museum overpass before making their way back to Nyayo Stadium through Kenyatta Avenue.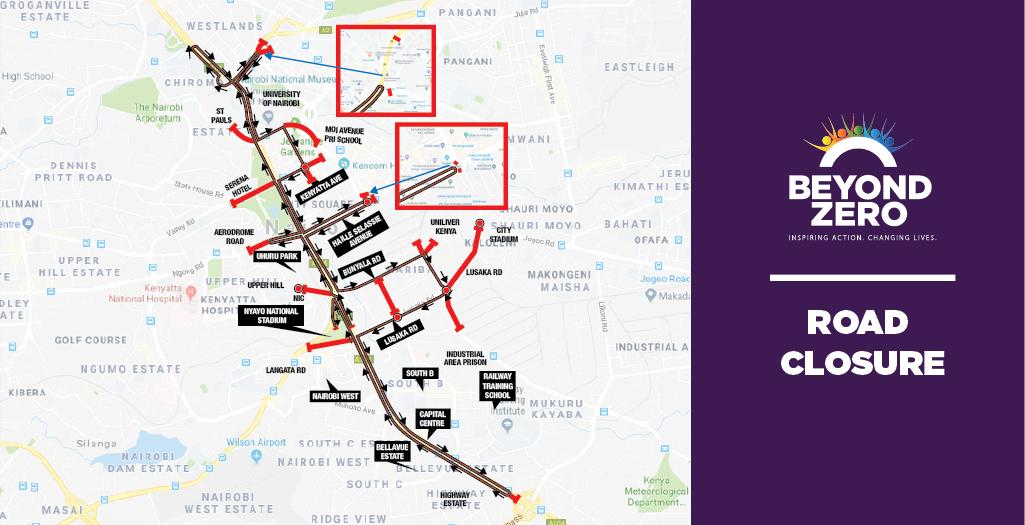 The Paralympic race will include the intellectually impaired as well as the visually impaired. While releasing the road map for the event, Athletics Kenya (AK) boss Jack Tuwei confirmed that the Paralympic race will be used as a qualification for Tokyo 2020 Paralympics.
"It will be good preparation for the Paralympic athletes as they look at qualifying. This presents a good opportunity for them," Tuwei said.
Event organiser, Peter Gacheru assured participants of safety in the race saying they have a staff of 2,000 people including security, safety, and volunteers just for the one-day event.
"We are pleased to report that all plans have been put in place to ensure the 2019 Beyond Zero Half Marathon is a safe and great experience for all participants. We have finalized important details like the route, prize money and race categories as well as security during the event," Gacheru said.
Winners in the 21km race will pocket Ksh 250,000 with the second and third place finishers pocketing Ksh 125,000 and Ksh 75,000 respectively.