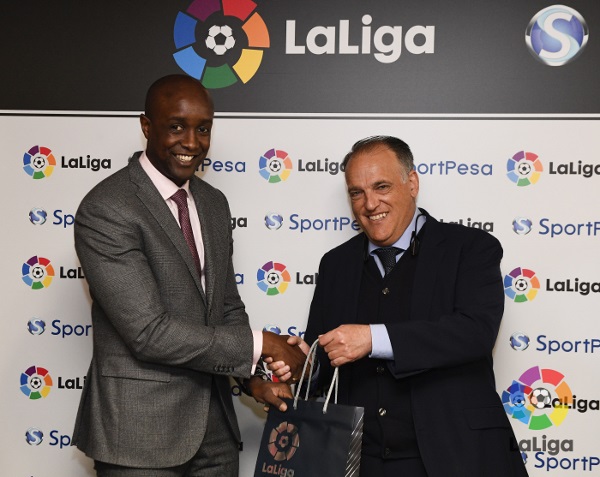 SportPesa has broken new ground after entering an agreement with the Spanish Football League, to become the Official African Betting Partner of LaLiga.
This groundbreaking agreement was inked on Wednesday, April 26, 2017 by President Javier Tebas and LaLiga's Commercial and Marketing General Manager, Adolfo Bara, representing LaLiga as well as SportPesa's Africa CEO Ronald Karauri and SportPesa's Director responsible for Global Strategy, Ivo Bozukov.
Spanning an initial three years, the agreement whose financial details were not revealed will help LaLiga grow and get closer to its fans in Africa, which is a strategic territory as over three quarters of the population are interested in football, with millions of fans tuning in across the continent to watch the flamboyant Spanish football.
"This is a very important agreement for LaLiga, as it further solidifies our commitment to the African continent," said Bara.
See Also: SportPesa fires chief marketing officer 
"LaLiga is the best league in the world and this agreement with SportPesa is an indication of us joining forces with a leading African company that shares the same vision. It is paramount for LaLiga to constantly get closer to its fans all over the world and we're sure that this new partnership will contribute towards that."
Karauri welcomed LaLiga's engagement in Africa and its commitment to contribute high quality footballs, sports kits, training expertise and public viewing events for those who have not had the opportunity to experience the joy of Spanish Football.
"We believe that this partnership will bring into Africa LaLiga, which is a globally recognised leader in football talent development. It ties well with our company's objective of developing sport in Africa by bringing in the invaluable professional experience of one of the top leagues in Europe," Karauri said.
New player: Sport betting firm Dafabet enters Kenya
Already active in Africa, LaLiga has offices in Johannesburg, South Africa, which was established in 2015 and in Abuja, Nigeria, which opened in July 2016. With this agreement, it hopes to achieve much greater visibility and understanding of Spanish clubs overseas. It is another example of LaLiga's internationalisation strategy, the aim of which is to expand its brand and fly the flag for Spanish football all over the world.
A truly global sporting property, LaLiga also has offices in the United States, China, the United Arab Emirates, India and Singapore, boasting a global audience of some 2.5 billion people in over 180 countries. LaLiga and SportPesa are united by a shared vision and conviction concerning the potential for growth of football across Africa.
[crp]