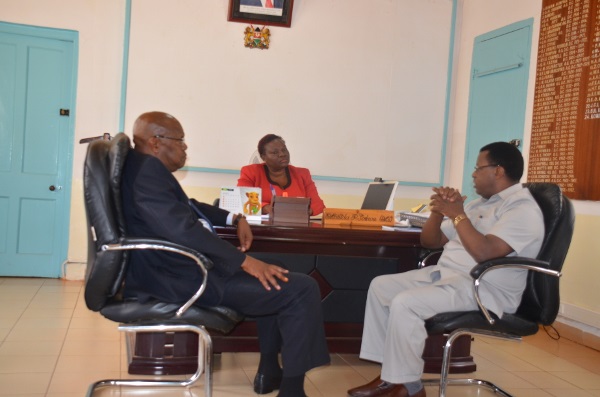 The government will recruit an additional 10,000 Police officers beginning next month to enhance national security. National Police Service Commission Chairperson Johnston Kavuludi said today the process, which will kick off on 11th May, will be one of the largest single recruitment drives in the country so far.
Kavuludi said this in Machakos town ahead of the vetting exercise for 215 police officers drawn from lower and upper Eastern regions said fresh recruitment will help address the current shortfall occasioned by officers leaving the service through natural attrition.
"We are recruiting an additional 10,000 officers in May which is in line with government's effort to attain the United Nations recommendation ratio of one Police officer to serve 400 members of public. Currently, the ratio of police officers in Kenya is one officer for every 380 which is quite commendable," he said.
Kavuludi advised youth to turn up in large numbers for the recruitment and promised that the exercise will be fair and transparent unlike in the past when cases of bribery and nepotism were the order of the day. He said the commission was keen on addressing the plight of police officers including improving their social welfare and remuneration.
Biography: Moody Awori reveals little secrets of his life
He disclosed that deliberations for salary increment in consultations with Salaries and Remuneration Commission have already been concluded and would be implemented in July alongside other civil servants.
"The National Police Service Commission is working hard to improve the conditions of police officers and has come up with a scheme of service which will see them benefit from an improved career progression system. Those with specialized skills will also be assigned roles that match their qualifications," he said.
On the upcoming vetting exercise, Kavuludi assured all those set to go through the process that they will be treated with fairness and equality. He said contrary to popular notion, the exercise was not a meant to victimize and dismiss officers from the service but a constitutional requirement.
"Vetting is an obligation for all officers who were employed before the enactment of the 2010 Constitution. The exercise aims at identifying among other things the suitability of an officer to be retained in the service and his professionalism in the years he has been working. It is not an exercise meant to unearth whether somebody has been corrupt or not, although it is part of the process," he said.
Next Read >> Winery that uses condoms to produce fruit wines
Officers expected to undergo the exercise include those serving in the Traffic Department ranging from the rank of Assistant Superintendent of Police to constables.
A total of 1,875 traffic Police officers from Nyanza, Coast and Western regions have already gone through the process whose sole objective is to inject professionalism and sanity in a force that has been synonymous with corruption. Ninety-four officers from the Lower Eastern region which includes Machakos are expected to face the vetting panel for the next ten days.
[crp]