How Sam Shollei dug his own grave at Standard
Board is understood to have questioned a number of his operational decisions that have not paid off, including the newspaper redesign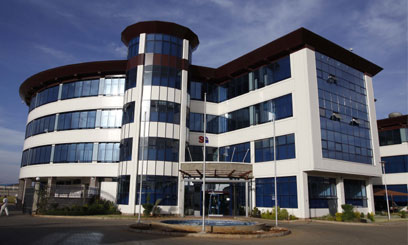 A day after he resigned, it has emerged that Standard CEO am Shollei may have dug his own grave in the name of turning around the Standard Group, the second leading multi-media company in Kenya.
Someone close to Shollei said he had resigned last week due to frustrations and was waiting for the board to accept his resignation, which it did today and appointed the finance director Mr Orlando Lyomu to act.
Under the conflict of interest, Shollei is accused of using the Standard print, electronic and digital platform to campaign for his wife, Gladys Boss Shollei, who ran and won the Uasin Gishu County Woman Representative seat. As Standard promoted Gladys on their platforms, it forgot to cover candidates affiliated to KANU, the former ruling party headed by Gideon Moi, who is a principal shareholder in Standard Group.
The Moi family owns majority shares in Standard while about 25% is listed at the Nairobi Securities Exchange (NSE). "KANU candidates were never featured on Standard or KTN, while his wife was constantly being covered," a source said. "He didn't play the politics well."
Moving back to town
But that is just a fraction of Shollei's woes. The former Nation Media Group manager is also accused of overspending on the shifting of its head offices and newsroom from Standard Group Centre Mombasa Road to city centre. According to board insiders, the management spent Ksh60 million on the movement to I&M building, which included rent, refurbishing and furnishing offices.
The movement has flopped, sources say. The proponents of the movement, led by Editorial Director Joseph Odindo, argued that being based in the city centre would increase circulation for Standard, but that has yet to be achieved. This points to the fact that the problem with Standard Group lies not in the location but somewhere else, possibly content.
The redesign of the Standard in March this year has also been questioned. The board's feeling is that the change of design and content are not paying off after the company splashed over Sh60 million on it. It has also emerged that the latest redesign, done by American design experts, followed another one executed by Germans but which was discarded in favour of the Americans. What caused this change is not clear.
Then there is the little but explosive issue that will have employees cringing. The Standard management had proposed another round of retrenchment to the board to save the company more funds, which would have required millions of shillings, but the board rejected it, arguing it was too soon after the November 2015 layoff.
Inside the mind of Safaricom CFO Sateesh Kamath
The fact is we are part of a society and whatever happens to the society will directly and indirectly affect us.
On 15th Sept, Safaricom held its annual general meeting at Bomas of Kenya. The company's shareholders approved the payment of a final dividend of 0.97, changed its name from Ltd to PLC status and announced plans to open new customer care centers in Thika and Eldoret.
On the sidelines, THE KENYAN WALL STREET had a chat with Safaricom chief finance officer (CFO) Sateesh Kamath and below is our conversation.
1. Effects of the ongoing politics on the company's investment decisions. How are you mitigating the risks and how are you adjusting to them?
Satesh Kamath: From our perspective we have shareholders that are very confident in Kenya as a long term business. Things like elections create short term headwinds but our shareholders have a long term view of the company. As such, we have not slowed down our investments at all.
On mitigation, we look at what is right for our customers. So we worked to ensure customers have connectivity and as a good corporate citizen worked to ensure we supported this important democratic process.
2. A week before and after the Aug 8th Presidential election, Safaricom said that it had suffered an estimated revenue loss of between Ksh310.2 million and Ksh 414 million on its M-Pesa money transfer business due to a slowdown caused by a tense presidential vote. Do you expect the same in the re-run?
Sateesh Kamath: To be honest, it is difficult to forecast. The fact is we are part of a society and whatever happens to the society will directly and indirectly affect us.
3. How do you plan to pay for the expansion plans? Rights issue, debt or tap into your free cash?
Sateesh Kamath: It's too early to speak on this. It depends on the realities that will take place in the next few year as these opportunities unfold. The preference would be to first fund them with the strength of the balance sheet and then naturally extend the same to borrowing.
4. M-Pesa's growth in Kenya & EA has been extraordinary and it's has been a challenge in some countries such as South Africa.  Given that M-Pesa is a Safaricom product, and expansion would need significant financial muscle, would the costs related with this venture be incurred entirely on Safaricom or would you pursue partnerships?
Sateesh Kamath: The structure we plan to pursue with the expansion of M-Pesa is over the top. When you do over the top, you are basically leveraging the asset you already have on the ground. This is different from expanding into the telco space inorganically in other markets. At a very high level, our expectation is that this will not require a very huge investment. We call this off balance sheet leveraging and we don't expect this to dramatically change the shape of the balance sheet.
5. In your experience, which upcoming business segments/products within the company have a strong growth potential and need for investments?
Sateesh Kamath: There are many ways of looking at growth one is looking at what quantum of growth is contributed by what while the other is to look at what gives you growth today and what gives you growth in the future. For the immediate future, a lot of growth will come through M-Pesa and data, specifically mobile data. In the long term, we are making investments today with the customer in mind and streams like Masoko, Fixed data will start to chip in going forward.
6. Do you think the strategy of M-Pesa interoperability could have any short or long term impact on the company's revenues?
Sateesh Kamath: One, is how we look at competition. I don't think the right way is to look at it and compare what business they are doing. The appropriate way to look at it is how my customers want and how close I am to servicing their need. How can we make their lives better and efficient. That is how we are looking at mobile money interoperability. We think customers will remain with us despite what is on offer across board based on the merit of what we have to offer.
7. Speak about the consistent growth and improvement of EBITDA.
In Safaricom will believe in three things that are very important for us. They include purpose, our people and the profit and we try and balance all three. Fortunately, our customers have responded well to our offerings because they see value in what we offer. As a result we have been able to grow revenue, contain costs and get EBITDA. [This article was first published on Kenyan Wall Street ]