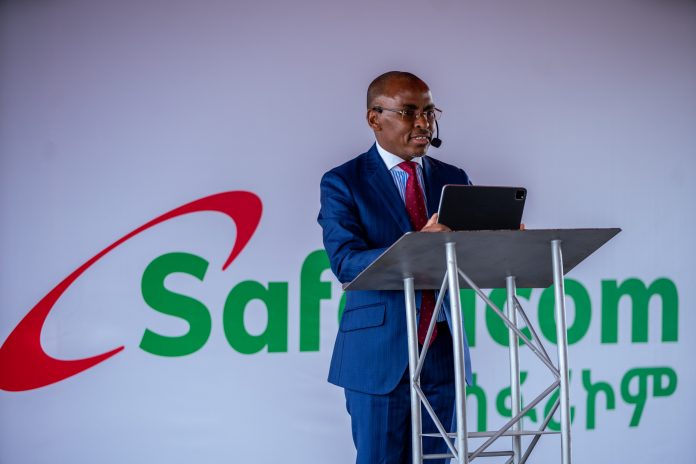 Safaricom Ethiopia on Monday, October 6 switched on its mobile telecommunications network and services in the country's capital Addis Ababa. The Safaricom-led Global Partnership for Ethiopia consortium was granted an operating license by the country's telecommunications regulator in May last year.
The consortium includes Safaricom, Vodacom Group, Vodafone Group, Sumitomo Corporation, CDC Group and the IFC. Vodacom Group CEO Shameel Joosub was among those present at the ceremony on October 6, hailing it as an 'exciting moment in Ethiopia's history'.
"Imagine the countless and exciting possibilities that exist across multiple industries in Ethiopia as we introduce these types of technological solutions in the coming years, supported by reliable network connectivity – from city centres to rural smallholdings," Joosub stated.
Safaricom wants Ethiopians to register for its telecommunication services at branded shops spread across Addis Ababa. Many Ethiopians online welcomed the entry of Safaricom, the first challenge to the decades-long monopoly of state-owned Ethio Telecom.
READ>>Absa Poaches Carolyne Kendi From Safaricom
Safaricom CEO Peter Ndegwa reiterated that the company was committed to enabling the digital transformation of Ethiopia and socio-economic growth in the country. He echoed the sentiments of Safaricom Ethiopia CEO Anwar Soussa.
"The GPE Shareholders are optimistic that our vision to transform lives for a digital future will be a guiding light and will be evident in our pursuits to empower individuals, enterprises, and communities; but above all in our tailored products, services, and solutions," Ndegwa stated.
Ndegwa also thanked the Ethiopian government for its support in the launch process. The Safaricom-led consortium won the license after after submitting a bid of $850 million (Ksh91.8 billion).
The group is expected to invest over $8 billion (Ksh864 billion) over the next decade. Ethiopia Prime Minister Abiy Ahmed stated in 2021 that it would be the largest Foreign Direct Investment (FDI) in Ethiopia to date.
The Ethiopian Communications Authority had earlier listed 12 firms including Safaricom as the companies that had expressed interest in entering the country's telecommunications market. Former Safaricom CEO and Chairman Michael Joseph will serve as Chair of the board of Safaricom Ethiopia.