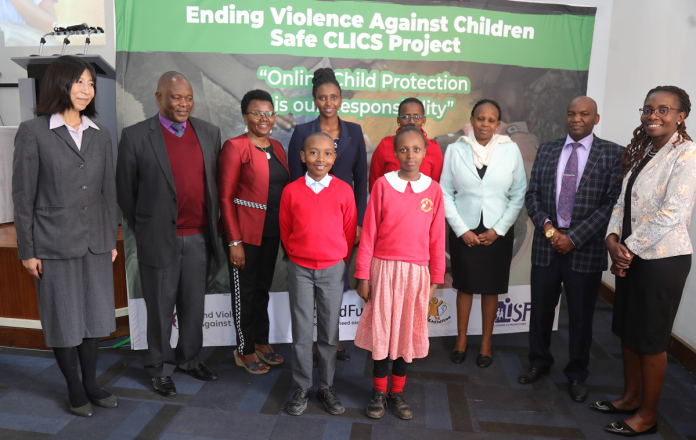 ChildFund has launched a multimillion campaign to ensure the safety of children online in Kenya with studies indicating rising trends of abusé in the digital space targeting students. The Safe Community Linkages for Internet Child Safety (Safe CLICS) Project will be spending $1 million (Ksh115 million) to keep an estimated 200,000 children safe from online predators.
The three-year project is being financed by Ending Violénce Against Children (EVAC) to strengthen the capacity of government agencies to prevent and respond to online child séxual exploítation and abusé (OCSEA).
ChildFund Kenya Country Director Alice Anukur said that through the Safe CLICS project, various players including Childline Kenya and Life Skills Promoters will work to strengthen the national infrastructure around child online protection. "We want to strengthen collaboration and coordination among social services providers to effectively prevent and respond to online child s****l e**********n and a***e," Anukur said.
The project will focus on online child s****l e**********n and a***e, hotspots in Nairobi and Mombasa. In Nairobi focus will be on Starehe, Lang'ata, Kibra, Embakasi West, Embakasi South and Embakasi Central, as well as Kikuyu in Kiambu. In Mombasa the project will be implemented in Likoni, Mvita, Changamwe, Kisauni, Nyali and Jomvu, and adjacent sub-county of Kikambala in Kilifi.
The project will center on 60 communities and schools with an estimated population of 200,000 students at risk of online and offline child s****l e**********n and a***e.
Speaking at the launch of the campaign in Nairobi, Shem Nyakutu, the Secretary in the Department of Children Services (DCS), said while the internet presents vast opportunities and possibilities for children to learn and play, it comes with many risks and vulnerabilities online.  "Safe CLICS will play its part in bringing together partners from all sectors to create a safe, secure and empowering online experience for children," Nyakutu said.
He said studies had shown that a quarter of African children with internet access are exposed to sexuálly explicit materials with only 24 percent reporting such incidences.
The importance of the digital environment to children's lives and rights has been emphasized by the United Nations Committee on the Rights of the Child, which stresses that spending time online inevitably brings risks and threats of harm. Unprecedented access to cyberspace exposes children to online child s****l e**********n and a***e.
Under Safe CLICS, the consortium seeks to build the capacity of children and youth on the risks of the digital environment and access to effective referral mechanisms.
Next >> Inside William Ruto's Multibillion Business Empire