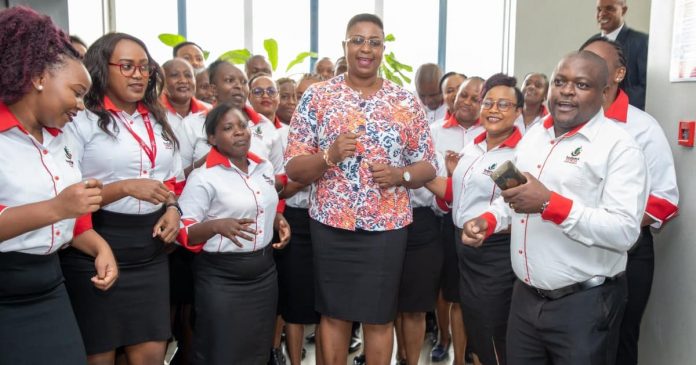 Public Service Cabinet Secretary Aisha Jumwa sparked a debate and raised questions on Monday, October 31, after she promised a pay increase for civil servants within 100 days.
Jumwa stated that civil servants needed a morale boost, and higher earnings in the wake of runaway inflation that has eroded many Kenyans' purchasing power. Food, fuel and housing  have become incredibly expensive as inflation in October in Kenya hit a five-year high of 9.6 percent.
Many, however, question whether the country can afford such an increase of the public wage bill, and if the Salaries and Remuneration Commission (SRC) – the body actually mandated to regularly review civil servants' salaries and benefits and ensure the public wage bill is fiscally sustainable – will play ball.
"Civil servants are a demoralized lot, and we don't want to see them suffering. They are unable to cope with the high cost of living occasioned by runaway inflation. As Kenya Kwanza government, we want to revamp their morale by increasing their salaries as soon as possible," the Cabinet Secretary stated.
The country has been grappling with expensive debt repayments and Kenya Kwanza leaders including DP Rigathi Gachagua claim they inherited empty public coffers and a dilapidated economy.
READ>>Michael Joseph Hits Back as KQ Pilots Demand Resignations
Coupled with recurrent expenditure, mostly salaries for public servants, little is left for development projects.
Citing the economic impact of Covid-19, the SRC in June 2021 froze salary reviews for two years for all public servants in a bid to tame the wage bill. The salary review freeze runs from the 2021/22 fiscal year to 2022/23. Speaking on the review cycle for the period 2021/22 to 2024/25, SRC Chair Lynn Mengich had previously stated that they would have to fall in line with budget allocations.
"Annual salary notch adjustments in existing salary structures, as set or advised by SRC, will continue to be applied within budget allocation," she noted.
Jumwa also announced that the working hours of Huduma Centres around the country would be extended to 7pm from the current 5pm to serve Kenyans better. She stated that operating hours for Huduma Centres would be 7am to 7pm.