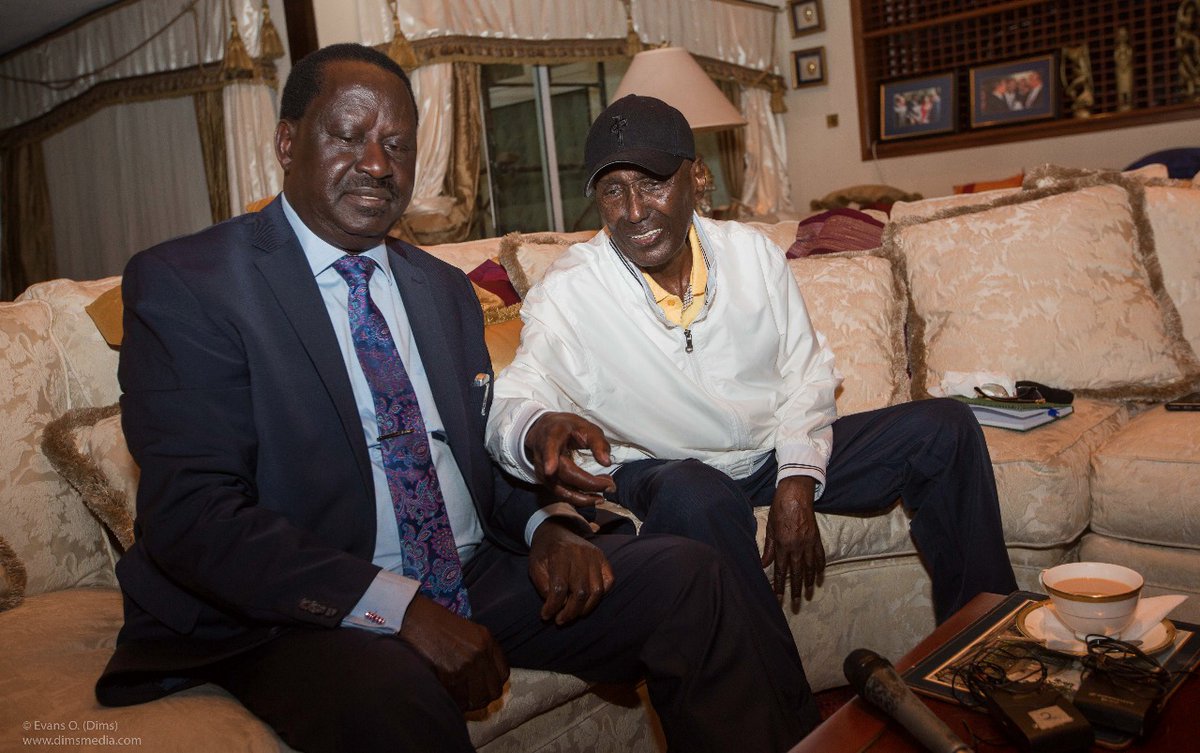 NASA leader Raila Odinga on Tuesday visited prominent businessman Chris Kirubi, who is recuperating following c****r treatment in the United States.
Raila and Kirubi posted photos and a video clip of the courtesy call, which came about three months since the businessman returned to the country.
"This morning I visited @CKirubi who has recently returned from overseas where he had gone for medical treatment. It was great to see him in high spirits and we wish him all the best as he continues with his recovery," Raila tweeted.
According to Kirubi, Raila said he wants to leave a legacy of a united Kenya. The former premier has been working on actualising their agreement with President Uhuru Kenyatta when they shook hands and signed a Building Bridges for a United Kenya on the steps of Harambee House.
"Earlier today my friend Raila Odinga paid me a courtesy call at my home. I am proud that he wants to leave a legacy of a united Kenya. It is time we work together towards a better nation," said Kirubi.
Kirubi said Raila's visionary outlook of forging a more united country will attract investors to Western Kenya which has been one of the regions affected by the cyclical five-year political period.
"I will be one of the investors in Kisumu…but investors don't invest in cycles. We want long-term peace," Kirubi told Raila.
He also said that Raila's legacy will be to develop and create one Kenya where young Kenyans can find and explore opportunities in any part of the country.
"Kisumu has such a huge potential, more than anywhere else because it has a big lake. Let us invest in Kisumu and allow it to grow, but we have to give confidence to investors," added Kirubi.
Raila, on his part, said he will retire a happy man if he can create the right conditions for uniting the country.
"If every Kenyan can move around the country freely and be able to realise their potential, I will feel that I would have lived a useful life in the country," said Raila.
Kirubi, who is in his seventies, has wide-ranging business interests in publicly listed as well as private companies. He is the single-largest shareholder of Centum Investments with a 28.64% stake. One of Kenya's most prolific businessmen, Mr Kirubi, know in shorthand as CK, holds leadership positions in at least 10 companies and organisations.
His business interests are diverse, ranging from broadcasting (Capital Media Group), to manufacturing, Haco Tiger Brands.
READ: CBK PLEDGES ACTION ON BANKS LINKED TO NYS S*****L
Kirubi made his first public appearance nearly three months ago when he was photographed embracing Kenya National Chamber of Commerce and Industry national chairman Kiprono Kitony, who is also the chairman of Radio Africa Group.